Basic Science
Anisotropic Etching Effect in Graphene Basal Plane
Recently, Prof. Zhang Guangyu¡¯s group of the Institute of Physics, CAS, in collaboration with Prof. Gao Hongjun¡¯s group and Prof. Wang Enge¡¯s group, reported for the first time their work on success of realizing the controllable anisotropic etching of graphene by using a home-made remote inductively coupled plasma system. Relevant results were published in Advanced Materials 22, 4014-4019, (2010), which was highly evaluated by the reviewers. The etching in graphene basal plane depends strongly on their crystallographic orientation, resulting in zigzag edges formation. They are able to control the etching from edges by tuning the etching parameters such as plasma intensity, temperature and time duration. This dry anisotropic etching approach is ideally suitable for graphene tailoring as the etching rates can be precisely controlled and the quality of graphene can be preserved. This simple, clean, controllable and scalable technique is also compatible with existing semiconductor processing technology. Combined with electron beam lithographic techniques, this anisotropic etching technique was used for cutting graphene along specific crystallographic orientation with atomic resolution, which is never achieved by previous standard fabrication technologies. Thus a road can be paved for fabrication of future scaled-up graphene nanodevices, based on suitable starting materials and the advances of this anisotropic etching technique.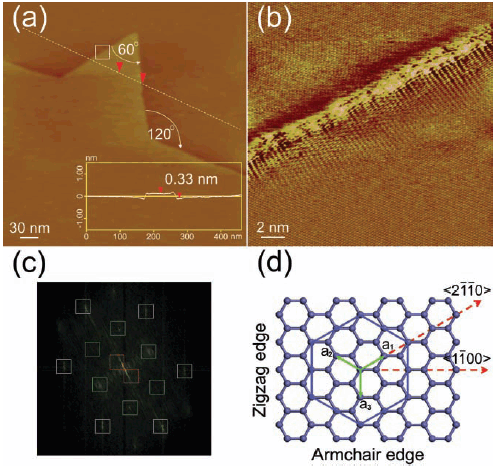 Breakthrough in Research on Polypropylene Catalyst
Researchers of the synthetic rubber research team, Changchun Institute of Applied Chemistry, CAS blazed a trail in the research of polypropylene and electron donor and developed a new type of polypropylene catalyst made by electron donor, which demonstrates unique advantages in the development of new polypropylene homopolymer and copolymer products. The polypropylene homopolymer developed by this catalyst has wide molecular weight distribution, high impact strength, high yield strength, high tensile stretch, bending modulus and other excellent properties. The polypropylene copolymer developed by this catalyst demonstrates excellent rigid-tough balance. This technique will greatly improve the core competitiveness and promote the development of domestic polypropylene industry. Recently, this new-type polypropylene catalyst was granted both U.S. and Chinese patents.
Other Issues

Seventy-first Issue (August 2010)

Seventieth Issue (June 2010)

Sixty-nineth Issue (April 2010)

Sixty-eighth Issue (February 2010)

Sixty-seventh Issue (December 2010)

Sixty-sixth Issue (October 2009)

Sixty-fifth Issue (August 2009)

Sixty-fourth Issue (June 2009)

Sixty-third Issue (April 2009)

Sixty-second Issue (February 2009)

Sixty-first Issue (December 2008)

Sixtieth Issue (October 2008)

Fifty-nineth Issue (August 2008)

Fifty-eighth Issue (June 2008)

Fifty-seventh Issue (April 2008)

Fifty-sixth Issue (February 2008)

Fifty-fifth Issue (December 2007)

Fifty-fourth Issue (October 2007)

Fifty-third Issue (August 2007)

Fifty-second Issue (June 2007)

Fifty-first Issue (April 2007)

Fiftith Issue (Feb. 2007)

Fourty-nineth Issue (December, 2006)

Fourty-eighth Issue (Ocboter, 2006)

Fourty-seventh Issue (August, 2006)

Fourty-sixth Issue (June, 2006)

Fourty-fifth Issue (April, 2006)

Fourty-fourth Issue (February, 2006)

Fourty-third Issue (December, 2005)

Fourty-second Issue (October, 2005)

Fourty-first Issue (August, 2005)

Fourtith Issue (June, 2005)

Thirty-ninth Issue (April, 2005)

Thirty-eighth Issue (February, 2005)

Thirty-seventh Issue (December, 2004)

Thirty-sixth Issue (October, 2004)

Thirty-fifth Issue (August, 2004)

Thirty-fourth Issue (June, 2004)

Thirty-third Issue (April, 2004)

Thirty-second Issue (February, 2004)

Thirty-first Issue (December, 2003)

Thirtieth Issue (October, 2003)

Twenty-nineth Issue (August, 2003)

Twenty-eighth Issue (June, 2003)

Twenty-seventh Issue (Spring, 2003)