Headline News
Lu Yongxiang Present at SINOGFOS Reception
On March 13, Lu Yongxiang, Vice Chairman of the Standing Committee of the People¡¯s Congress and President of CAS, present at the reception of the First Sino-German Frontiers of Science Symposium (SINOGFOS) held in Beijing. Co-sponsored by CAS and the Alexander von Humboldt Foundation (AvH), the symposium brought together some 60 young scholars from research institutions and universities of the two countries. The meeting series focused on the following six fields: astrophysics, ecology, molecular biology, nanotechnology, neuroscience and quantum mechanics.
AvH Secretary General Georg Schuette delivered a speech on the reception and described the characteristics of the symposium. He expected young scientists to make full use of the symposium as a platform to explore the science frontiers.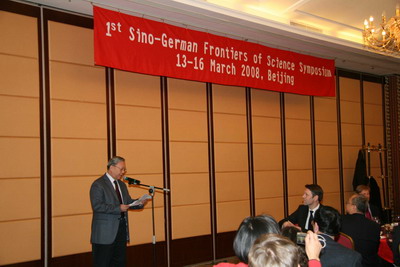 Zeng Peiyan Present at Awarding Ceremony of National Hi-tech Industrial Bases
Recently, the Awarding Ceremony of National Hi-tech Industrial Bases was solemnly held in Beijing. Zeng Peiyan, Vice Premier of the State Council was present at the ceremony accompanied by Bai Chunli, Executive Vice President of CAS, and other leaders from different authorities, to award the plague to National Hi-tech Industrial Bases.
The Chinese government has selected six regions, including Beijing, which enjoy advantages and show characteristics of high-tech industry development, to construct comprehensive national hi-tech industrial bases focusing on fields such as information, biology, civil aviation and spaceflight, new energy, etc. This move aims to build national hi-tech industrial bases respectively for trades such as information, biology, civil aviation, new energy, microeconomics, and so on in 24 regions inclusive of Guangzhou, so as to further promote cluster of national hi-tech industries, enhance the construction of regional innovation system and drive the regional economic development.
Achievement by New Type Photoemission Spectroscopy
On March 20, the Institute of Physics (IOP), CAS announced a preliminary achievement made by Chinese scientists and ?their foreign colleagues in high-temperature superconductor research. Contributors include IOP research teams, respectively led by Zhou Xingjiang, Xu Zuyan and Zhao Zhongxian, and a research team from the Technical Institute of Physics and Chemistry (IPC), CAS led by Chen Chuangtian, as well as Dr. Genda Gu and Dr. T. Sasagawa respectively from the Brookhaven National Laboratory in USA and the Tokyo Institute of Technology in Japan. By using the world¡¯s first superhigh resolution vacuum ultraviolet (VUV) laser-based angle-resolved photoemission spectroscopy (ARPES), these researchers observed a new form of electron coupling in high temperature superconductors. Their paper entitled ¡°Identification of a New Form of Electron Coupling in the Bi2Sr2CaCu2O8 Superconductor by Laser-Based Angle-Resolved Photoemission Spectroscopy¡± was published on March 14 on the 10th issue of the 100th volume of Physical Review Letters. The paper was also selected then by the journal as an article labeled with Editors¡¯ Notes.
The success of the development of the vacuum ultraviolet (VUV) laser-based ARPES lends a new high-precision experiment measure for scientists and will give momentum to the researches of material sciences and physics.