Lu Yongxiang Present at G8+5 Academy Presidents¡¯ Conference
Lu Yongxiang, President of CAS, present at the G8+5 Academy Presidents' Conference held from Mar. 26 to 27 in Rome. He delivered a speech titled ¡°New Opportunities, Challenges and Strategy in Energy Technological Innovation¡± and submitted a written report entitled ¡°In and Out£ºBrain Flow in China¡±. After the meeting, upon invitation of the Italian National Research Council (CRN) and Italian National Institute of Nuclear Physics, Mr. Lu paid a visit to the Institute for Advanced Energy Technologies under CNR and the headquarters of CNR and held bilateral talks with Luciano Maiani, newly appointed president of CNR.
Lu Yongxiang Meets Bernard Bigot: Agreement Renewed
On the morning of Apr. 22, Lu Yongxiang, President of CAS, met with Bernard Bigot, the visiting President of the French Atomic Energy Commission (FAEC) and Government Commissioner and his entourage. After the meeting, President Lu Yongxiang and President Bigot, on behalf of the two parties respectively, renewed the framework cooperation agreement for another five years. Pursuant to the agreement, both parties will continue their cooperation in energy, information, material, bio-medical, large scientific facilities and other fields.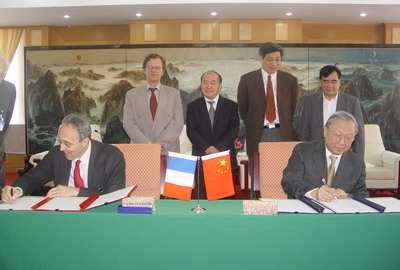 Giant Appears in Supercomputing
Recently, the first set of single-precision petaflop supercomputing system in China was successfully developed and put into use by the Institute of Process Engineering, CAS. This system is designed to build a multi-layer parallel algorithm and corresponding computer architecture to address the application needs from different sectors and disciplines and by abstracting common characteristics of different fields. The Institute of Process Engineering, CAS has been engaged in the research on multi-scale method and its computing model since 1984. This system abstracted the common algorithm characteristics of computing in various application fields, put forward a multi-scale scattering analogue method of certain universal significance. As a result, the system improved the ability to provide solutions for practical problems and greatly reduced the costs and energy consumption through innovative integration of algorithm, software and hardware structure, boasting a characteristic supercomputing model. Due to urgent application needs, during the period of development, this system has undertaken computing tasks of the government and enterprises involving many industries, such as chemical engineering, metallurgy, petroleum, mineral, power and many disciplines such as physics, chemistry, material, biology, showing rosy application prospects.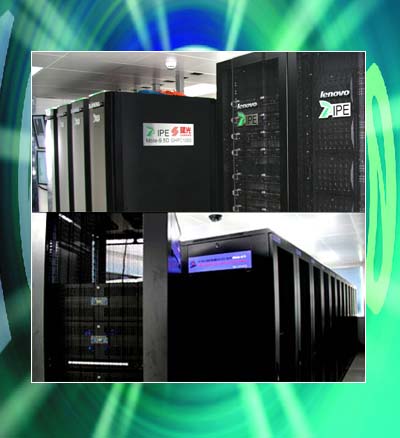 Other Issues

Sixty-third Issue (April 2009)

Sixty-second Issue (February 2009)

Sixty-first Issue (December 2008)

Sixtieth Issue (October 2008)

Fifty-nineth Issue (August 2008)

Fifty-eighth Issue (June 2008)

Fifty-seventh Issue (April 2008)

Fifty-sixth Issue (February 2008)

Fifty-fifth Issue (December 2007)

Fifty-fourth Issue (October 2007)

Fifty-third Issue (August 2007)

Fifty-second Issue (June 2007)

Fifty-first Issue (April 2007)

Fiftith Issue (Feb. 2007)

Fourty-nineth Issue (December, 2006)

Fourty-eighth Issue (Ocboter, 2006)

Fourty-seventh Issue (August, 2006)

Fourty-sixth Issue (June, 2006)

Fourty-fifth Issue (April, 2006)

Fourty-fourth Issue (February, 2006)

Fourty-third Issue (December, 2005)

Fourty-second Issue (October, 2005)

Fourty-first Issue (August, 2005)

Fourtith Issue (June, 2005)

Thirty-ninth Issue (April, 2005)

Thirty-eighth Issue (February, 2005)

Thirty-seventh Issue (December, 2004)

Thirty-sixth Issue (October, 2004)

Thirty-fifth Issue (August, 2004)

Thirty-fourth Issue (June, 2004)

Thirty-third Issue (April, 2004)

Thirty-second Issue (February, 2004)

Thirty-first Issue (December, 2003)

Thirtieth Issue (October, 2003)

Twenty-nineth Issue (August, 2003)

Twenty-eighth Issue (June, 2003)

Twenty-seventh Issue (Spring, 2003)