Bioscience
First Transgenic Pig Model of Huntington¡¯s Disease
A team of scientists, led by Prof. Lai Liangxue, of the Guangzhou Institute of Biomedicine and Health, CAS and Prof. Li Xiaojiang from the University of Emory, U.S.A, has successfully produced transgenic pig models of Huntinton¡¯s Disease, which has shown typical symptom of this human disease. This work was published on Human Molecular Genetics on Oct. 15th, 2010 as a cover story. Using the transgenic vectors constructed by Prof. Li¡¯s lab, Professor Lai¡¯s team has successfully produced 6 transgenic pigs expressing the mutant Huntingtin gene through somatic cell nuclear transfer technology in assistance of Prof. Gu Weiwang from the Southern Medical University, China. So far, the transgenic pig has already produced offspring through normal breeding. As results, postnatal death, dyskinesia and chorea-like movement were observed in some transgenic pigs that express mutant huntingtin. Importantly, the transgenic HD pigs, unlike mice expressing the same transgene, displayed typical apoptotic neurons with DNA fragmentation in their brains, which is a new finding in Huntington¡¯s disease models, suggesting that species differences determine neuropathology and underscore the importance of large mammalian animals for modeling neurological disorders. This pig model can greatly enhance study of the pathology and drug discovery for Huntington¡¯s disease.
Rabbit Prion Protein has Unique Structural Characteristics and Kinetic Property
In the past few years, a research group led by Prof. Lin Donghai of the Shanghai Institute of Materia Medica, CAS studied the solution structure and dynamics of RaPrPC-(91-228) and its S173N variant and found that the rabbit prior protein (RaPrPC) has unique structural characteristics and kinetic property. Researchers pointed out that the ordered loop 165-172 and its interaction with helix-3, together with the unique distribution of surface electrostatic potential, significantly contribute to the unique biological functions and biochemical characteristics of RaPrPC. This research result will help further reveal the molecular mechanism of the comformational change of PrPC¡úPrPSc in PrPC and the pathogenesis of TSE. This research result was published in the recent issue of J. Biol. Chem. (July 16, 2010).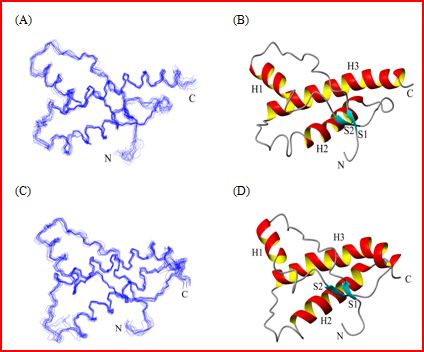 Other Issues

Seventy-first Issue (August 2010)

Seventieth Issue (June 2010)

Sixty-nineth Issue (April 2010)

Sixty-eighth Issue (February 2010)

Sixty-seventh Issue (December 2010)

Sixty-sixth Issue (October 2009)

Sixty-fifth Issue (August 2009)

Sixty-fourth Issue (June 2009)

Sixty-third Issue (April 2009)

Sixty-second Issue (February 2009)

Sixty-first Issue (December 2008)

Sixtieth Issue (October 2008)

Fifty-nineth Issue (August 2008)

Fifty-eighth Issue (June 2008)

Fifty-seventh Issue (April 2008)

Fifty-sixth Issue (February 2008)

Fifty-fifth Issue (December 2007)

Fifty-fourth Issue (October 2007)

Fifty-third Issue (August 2007)

Fifty-second Issue (June 2007)

Fifty-first Issue (April 2007)

Fiftith Issue (Feb. 2007)

Fourty-nineth Issue (December, 2006)

Fourty-eighth Issue (Ocboter, 2006)

Fourty-seventh Issue (August, 2006)

Fourty-sixth Issue (June, 2006)

Fourty-fifth Issue (April, 2006)

Fourty-fourth Issue (February, 2006)

Fourty-third Issue (December, 2005)

Fourty-second Issue (October, 2005)

Fourty-first Issue (August, 2005)

Fourtith Issue (June, 2005)

Thirty-ninth Issue (April, 2005)

Thirty-eighth Issue (February, 2005)

Thirty-seventh Issue (December, 2004)

Thirty-sixth Issue (October, 2004)

Thirty-fifth Issue (August, 2004)

Thirty-fourth Issue (June, 2004)

Thirty-third Issue (April, 2004)

Thirty-second Issue (February, 2004)

Thirty-first Issue (December, 2003)

Thirtieth Issue (October, 2003)

Twenty-nineth Issue (August, 2003)

Twenty-eighth Issue (June, 2003)

Twenty-seventh Issue (Spring, 2003)