Hu Jintao Visits Kunming Institute of Botany
On May 14, President Hu Jintao made an inspection tour to the Kunming Institute of Botany (KIB), CAS.
President Hu paid a visit to the Fungi Chemistry Research Lab, the Achievement Exhibition Room and the Herbarium of KIB. He talked amiably with researchers there, asking them in details about KIB's basic research, applied research and achievements transfer, as well as their work and life.
During the inspection, President Hu commented that industrialization is unattainable without the achievements of basic research and applied research. He encouraged the researchers to make more achievements so as to give full play to the significant role that science and technology (S&T) play in boosting the economic and social development.
When President Hu called on Wu Zhengyi, member of CAS, he praised scientists of the older generation like Wu Zhengyi for their devotion of all their lives to China's botanical cause. He also expressed gratitude for the contributions they made to China's botanical science.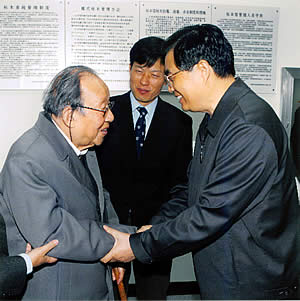 CAS to Promote S&T Cooperation with Nordic Countries
A seminar on the Strategic Partnership between CAS and its counterparts in the four Nordic countries was held in Beijing On Apr. 11, which attracted nearly 100 participants, including leaders of the CAS functional bureaus and more than 30 CAS institutes, experts and the S&T counselors from the Finland, Sweden, Denmark and Norway Embassies to China
The cooperation in the coming five years will focus on information technology and communications, environment and resources, life sciences, nano-technology, light sources project of the National Large Scientific facilities Program, and S&T development strategies, etc.
Lu Yongxiang, President of CAS attended the seminar and delivered a speech. Prof. Lu said that the Nordic countries have acquired outstanding results by seizing opportunities in the recent years and attaching importance to S&T development. They have taken the lead to build an innovation-driven economy and a knowledge-based society, with comprehensive competitiveness ranking top in the world by proactively developing a national innovation system with their own characteristics. Moreover, the northern European countries have not only attached importance to eco-environmental protection and the harmonious development between human being and nature at an early period, but have successfully found the way how to achieve goals of economic growth, social progress and sound environment. Therefore, the experience of northern Europe is valuable to China.
Participants from the Nordic countries are optimistic about the future cooperation with CAS. They believe that China, with abundant resources, huge market and reasonable labor cost, has been attracting the Nordic enterprises to invest and have their business in China. As CAS boasts sufficient and high caliber S&T talent bank, it is be beneficial for the four Nordic countries to cooperate with CAS.
Third Conference for Chinese Fellows of TWAS Held in Beijing
The Third Conference for Chinese Fellows of the Academy of Sciences for the Developing World (TWAS) was held on April 6 in Beijing, which was attended by more than 60 TWAS fellows from across the country.
Lu Yongxiang, TWAS Vice President, who is also President of CAS, made a work report at the meeting. Prof. Lu spoke highly of the TWAS achievements since its establishment. He said that its efforts toward a close partnership with research institutions of the third world countries and international organizations with a view to benefiting the developing countries and its initiative to develop the innovation capacity of these countries, which are widely acknowledged by the international community.
While affirming the active and important role of Chinese scientists in the TWAS development, Lu pointed out that we should learn from the high quality lectures of the awarded scientists in other countries. India ranks first in terms of the proportion of TWAS fellows and awarded scientists. He emphasized that the Chinese scientists should draw valuable experiences from India and other developing countries in S&T development by stepping up efforts in strategic research, training leading scientists in various fields and making exploration at scientific frontiers in line with national and social demands.