2006 Awarding Ceremony of National S&T Awards Held
Top Award Goes to Li Zhensheng
China granted its National S&T Awards for 2006 to individual scientists and institutions that have made remarkable achievements in S&T innovation on Feb. 27 at the Great Hall of the People in Beijing. Prof. Li Zhensheng, Member of CAS and Research Fellow of the Institute of Genetics & Developmental Biology, CAS, was presented with the 2006 National Supreme S&T Award by Chinese President Hu Jintao at the annual awarding ceremony held under the auspices of the State Council. President Hu expressed his congratulations to Prof. Li and warmly shook hands with him.
Li worked on hybrid of wheat for about 20 years, and finally developed the Xiaoyuan series of wheat. In the last three decades, the Xiaoyuan series have increased accumulative wheat output by 7.5 billion kilograms.
There were 30 CAS projects received National S&T awards for 2006, including twelve second prizes of the National Natural Science Award, five second prizes of the National Technological Invention Award and thirteen prizes of the National S&T Progress Award.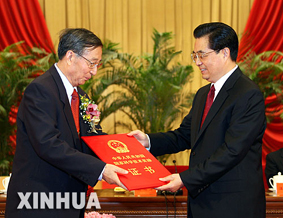 Lu Yongxiang Allowed Interview with Der Spiegel
Lu Yongxiang, President of CAS, allowed an intervie with Martin Doerry, Deputy Editor-in-chief of Der Spiegel and Andreas Lorenz, its resident reporter in China on Feb. 7 in Beijing. The interview involved various topics, ranging from the history and current status of the Sino-German S&T cooperation to positioning of CAS and distinctions of the two countries' educational and S&T systems. Besides, Lu also answered questions regarding protection of intelligent properties, roles played by the Party and relevant policies in promoting the development of S&T and education.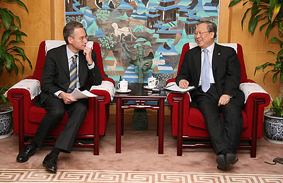 Lu Yongxiang Pays Visit to Japan
A delegation of senior Chinese legislators left Beijing for Tokyo for a visit upon invitation from the House of Councilors, the National Diet of Japan. Lu Yongxiang, Vice Chairman of China's National People's Congress (NPC) Standing Committee led the delegation and inaugurated a regular exchange mechanism between the NPC and the Japanese House of Councilors during their visit from March 22 to 28. The Chinese legislators thus opened their first meeting with members of the House of Councilors. The two parties have reached consensus in many fields through communications, commented Mr. Lu in his report delivered at the end of the meeting.
During their stay in Tokyo, Mr. Lu met with Japanese celebrities from the local S&T community and exchanged ideas with them regarding issues such as more efforts needed to intensify the communication in strategies and policies between the Chinese and Japanese S&T communities and to mutually upgrade their innovation capabilities.
Ye Duzheng: Top 10 Inspiring China Most for 2006
The ¡°Top 10 Figures Inspiring China Most for 2006¡± was finally unveiled. This annual event has drawn great attention and enthusiasm from audiences throughout the nation since it was launched last December. The winners include a prestigious atmospheric physicist Ye Duzheng, who is also a Member of CAS.

As one of the founders in the global changes research, Prof. Ye has made pioneering achievements in areas such as global changes, atmospheric circulation and climate changes. He put forward creative and systematic concepts for the global changes and has made highly original and innovative contributions to the atmospheric circulation and climate changes. His groundbreaking achievements constitute the core of the cutting edge of atmospheric science and are highly recognized among his international peers. Even though he is 91 years old, he is still busy with his research in the lab.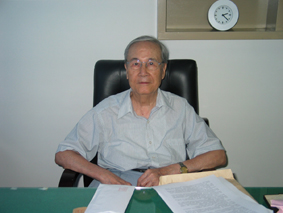 Strategy of Sustainable Development in China (National Volume) Published
Strategy of the Sustainable Development in China (National Volume) was published on Feb. 11 in Beijing. Chief-edited by Lu Yongxiang, President of CAS, the 20-volum book series was the brainchild of 184 senior Chinese experts and scholars from various fields after two-year-and-eight-month hard work. As the first great academic work and cultural engineering in China, it offers a systematic explanation of the background, process, objectives, priorities and action plans of China's strategy for sustainable development.
Totaling 13.5 million words and hosting 450 plus illustrations and 1600 plus tables, the publication gives a panoramic overview of China's strategy for sustainable development with China¡¯s situation and development background as its longitude and China¡¯s 31 administrative divisions (temporarily exclusive of Hong Kong and Macao Special Administrative Regions and Taiwan) as its latitude. It covers various subjects, including population, resources, environment, economy, society, science, technology, education, culture, natural disasters, poverty alleviation, and sustainability buildup.