Headline News
State Council: S&T Innovation to take Lead in Next Ten Years
Premier Wen Jiabao chaired an executive meeting of the State Council on March 31, hearing the working report from CAS about the progress of the Knowledge Innovation Program. It was decided that the Knowledge Innovation Program shall continue to be implemented and priority shall be given to the solution for major S&T issues concerning China's long-term development. At the meeting, it was emphasized that, to tide over the international financial crisis, and rise to the challenge of new technological revolution and promote eco-social sustainable development, the Knowledge Innovation Program shall continue to be implemented from 2011 to 2020. The Knowledge Innovation Program shall focus on the fundamental, strategic and forward looking major S&T issues concerning the overall situation and long-term development of the state. Breakthroughs shall be made in frontier scientific issues that will drive the technological revolution and promote industrial revitalization, major S&T issues of public welfare that will promote people's health level, provide guarantee for and improve people's livelihood and the issues concerned with ecology and protection of environment, and strategic high-tech issues that will strengthen the international competitiveness and safeguard national security. In accordance with the requirements for "first class achievements, first grade efficiency, first rate management and first notch talents", the capability for innovation should be increased sharply, in order to realize the overall leapfrog in the S&T innovation with ten years' endeavor. For this purpose, first, the strategic emphasis in S&T innovation shall be defined; innovation activities shall be arranged with priorities in the three aspects regarding strategic S&T issues, major directions of innovation leapfrog and the pioneering research in frontier fields. Second, strategic pioneering S&T projects shall be organized and implemented aiming to achieve substantial breakthroughs in innovation and cluster advantages; overall arrangements shall be adjusted and optimized and regional innovation clusters and open innovation infrastructure shall be built; reform of research institutions shall be carried out in a more sound way aiming to form a favorable mechanism to encourage innovation. Third, innovative talents shall be fostered and brought up aiming to build innovative teams of talents with appropriate scales and optimized structures; the mechanism of employment based on competitive selection and the mechanism of distribution, incentive and constraint shall be improved; improve the education system closely related to S&T innovation shall be perfected. Fourth, the S&T cooperation with enterprises, industrial sectors, local authorities, universities and other scientific research institutions and international institutions aiming to access and digest international innovation resources, so as to promote cooperation among industries, universities and research institutions and accelerate the commercialization of research achievements.
CAS Forum: Calling for More Talents
A workshop was held from April 26 to 27, on the work of visiting professorships for senior international scientists and young international scientists. Liu Yandong, State councilor, was present at the workshop meeting with participating experts, and delivered an important speech. She said that the Chinese Government has attached great much importance to the international S&T cooperation and exchange. She hoped that the foreign experts get themselves access to the developing, opening and civilized China, and become friendly envoys for S&T exchange, and thus become bridge and ties to promote the friendship between people of different countries. The Chinese government is sparing no effort to provide good working and living environment aiming to welcome still more foreign experts to conduct S&T cooperation, display their abilities, pioneer new causes and to realize ideal targets in China, and to work together with the Chinese scientists to create better life for the human being with science and technology, so as to contribute even greater to a prosperous and harmonious world. Lu Yongxiang, president of CAS and Chen Yiyu, President of NSFC, etc. were present at the workshop.
CAS put forward and began to implement two programs in 2009 in terms of talents cooperation, which include the "CAS Visiting Professorships for Senior International Scientists" and "CAS Fellowships for Young International Scientists". The two programs are focused on the introduction of international outstanding scientists in different fields, who will conduct long-term collaborative research in CAS institutions with necessary funding, which are aimed to upgrade the level of international exchange and cooperation and the innovative abilities of the CAS scientists and the overall science ranks as a whole.
Lu Yongxiang Meets John Holdren
On May 26, Lu Yongxiang, President of CAS, met with John Holdren, Advisor to President Barack Obama for Science and Technology and Director of the White House Office of Science and Technology Policy, and Todd Stern, U.S. Special Envoy for Climate Change, and their entourage. Lu Yongxiang reviewed extensive exchange and cooperation between China and U.S. S&T circles, particularly the progress in cooperation between CAS and NAS, DOE, DOA, and relevant foundations, etc. in the last three decades or more. Lu Yongxiang highly commented the series new measures in S&T innovation by the U.S. government and briefed the U.S. delegation about progress in designing the CAS S&T route map to 2050. John Holdren pointed out there are many opportunities for cooperation in different new technology fields. Cooperation will not only reduce costs, but will also decrease risks. He expressed that during his term of office, he would be committed to resuming and strengthening cooperation between the U.S. and the S&T circles of other countries, particularly with China, which is a very important country. In terms of climate change, Todd Stern expressed that the global climate change is a big challenge to the U.S. and also a big challenge to China in its process of industrialization and modernization. The two countries, China and the U.S. should strengthen cooperation in this regard, he added.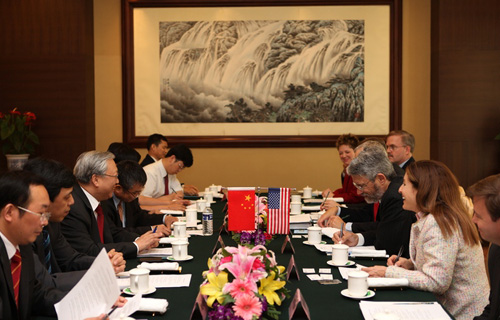 Other Issues

Sixty-nineth Issue (April 2010)

Sixty-eighth Issue (February 2010)

Sixty-seventh Issue (December 2010)

Sixty-sixth Issue (October 2009)

Sixty-fifth Issue (August 2009)

Sixty-fourth Issue (June 2009)

Sixty-third Issue (April 2009)

Sixty-second Issue (February 2009)

Sixty-first Issue (December 2008)

Sixtieth Issue (October 2008)

Fifty-nineth Issue (August 2008)

Fifty-eighth Issue (June 2008)

Fifty-seventh Issue (April 2008)

Fifty-sixth Issue (February 2008)

Fifty-fifth Issue (December 2007)

Fifty-fourth Issue (October 2007)

Fifty-third Issue (August 2007)

Fifty-second Issue (June 2007)

Fifty-first Issue (April 2007)

Fiftith Issue (Feb. 2007)

Fourty-nineth Issue (December, 2006)

Fourty-eighth Issue (Ocboter, 2006)

Fourty-seventh Issue (August, 2006)

Fourty-sixth Issue (June, 2006)

Fourty-fifth Issue (April, 2006)

Fourty-fourth Issue (February, 2006)

Fourty-third Issue (December, 2005)

Fourty-second Issue (October, 2005)

Fourty-first Issue (August, 2005)

Fourtith Issue (June, 2005)

Thirty-ninth Issue (April, 2005)

Thirty-eighth Issue (February, 2005)

Thirty-seventh Issue (December, 2004)

Thirty-sixth Issue (October, 2004)

Thirty-fifth Issue (August, 2004)

Thirty-fourth Issue (June, 2004)

Thirty-third Issue (April, 2004)

Thirty-second Issue (February, 2004)

Thirty-first Issue (December, 2003)

Thirtieth Issue (October, 2003)

Twenty-nineth Issue (August, 2003)

Twenty-eighth Issue (June, 2003)

Twenty-seventh Issue (Spring, 2003)