Headline News
Lu Yongxiang Visits Romania
Lu Yongxiang, President of CAS, paid a visit with his entourage to the Romanian Academy of Sciences and Horia Hulubei National Institute of Physics and Nuclear Engineering from Mar. 19 to 20. During his visit to Romania, President Lu called on Romanian President Traian B?sescu. Lu reviewed the profound traditional friendship between the two countries, introduced the progress in S&T cooperation between the two parties and hoped to further expand S&T exchange and enhance S&T cooperation between China and Romania. Traian B?sescu expressed appreciation for the development of China in S&T and economy and wished to strengthen cooperation in S&T, culture, economy and other fields with China and reactivate the cooperation projects in fields of hydroelectricity, renewable energy resources and other fields. Lu confirmed that China is willing to promote the cooperation with Romania in S&T, culture, education and other fields and hoping that Romania will dispatch more young scientists to China to carry out collaborative research so as to build a bridge for future cooperation between two countries. On Mar. 19, Lu and his entourage visited Romania Academy of Sciences, the Horia Hulubei National Institute of Physics and Nuclear Engineering, and held talks with Dr. Ionel Haiduc, President of Romania Academy of Sciences.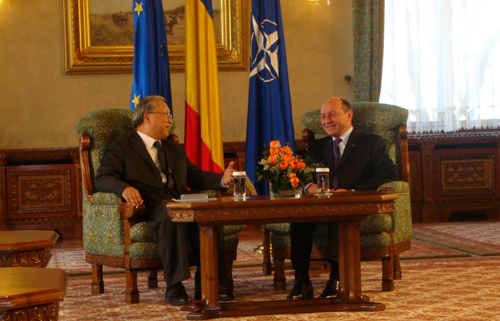 Lu Yongxiang Present at IAC Meetings
The 10th Board Meeting of the InterAcademy Council (IAC) was held in Amsterdam, Netherland from Mar. 21 to 23. After the IAC Board Meeting, Lu Yongxiang, President of CAS, attended the meeting of Executive Committee of the InterAcademy Panel on International Issues (IAP) on Mar. 24 on behalf of CAS. Lu Yongxiang and Robbert Dijikgraaf, President of the Royal Netherlands Academy of Arts and Sciences, as Co-Chairs of IAC, chaired this Board Meeting of IAC. Over 30 members of the Board from the member academies of sciences of IAC and IAP, specially invited representatives and observers attended this Board Meeting. They listened to the work report and financial report delivered by Dr. Campbell, Executive Director of IAC, discussed the future strategic report of IAC and put forward the core tasks of IAC in 2010. Lu emphasized that IAC should comply with the obligations set forth in its bylaws, uphold the banner of science and democracy, establish and maintain its reputation in science, focus on studies of global hot issues, provide quality consultative reports, care for issues of interest to developed countries as well as developing countries, particularly the interests and development of least developed countries, and make great contributions to promote of sustainable development through science.
Other Issues

Sixty-eighth Issue (February 2010)

Sixty-seventh Issue (December 2010)

Sixty-sixth Issue (October 2009)

Sixty-fifth Issue (August 2009)

Sixty-fourth Issue (June 2009)

Sixty-third Issue (April 2009)

Sixty-second Issue (February 2009)

Sixty-first Issue (December 2008)

Sixtieth Issue (October 2008)

Fifty-nineth Issue (August 2008)

Fifty-eighth Issue (June 2008)

Fifty-seventh Issue (April 2008)

Fifty-sixth Issue (February 2008)

Fifty-fifth Issue (December 2007)

Fifty-fourth Issue (October 2007)

Fifty-third Issue (August 2007)

Fifty-second Issue (June 2007)

Fifty-first Issue (April 2007)

Fiftith Issue (Feb. 2007)

Fourty-nineth Issue (December, 2006)

Fourty-eighth Issue (Ocboter, 2006)

Fourty-seventh Issue (August, 2006)

Fourty-sixth Issue (June, 2006)

Fourty-fifth Issue (April, 2006)

Fourty-fourth Issue (February, 2006)

Fourty-third Issue (December, 2005)

Fourty-second Issue (October, 2005)

Fourty-first Issue (August, 2005)

Fourtith Issue (June, 2005)

Thirty-ninth Issue (April, 2005)

Thirty-eighth Issue (February, 2005)

Thirty-seventh Issue (December, 2004)

Thirty-sixth Issue (October, 2004)

Thirty-fifth Issue (August, 2004)

Thirty-fourth Issue (June, 2004)

Thirty-third Issue (April, 2004)

Thirty-second Issue (February, 2004)

Thirty-first Issue (December, 2003)

Thirtieth Issue (October, 2003)

Twenty-nineth Issue (August, 2003)

Twenty-eighth Issue (June, 2003)

Twenty-seventh Issue (Spring, 2003)