Lu Yongxiang: Trip to Strengthen Tie with European Countries
From Dec. 7 to 19, 2008, Lu Yongxiang, President of CAS, paid a visit to France, Germany and Great Britain on invitation.
During his visit to France, President Lu paid a visit to the headquarters of Ifremer. He held talks with Prof. Brechignac, Chairman of French National Centre for Scientific Research(FNCSR)and signed a cooperation agreement. Lu also signed a complementary agreement with Dr. Hoffmann, President of FNAS on cooperation between the two bodies. At the headquarters of FNCSR, Dr. Brechignac co-hosted a ceremony with Dr. Hoffmann, President of FNAS and Dr. Francois Guinot, President of the French Academy of Technologies to present President Lu a Medal of Honor for his contribution and efforts in promoting Sino-French scientific cooperation. In Germany, Lu paid a visit to the headquarters of Helmholtz Association of the German Research Centers and its subordinate institution--GKSS. President Lu signed a cooperative agreement with Dr. Mlynek, Chairman of the Helmholtz Association, confirming that the two bodies will cooperate substantially in energy, environment, mega-science projects and health. Lu and his entourage also paid a visit to the Heidelberg University. During his visit to UK, President Lu paid a visit to the Research Council of UK (RCUK)and had discussions with representatives from BBSRC, STFC, etc. At Cambridge, he held talks with Martin Rees, President of the Royal Society. They both highly commented the long-term and sound cooperation between the two bodies and expressed the wish for further promotion of relevant cooperation. President Lu also met with Prof. John Beddington, chief science consultant of UK and Prof. Anne Glover, chief science consultant of Edinburg, and other relevant personnel.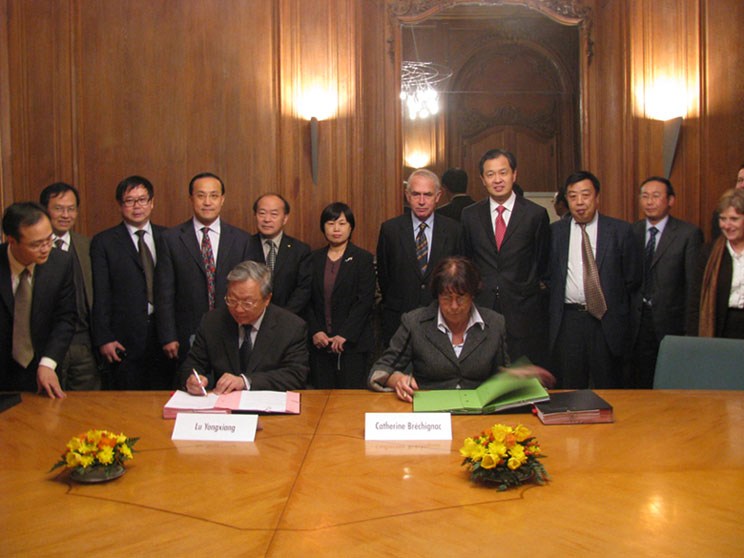 2008 CAS International S&T Cooperation Award Announced
On Jan. 14, CAS declared to grant 2008 International Cooperation Science & Technology Award of CAS to Prof. Arima Akito, President of the Japan Science Foundation, Prof. Yuen-Ron Shen from the University of California at Berkeley, and Prof. Michel Che from the Université Pierre et Marie Curie- Paris 6. In the meantime, the three host institutions, namely the Shanghai Institute of Applied Physics, the Institute of Physics and the Dalian Institute of Chemical Physics were also honored at the ceremony.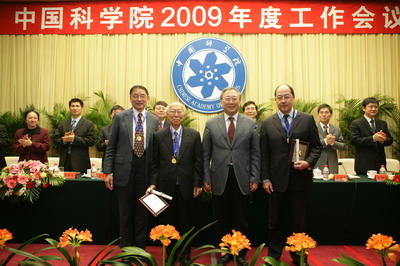 New Discovery of Galactic Structure
Recently, a research team, composed of members from the Purple Mountain Astronomical Observatory, CAS, Department of Astronomy of the Nanjing University and the Shanghai Astronomical Observatory in cooperation with experts from USA, Germany and Italy, observed the methanol maser sources in some ten massive star forming areas by a Very Long Baseline Interferometer (VLBA) with the world highest-resolution. They measured accurately the distance between some Galactic structures and the 3-dimensional velocities for the first time and made breakthrough in measuring and studying the structure of Galactic spiral arm. Their research shows that the Galaxy rotates faster than afore-estimated 220 km/s, which should be 250 km/s. Moreover, the mass of Galaxy is also about 1.5 times bigger than previously estimated. These results imply that human being can directly measure the size and movement of the Galaxy. The latest result was published on February issue of ApJ. Relevant results have been acknowledged by international circles as a significant progress, and widely covered by media such as BBC, the Times, USA Today and Yahoo, etc.
Other Issues

Sixty-first Issue (December 2008)

Sixtieth Issue (October 2008)

Fifty-nineth Issue (August 2008)

Fifty-eighth Issue (June 2008)

Fifty-seventh Issue (April 2008)

Fifty-sixth Issue (February 2008)

Fifty-fifth Issue (December 2007)

Fifty-fourth Issue (October 2007)

Fifty-third Issue (August 2007)

Fifty-second Issue (June 2007)

Fifty-first Issue (April 2007)

Fiftith Issue (Feb. 2007)

Fourty-nineth Issue (December, 2006)

Fourty-eighth Issue (Ocboter, 2006)

Fourty-seventh Issue (August, 2006)

Fourty-sixth Issue (June, 2006)

Fourty-fifth Issue (April, 2006)

Fourty-fourth Issue (February, 2006)

Fourty-third Issue (December, 2005)

Fourty-second Issue (October, 2005)

Fourty-first Issue (August, 2005)

Fourtith Issue (June, 2005)

Thirty-ninth Issue (April, 2005)

Thirty-eighth Issue (February, 2005)

Thirty-seventh Issue (December, 2004)

Thirty-sixth Issue (October, 2004)

Thirty-fifth Issue (August, 2004)

Thirty-fourth Issue (June, 2004)

Thirty-third Issue (April, 2004)

Thirty-second Issue (February, 2004)

Thirty-first Issue (December, 2003)

Thirtieth Issue (October, 2003)

Twenty-nineth Issue (August, 2003)

Twenty-eighth Issue (June, 2003)

Twenty-seventh Issue (Spring, 2003)