Lu Yongxiang Leads Delegation to Attend 17th TWAS General Assembly
The 17 General Meeting of the Academy of Sciences for the Developing World (TWAS), TWAS 10th General Conference and the 9th General Assembly of the Third World Network of Scientific Organizations (TWNSO) were held in Rio de Janeiro, Brazil from the 2nd to 6th, Sep. 2006 with the theme of Scientific Research in Developing Countries: Building a New Future. More than 370 participants, including TWAS Members, government officials and delegates of international organizations from over 60 countries, were present at the meeting. The 20-member Chinese delegation headed by Lu Yongxiang, President of CAS, participated in the conference.
Bai Chunli, Executive Vice President of CAS was elected Vice President of TWAS at the meeting.
"Nobel Laureates Beijing Forum 2006" Held in Beijing
Under the joint sponsorship of the People's Government of Beijing Municipality and CAS, the ¡°Nobel Laureates Beijing Forum 2006" was launched from Sep. 5th to 7th 2006" with the theme of "Life Sciences and Human Health". Some scientists and scholars famous in the field of life sciences both at home and abroad participated in the Forum, including 7 Nobel Laureates. A series of relevant events were organized, such as ¡°Forum on S&T Innovation and Development Strategy¡±, ¡°Forum on Life Sciences and Human Health¡±, ¡°Face to Face Communication with Young Students¡±, ¡°Bio-technology Roundtable Meeting¡±, ¡°Forum on Development of Bio-technology and Bio-medicine Industry¡±, aiming to deepen the understanding of Chinese science and industry circles on the development of international life sciences and bio-technology, promote the cooperation between Chinese science circle with their international peers, boost the dialogue between Chinese bio-medicine circle and international scientists and scientific research institutions, and to improve the awareness of the public on life sciences, bio-technology and bio-medicine industry.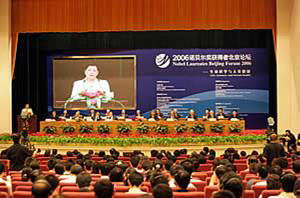 ¡°Goodson-2E¡± --¨C New Generation CPU Successfully Developed
On Sep . 13th, Chinese scientists announced the successful development of a new generation CPU named ¡°Goodson-2E¡± , which can rival early-series Intel Pentium IV processor in performance. ¡°Goodson-2E¡± CPU contains 47 million transistors. As small as two thumbnails, its power consumption ranges between three to eight watts per hour, ¡°Goodson-2E¡± CPU has reached international advanced level in terms of single processor design. The highest frequency is 10 GHz, and the peak computing speed is as high as 4000 m illion f loating p oint/s econd (MFLOPS) double precision. It is a CPU chip with complete home- grown intellectual property right.
At present, ¡°Goodson-2E¡± CPU is under mass production, and will be available in the market by the end of 2006. The research team of ¡°Goodson-2E¡± CPU is now working to design a multi-core processor for ¡°Goodson-3E¡± CPU.
Other Issues

Fifteenth Issue (Spring 2000)

Sixteenth Issue (Summer 2000)

Seventeenth Issue (Autumn 2000)

Eighteenth Issue (Winter 2000)

Nineteenth Issue (Spring 2001)

Twentith Issue (Summer 2001)

Twenty-first Issue (Autumn 2001)

Twenty-second Issue (Winter 2001)

Twenty-third Issue (Spring 2002)

Twenty-forth Issue (Summer 2002)

Twenty-fifth Issue (Autumn 2002)

Twenty-sixth Issue (Winter 2002)

Twenty-seventh Issue (Spring, 2003)

Twenty-eighth Issue (June, 2003)

Twenty-nineth Issue (August, 2003)

Thirtieth Issue (October, 2003)

Thirty-first Issue (December, 2003)

Thirty-second Issue (February, 2004)

Thirty-third Issue (April, 2004)

Thirty-fourth Issue (June, 2004)

Thirty-fifth Issue (August, 2004)

Thirty-sixth Issue (October, 2004)

Thirty-seventh Issue (December, 2004)

Thirty-eighth Issue (February, 2005)

Thirty-ninth Issue (April, 2005)

Fourtith Issue (June, 2005)

Fourty-first Issue (August, 2005)

Fourty-second Issue (October, 2005)

Fourty-third Issue (December, 2005)

Fourty-fourth Issue (February, 2006)

Fourty-fifth Issue (April, 2006)

Fourty-sixth Issue (June, 2006)

Fourty-seventh Issue (June, 2006)