Lu Yongxiang Pays Visit to Russia
Lu Yongxiang, President of CAS, paid a friendly visit to the Russian Academy of Sciences (RAS) with his entourage of ten, at invitation of Dr. Osipov, President of RAS. It was an important exchange between RAS and CAS under the framework of Sino-Russian year. At the end of the meeting, RAS delegation held a grand ceremony to confer a foreign member certificate to Lu Yongxiang at its convention hall. ??Later, Lu Yongxiang and Osipov signed the "Agreement on Scientific Cooperation between RAS and CAS for 2007-2011¡±. On June 9, Sino-Russian Joint Laboratory for Atmospheric Physics was unveiled at the Institute of Atmospheric Physics, RAS, Moscow. Lu Yongxiang was present at the unveiling ceremony.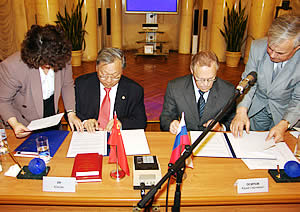 Lu Yongxiang Present at Sino-Japan Round Table Conference
From July 9 to 13, Lu Yongxiang, Vice-President of the Standing Committee of the National People¡¯s Congress of China and President of CAS paid a formal visit to Japan with his entourage. On July 12, Lu and his entourage attended the 2nd Sino-Japan High-level S&T Round Table Conference held in Hokkaido.
The conference was themed as ¡°Building a Recycling Based Sustainable Society¡±. Over 20 Japanese representatives, including Akito Arima, Hiroyuki Yoshikawa, and other delegates from industries, universities and institutes, attended the conference. It was decided that the 3rd Sino-Japan High-level S&T Round Table Conference would be held in China next year.
On July 13, Koono Yohe, President of the Japanese House of Representatives met with Lu Yongxiang during his visit in Tokyo. During his stay in Japan, Lu Yongxiang also met with Imaizumi, Vice-President of Japan's House of Representatives, Matsuda Iwao, President on Japanese side of the Chinese National People¡¯s Congress-Japanese Congress Exchange Mechanism, Ichiro Kanazawa, President of the Science Council of Japan, Shiranishi Shinichiro, President of Japan-China Friendship Association, etc. Besides, Lu Yongxiang also attended the ceremony for renewal of the technological cooperation agreement between CAS and the Japanese Company IHI, Ltd., and paid a visit to the Hokkaido Research Center of National Institute of Advanced Industrial Science and Technology.
Research Achievement of Qinghai-Tibet Railway Published in NatureChina
Recently, NatureChina reviewed and recommended research result on cooling mechanism of coarse rock layer achieved by Cheng Guodong, Member of CAS, Lai Yuanming, Research Fellow and other researchers such as Sun Zhizhong, Jiang Fan from the Cold and Arid Regions Environmental and Engineering Research Institute, CAS, with numerical simulation, in-room experiment and on-spot experiment. The research result was published recently on Permafrost and Periglacial Processes (Volume 18, Issue 2, Pages 151 ¨C 160). The researchers compared the coarse rock layer to a thermo semi-conductor of multi-year frozen earth, and concluded that the coarse rock layer can be used as a reinforced measure to cope with the global warming effect and enhance stability of embankment.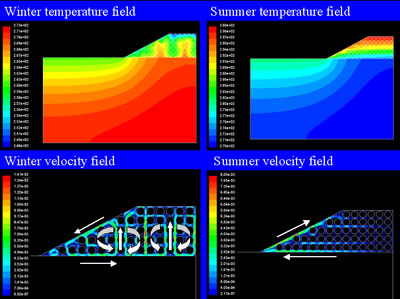 Other Issues

Sixtieth Issue (October 2008)

Fifty-nineth Issue (August 2008)

Fifty-eighth Issue (June 2008)

Fifty-seventh Issue (April 2008)

Fifty-sixth Issue (February 2008)

Fifty-fifth Issue (December 2007)

Fifty-fourth Issue (October 2007)

Fifty-third Issue (August 2007)

Fifty-second Issue (June 2007)

Fifty-first Issue (April 2007)

Fiftith Issue (Feb. 2007)

Fourty-nineth Issue (December, 2006)

Fourty-eighth Issue (Ocboter, 2006)

Fourty-seventh Issue (August, 2006)

Fourty-sixth Issue (June, 2006)

Fourty-fifth Issue (April, 2006)

Fourty-fourth Issue (February, 2006)

Fourty-third Issue (December, 2005)

Fourty-second Issue (October, 2005)

Fourty-first Issue (August, 2005)

Fourtith Issue (June, 2005)

Thirty-ninth Issue (April, 2005)

Thirty-eighth Issue (February, 2005)

Thirty-seventh Issue (December, 2004)

Thirty-sixth Issue (October, 2004)

Thirty-fifth Issue (August, 2004)

Thirty-fourth Issue (June, 2004)

Thirty-third Issue (April, 2004)

Thirty-second Issue (February, 2004)

Thirty-first Issue (December, 2003)

Thirtieth Issue (October, 2003)

Twenty-nineth Issue (August, 2003)

Twenty-eighth Issue (June, 2003)

Twenty-seventh Issue (Spring, 2003)