Lu Yongxiang Pays Visit to France
Lu Yongxiang, Vice-Chairman of the NPC Standing Committee and President of CAS, paid a visit to France from April 9 to 13 with his entourage. During his visit, Lu renewed or signed the general or special framework agreements for cooperation with the French National Center for Scientific Research (CNRS), the French Atomic Energy Commission (CEA), the National Institute for Agricultural Research (INRA), the French National Institute for Health and Medical Research (INSERM) and the French Academy of Technology.

On April 12, Dominique de Villepin, French Prime Minister, met with Lu at the Prime Minister¡¯s office. Both parties exchanged opinions amicably on cooperation in areas such as science & technology, education and culture.

On April 12, Lu met with Marcio Barbosa, Deputy Director-General of UNESCO. The two sides discussed the intent of establishing a remote sensing organization for natural and cultural heritages under the framework of UNESCO, and reached an agreement.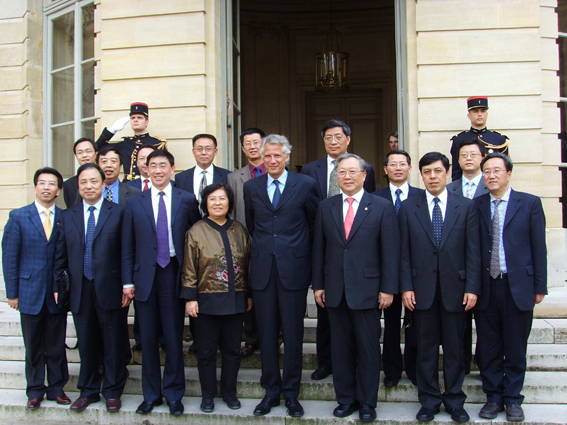 First Quantumkey Network System Tested Successfully
On the morning of April 2, the University of Science and Technology of China (USTC) held a press conference in Beijing, and formally declared that, the Key Laboratory of Quantum Information, CAS, led by Guo Guangcan, professor of USTC and Member of CAS, had successfully finished the test of four-user Quantumkey Network System on a commercial communication network of CNC Beijing with independently developed quantum router, and ensured the security of online communication. According to the source, this is the only quantumkey network system reported internationally that has realized random simultaneous inter-communication without intermediate forwarding, and thus, it represented a key step from p2p to network quantumkey communication. The system could run lastingly and steadily on a commercial fiber network with a better performance than other current quantumkey network schemes, and it could be easily expanded to multiple-hundred-user quantumkey communication networks with the available technology, experts said. The success of this test put not only quantumkey technology to application, but also laid solid foundation for the development of quantum networks.
Other Issues

Sixtieth Issue (October 2008)

Fifty-nineth Issue (August 2008)

Fifty-eighth Issue (June 2008)

Fifty-seventh Issue (April 2008)

Fifty-sixth Issue (February 2008)

Fifty-fifth Issue (December 2007)

Fifty-fourth Issue (October 2007)

Fifty-third Issue (August 2007)

Fifty-second Issue (June 2007)

Fifty-first Issue (April 2007)

Fiftith Issue (Feb. 2007)

Fourty-nineth Issue (December, 2006)

Fourty-eighth Issue (Ocboter, 2006)

Fourty-seventh Issue (August, 2006)

Fourty-sixth Issue (June, 2006)

Fourty-fifth Issue (April, 2006)

Fourty-fourth Issue (February, 2006)

Fourty-third Issue (December, 2005)

Fourty-second Issue (October, 2005)

Fourty-first Issue (August, 2005)

Fourtith Issue (June, 2005)

Thirty-ninth Issue (April, 2005)

Thirty-eighth Issue (February, 2005)

Thirty-seventh Issue (December, 2004)

Thirty-sixth Issue (October, 2004)

Thirty-fifth Issue (August, 2004)

Thirty-fourth Issue (June, 2004)

Thirty-third Issue (April, 2004)

Thirty-second Issue (February, 2004)

Thirty-first Issue (December, 2003)

Thirtieth Issue (October, 2003)

Twenty-nineth Issue (August, 2003)

Twenty-eighth Issue (June, 2003)

Twenty-seventh Issue (Spring, 2003)