Headline News
Lu Yongxiang Meets Robbert Dijkgraaf
On Sep. 13, Lu Yongxiang, Co-Chair of IAC and President of CAS, met with Robbert Dijkgraaf, the visiting Co-Chair of IAC and President of the Royal Dutch Academy of Sciences. They had an in-depth discussion on the close cooperation between IAC and Unesco, ICSU, World Bank, IAP and other international organizations and the strategic plan of IAC. Both parties agreed that IAC should establish a development advisory committee in order to promote the successful implementation of IAC strategic plan.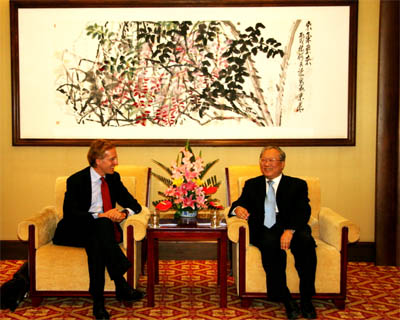 Revolution on Printing: World Picture Changed
Recently, a pilot line for nano material green printing and plating making technology was built by the Institute of Chemistry (IOC), CAS. On Sep. 6, The Legend Capital and other three enterprises from Beijing and Guangdong signed a letter of intent for ¡°Technologic Innovation Strategic Alliance for the Nano Material Green Printing and Plating Making Industry¡± with IOC, CAS. The ¡°nano material green printing and plating making technology¡± developed by IOC, CAS after many years¡¯ basic researches abandoned the technical thought of sensitive imaging, thus making it possible to eliminate the problems of light-resistant operation and discharge of waste liquid generated by the sensitization process fundamentally. According to Song Yanlin, leader of the research team and research fellow of IOC, CAS, the technology significantly reduces costs, greatly simplifies the process of plate-making, omits the processes of exposure, development and plate burning and presents good reproducibility of images, picture and text with better quality.
Other Issues

Sixty-fifth Issue (August 2009)

Sixty-fourth Issue (June 2009)

Sixty-third Issue (April 2009)

Sixty-second Issue (February 2009)

Sixty-first Issue (December 2008)

Sixtieth Issue (October 2008)

Fifty-nineth Issue (August 2008)

Fifty-eighth Issue (June 2008)

Fifty-seventh Issue (April 2008)

Fifty-sixth Issue (February 2008)

Fifty-fifth Issue (December 2007)

Fifty-fourth Issue (October 2007)

Fifty-third Issue (August 2007)

Fifty-second Issue (June 2007)

Fifty-first Issue (April 2007)

Fiftith Issue (Feb. 2007)

Fourty-nineth Issue (December, 2006)

Fourty-eighth Issue (Ocboter, 2006)

Fourty-seventh Issue (August, 2006)

Fourty-sixth Issue (June, 2006)

Fourty-fifth Issue (April, 2006)

Fourty-fourth Issue (February, 2006)

Fourty-third Issue (December, 2005)

Fourty-second Issue (October, 2005)

Fourty-first Issue (August, 2005)

Fourtith Issue (June, 2005)

Thirty-ninth Issue (April, 2005)

Thirty-eighth Issue (February, 2005)

Thirty-seventh Issue (December, 2004)

Thirty-sixth Issue (October, 2004)

Thirty-fifth Issue (August, 2004)

Thirty-fourth Issue (June, 2004)

Thirty-third Issue (April, 2004)

Thirty-second Issue (February, 2004)

Thirty-first Issue (December, 2003)

Thirtieth Issue (October, 2003)

Twenty-nineth Issue (August, 2003)

Twenty-eighth Issue (June, 2003)

Twenty-seventh Issue (Spring, 2003)