Headline News
Lu Yongxiang Meets Philip Campbell
On Dec. 3, 2009, Lu Yongxiang, President of CAS, met with Mr. Philip Campbell, the visiting Chief Editor of Nature, and his entourage. The two parties discussed about frontier science, global climate change, science communication and other issues. President Lu said: as a traditional communication mode, printed publications are still popular, but the young generation acquires knowledge and information more from the internet, so we must attach importance to the development of network publications and its influence. Philip Campbell share the same view with President Lu and expressed that Nature would be adapted to this trend and publish an online edition named Nature Communication from 2010. During the meeting, Mr. Philip Campbell also hoped to further enhance the communication and cooperation with CAS and the Science Press to promote dissemination of S&T achievements made by the Chinese scientists.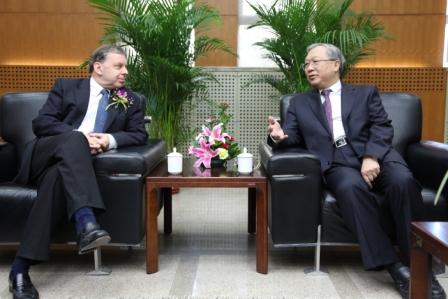 A Revolution in Clone: iPS Cells Yield Mice
Chinese researchers created live mouse ¡°Xiaoxiao¡± from induced pluripotent stem (iPS) cell lines in November 2008, the result of which was reported online in Nature in July 2009 and chosen as one of the Time¡¯s top 10 medical breakthroughs of the world for the year 2009. The iPS cell lines are a type of embryonic stem cells created from mouse embryonic fibroblasts (MEFs) by exposing them to the four ¡°Yamanaka factors¡±, which is a kind of mixture of transcription factors that most robustly induce pluripotency. These cells can then develop into mice afterwards with proper culture. But before this achievement, such result could be only achieved by embryonic stem cells (ES). The research by the group jointly headed by Prof. Zhou Qi from the Institute of Zoology, CAS and Prof. Zeng Fanyi from the School of Medicine of Shanghai Jiao Tong University demonstrated that iPS cells can develop into live and fertile mice, thus proving for the first time in the world that iPS cells are as pluripotent as embryonic stem cells. The researchers said that this research result demonstrated that iPS cells may be as useful as embryonic stem cells for treatments of many diseases as a potential source. This result has evoked a strong repercussion in the world. It was reported by over 3,000 media around the world and commented by Nature, Science, Scientific American, ABC News, etc. In an interview with Reuters, Prof. Andrew Laslett from the Australian Stem Cell Centre said ¡°it unambiguously proved for the first time that iPS cells are truly pluripotent.¡± Bruce Whitela, head of Division of Developmental Biology, the Roslin Institute, birthplace of the clone sheep ¡°Dolly¡±, and Chief Editor of international academic journal Transgenic Research, said that ¡°iPS technology started a revolution and ¡°Xiaoxiao¡± declared the victory of this revolution.¡± He said that ¡°Xiaoxiao¡± has taken over the torch ignited by ¡°Dolly¡± on the way of cloning technology.
Other Issues

Sixty-seventh Issue (December 2009)

Sixty-sixth Issue (October 2009)

Sixty-fifth Issue (August 2009)

Sixty-fourth Issue (June 2009)

Sixty-third Issue (April 2009)

Sixty-second Issue (February 2009)

Sixty-first Issue (December 2008)

Sixtieth Issue (October 2008)

Fifty-nineth Issue (August 2008)

Fifty-eighth Issue (June 2008)

Fifty-seventh Issue (April 2008)

Fifty-sixth Issue (February 2008)

Fifty-fifth Issue (December 2007)

Fifty-fourth Issue (October 2007)

Fifty-third Issue (August 2007)

Fifty-second Issue (June 2007)

Fifty-first Issue (April 2007)

Fiftith Issue (Feb. 2007)

Fourty-nineth Issue (December, 2006)

Fourty-eighth Issue (Ocboter, 2006)

Fourty-seventh Issue (August, 2006)

Fourty-sixth Issue (June, 2006)

Fourty-fifth Issue (April, 2006)

Fourty-fourth Issue (February, 2006)

Fourty-third Issue (December, 2005)

Fourty-second Issue (October, 2005)

Fourty-first Issue (August, 2005)

Fourtith Issue (June, 2005)

Thirty-ninth Issue (April, 2005)

Thirty-eighth Issue (February, 2005)

Thirty-seventh Issue (December, 2004)

Thirty-sixth Issue (October, 2004)

Thirty-fifth Issue (August, 2004)

Thirty-fourth Issue (June, 2004)

Thirty-third Issue (April, 2004)

Thirty-second Issue (February, 2004)

Thirty-first Issue (December, 2003)

Thirtieth Issue (October, 2003)

Twenty-nineth Issue (August, 2003)

Twenty-eighth Issue (June, 2003)

Twenty-seventh Issue (Spring, 2003)