Headline News
Grand Gathering for the Highest S&T Advisory Members
CAS Members enjoyed their five days biannual grand gathering, the 16th General Assembly, together with the 11th CAE (the Chinese Academy of Engineering) General Assembly from June 11 to 15. Chinese President Hu Jintao joined over 12000 leading scientists and engineers of China¡¯s two top think tanks attending the meeting and addressed the opening ceremony. China's economic development will rely more on innovation in science and technology as the country transforms its development pattern, restructures the domestic market and expands domestic demand, said Hu, while delivering his conference speech. The country's current situation not only brings tough challenges but also provides great opportunities to scientists and engineers, he said. The president also urged top scientists and engineers to lend their wisdom to the country and provide advice on key policies. Also present at the ceremony were other relevant senior state leaders. CAS President Bai Chunli gave a lecture at the meeting mapping out the future development of the Academy. The 723-member CAS and the 774-member CAE, which group the country's most prestigious scientists and engineers, are top think tanks of China and the academicians focused their discussions on the key S&T issues during their five days meeting. Just one day before the formal opening, CAS sponsored a symposium for its foreign academicians and CAS President Bai Chunli granted the letters of appointments to newly elected foreign academicians, including Shu Chien (USA), Francois Mathey (Italy), Ryoji Noyori (Japan), Muming Poo (USA), Roberta L. Rudnick (USA), Roger J. Owen (UK) and Sumio Lijima (Japan). At the symposium, Bai stressed his gratefulness to the CAS foreign members who had contributed great much to improve the relationship and cooperation between CAS and the learning bodies in rest parts of the world£¬and in the last two years, the relationship between CAS and other international or national science organizations, particularly the national science academies of many countries was ever strengthened on a new basis.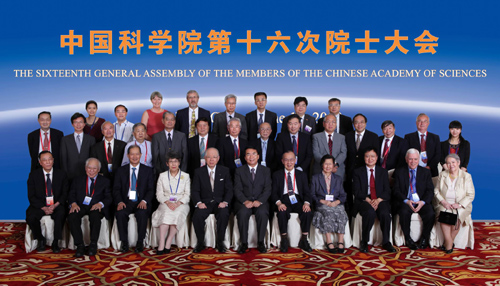 Amazing Records from EAST
The four-month EAST 2012 campaign was accomplished on July 10. During the experiment, with low hybrid current drive (LHCD) and ion cyclotron radio frequency heating (ICRH), long pulse high confinement plasma (H-modes) discharges and hundreds second scale long pulse L-mode plasmas have been achieved, significant progress has been made on many physics and technology aspects. In the campaign, EAST sustained a diverted plasma for a pulse length record of 400 seconds and over 30 seconds small ELMy dominated H-mode plasma. These are the record long diverted and H-mode plasmas. EAST, the world¡¯s first fully superconducting tokamak, was put into operation in 2007. With the advent of significantly augmented auxiliary heating and current drive, operation and diagnostic capabilities in the past few years, EAST has attracted many scientists at home and abroad to conduct their experiments, and US Department of Energy (DOE) has pinpointed EAST as a major tokamak device for its international cooperation on fusion research. Since February 2012, more than 100 scientists from abroad have come to China for joint research.