Headline News
China Top S&T Award Granted
The China National Conference for Science and Technology Award - a high-profile annual ceremony in honoring excellent scientists and research achievements was held on Feb. 14. President Hu Jintao, Premier Wen Jiabao and senior leaders Li Changchun and Li Keqiang, etc. were present at the event. Two Chinese scientists, physicist Xie Jialin from the Institute of High-energy Physics, CAS and architect Wu Liangyong from the Tsinghua University, were both given China's top S & T award for 2011. President Hu Jintao presented certificates to the two top scientists, and congratulated them on their achievements. In his address at the ceremony, Premier Wen poinled out that China should fundamentally count on its reform and opening-up drive, systematic innovation and scientific progress as the way to overcome the influence of external economic crises, solve systematic and structural problems and achieve development fast and sound. China aims to build itself into an innovative country by 2020, when scientific progress will contribute to nearly 60 percent of the nation's economic growth, according to the national outline for scientific and technological development (2006-2020), issued in March 2010. To achieve further innovation-driven development, China has been offering annual awards to elite scientists in the last 12 years, and 20 top level scientists, including Xie and Wu, have won the award so far. Of the award-winning research projects featured at the event, indigenous broadband mobile telecommunications transmission technology and organic light-emitting technology earned first class in the National Technology Invention Award. Thirty-six projects received second class prizes of Natural S&T Award. Three scientists from Japan and five from Germany, France, Britain, the United States and Australia won the International Science and Technology Cooperation Award.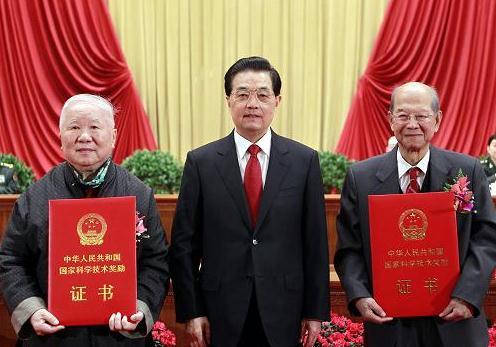 Bai Chunli Meets Israeli President Shimon Peres
On March 26, Bai Chunli, CAS President called on Shimon Peres, President of Israel during his attendance of the Third International Nano-material Conference in Tel Aviv held from March 26 to 27. Shimon Peres Highly commented the great progress made in the Chinese economy and the fruitful results obtained in the fields of S&T collaboration and exchanges between the two countries, hoping the S&T cooperation will continue to play a significant role in the Sino-Israeli relations. Bai expressed that Israel had achieved great achievements in the high-tech fields, while the S&T industries in the two countries are complementary. CAS is willing to strengthen the S&T relations of the two countries through multi-forms of exchange and cooperation, such as jointly sponsoring workshops, projects, etc.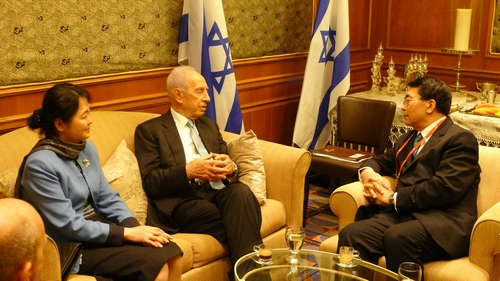 Anti-HBV Drug-Isothiafludine on Clinical Trial
Hepatitis B virus (HBV) infection is a serious global health problem. Approximately 2 billion people have been infected worldwide and 400 million are suffering from chronic HBV infection. The current standard therapies, mainly interferon and nucleoside analogues, are limited by their efficacy and viral resistance, therefore the demand for new anti-HBV drug is still high. The research team led by Prof. Nan Fajun and Zuo Jianping from Shanghai Institute of Materia Medica (SIMM), CAS, has been identifying novel agents from natural product-based synthetic compound libraries for anti-HBV therapy following more than 7 years' endeavors. Through SAR studies and hit optimizations, the team has identified a novel non-nucleoside anti-HBV drug candidate, isothiafludine (known as NZ-4 or W28F). SIMM has filed the patent applications in 8 major countries and areas including China, US, Europe and Japan. On March 5th, 2012, the firstclass anti-HBV drug, isothiafludine and its capsule, has been approved by State Food and Drug Administration (SFDA) for Phase I clinical trial. With novel anti-HBV replication mechanism, isothiafludine has demonstrated potent anti-viral activity both in vivo and in vitro. In addition, isothiafludine has shown inhibition effect against the nucleoside resistant HBV virus which means that it could potentially provide a new therapy to the nucleoside resistant patients. The clinical trial is carried out by Shanghai HaiHe Pharmaceutical Co., Ltd., founded jointly by SIMM and Shanghai Zhangjiang Science & Technology Venture Captical.