Brief News
Bai Chunli Visits Denmark, Germany and Iceland
CAS President Bai Chunli and his entourage paid a visit to relevant S&T institutions in Denmark, Germany and Iceland from June 19 to 30. During his visit to Denmark, Bai and Mr. Uffe Toudal Pedersen, Permanent Secretary of Ministry for Science, Innovation and Higher Education, attended the second conference of the Sino-Danish Joint Management Committee of Science and Education Center, and Bai was granted his foreign academician certificate of the Royal Danish Academy of Science and Letters at a ceremony by Dr. Kirsten Hastrup, the Academy President. During their stay in Germany, Bai and his entourage paid a special visit to quite a few research and developmental institutions, including particularly the HZGU (Helmholtz Zentrum M¨¹nchen - Deutsches Forschungszentrum f¨¹r Gesundheit und Umwelt) and the Institute of Plazma Physics co-operated with Max Plack Society. The delegation also called on Dr. Gruss, President of the Max Planck Society, and a working discussion was held. Then, Bai and Dr. Gruss signed an agreement on the introduction of S&T talents on behalf of the two institutions. On the same day, a ceremony was arranged by the German National Academy of Science and Engineering (acateck), at which Bai was granted foreign academician by Dr. Reinhard F. Huttl, President of the Academy. In Iceland, the main activity was focused on visit to the Carbon Recycling International (CRI).
Bai Chunli Meets Francesco Profumo
CAS President Bai Chunli met with Francesco Profumo, the visiting Minister of Department of Education, University and Research and his entourage on June 18. The two sides exchanged views on the current status of cooperation and explored the future development. A signing ceremony of a memorandum of understanding between CAS and the Italian National Research Council and a cooperation agreement on establishment of a joint lab between the CAS Institute of High-energy Physics and the Italian Institute of National Nuclear Physics was held after the meeting witnessed by Bai Chunli and Francesco Profumo.
Bai Chunli Visits Pakistan and Australia
CAS President Bai Chunli and his entourage paid a visit to Pakistan and Australia from July 15 to 23. According to his busy schedule, Bai and Atta-ur-Rahman, President of the Pakistan Academy of Sciences £¨PAS£© jointly attended the opening ceremony of the first workshop between the two academies on July 15, at which an agreement was signed by the two presidents on S&T cooperation. During his stay in Australia, Bai met with Ms Ros Bates, Minister of Queensland Department for Science, Information Technology and Arts. Bai delivered a thematic lecture on the development of nano science and technology in China. On July 22, Bai and Suzanne Cory, President of Australian Academy of Sciences (AAS), and Mary O¡¯Kane, Vice President of Australian Academy of Technological Sciences and Engineering (ATSE) jointly attended the opening ceremony of the 9th Sino-Australia Workshop on Science and Technology. On July 23, Bai held talks with Chris Evans, Senator the Hon Chris Evans, Minister for Tertiary Education, Skills, Science and Research and Patricia Kelly, Deputy Secretary of the Department of Industry, Innovation, Science, Research and Tertiary Education ((IISRTE), while other Australian S&T dignitaries, including Ian Chubb, Chief Scientist of Australia, Aidan Byrne, CEO of Australian Research Council (ARC), Suzanne Cory, AAS President, Robin Batterham, ATSE President, Megan Clark, CEO of CSIRO, Clive Morris, Head of Research for Australian National Health and Medical Research Council were present at the occasion.
Bai Chunli and Fang Xin Meet Romain Murenzi Respectively
CAS President and TWAS Vice President Bai Chunli met with Prof. Murenzi, TWAS Executive Director on June 6. The two sides had an in-depth discussion on the organizing work for the 2012 TWAS General Meeting to be held in Tianjin, China, and the strengthening of cooperation between CAS and TWAS, moreover the regional cooperation within the scope of TWAS was also on the schedule. The next day, on June 7, Prof. Fang Xin, CAS presidium member and President of OWSD (Organization for Women in Science for the Third World) held talks with Prof. Romain Murenzi.
Li Jinghai Meets Ecuador Guests
CAS Vice President Li Jinghai met with Ren¨¦ Ramirez, the visiting National Secretary of Higher Education, Science, Technology and Innovation (SENESCYT), Ecuador and his entourage on July 27. Both sides discussed issues concerned with exchange of S&T personnel, education of post-graduates, construction of S&T gardens, and other topics of common concern.
Ding Zhongli Visits Canada and USA
From July 7 to 13, CAS Vice President Ding Zhongli headed a delegation to visit the S&T institutions in Canada and the USA, including the Victoria University and the Monterey Bay Aquarium Research Institute, etc. The visit was focused on marine observation systems, underwater robots, research vessels and relevant advanced technological facilities.
COSPAR Held Its 39th Assembly in India
The 39th Scientific Assembly of the Committee of Space Research (COSPAR) took place in Mysore, India from July 14 to 22. The Assembly attracted more than 2000 scientists and relevant personnel from some 54 countries and regions. Approximately 100 meetings covering all fields of the Committee on Space Research (COSPAR) Scientific Commissions (SC) and Panels were organized. The theme of COSPAR 2012 is ¡°Space -- for the benefit of Mankind¡±. CAS attended the grand gathering by its Vice President Yin Hejun and a large delegation. At the opening ceremony, Yin conferred the Jeou-jang Jaw Award to relevant scientists, which was jointly signed by CAS President Bai Chunli, and COSPAR President Giovanni F. Bignami. The Award isco-established by CAS and the Committee of Space Research (COSPAR).
Magnificent Meet for Biologists
The 31st International Union of Biological Sciences (IUBS) General Assembly and Conferences on Biological Sciences and Bioindustry was held in Suzhou, China from July 5 to 9. About 400 scientists from more than 40 countries participated in the Assembly. CAS Vice President Zhang Yaping was present at the conference and delivered a speech. Zhang Zhibin, IUBS and ISZS (International Society of Zoological Sciences) Vice Chairman, and Director General of CAS Bureau of Life Sciences and Biotechnology presided over the opening ceremony.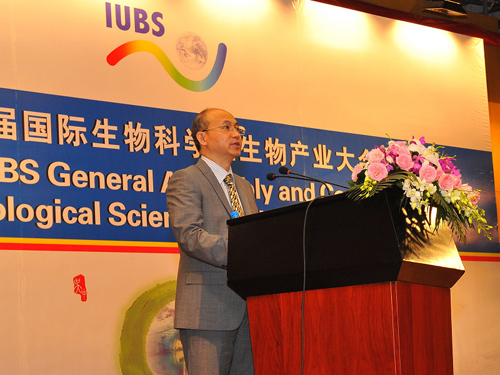 Women¡¯s Role be Strengthened in S&T Innovation
The International Seminar on Women and Innovation co-sponsored by the Organization for Women in Science for the Developing World (OWSD, formerly TWOWS) and the Academy of Sciences of the Developing World (TWAS) held in Trieste, Italy. All together 15 delegates from UNESCO, IAP, TWAS, AAAS (USA), SIDA (Sweden), CAS, etc. attended the meeting. Fang Xin, OWSD President and Member of CAS Presidium delivered a speech at the opening ceremony. During the meeting, Fang Xin held talks with the OWSD Secretariat on the preparatory details about the OWSD executive members meeting to be held on coming Sep. 16 in Tianjin, China.