Headline News
Bai Chunli Led a Delegation to Attend 22nd TWAS General Meeting
TWAS's 22nd General Meeting was held in Trieste, Italy, from Nov. 21st to 23rd, 2011, and the TWAS Committees and Council Meeting also took place but one day before the General Meeting. Bai Chunli, Member and President of CAS, and TWAS Vice President headed a Chinese delegation of TWAS Members to attend the General Meeting. Bai chaired the Symposium of ROESEAP (Regions of the East and Southeast Asia and the Pacific) Members and Young Affiliates on Nov. 23rd. Nearly 300 people, including TWAS Members, TWAS prize winners, and specially invited delegates from 50 or more countries and regions attended the meeting. At the closing ceremony of the General Meeting on Nov. 23rd, Bai Chunli announced that the 23rd TWAS General Meeting will be held in Tianjing, China. During the meeting, Bai allowed a special interview by Mr. Daniel Schaffer, Chief Editor of the TWAS Newsletter, replied his questions concerned with the CAS development programs, the relations of CAS with the Chinese governmental departments, and the foreign research institutions, particularly the future cooperation with TWAS.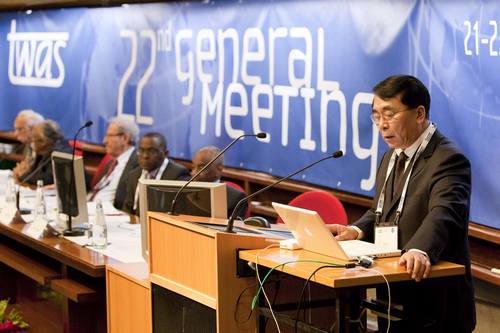 Progress in Human de Novo-originated New Genes
The research focused on de novo origination (which means genes originate from non-coding DNA region) of new genes are very few, which is mainly due to that the de novo origination is commonly considered to be a very rare process. Today, it is understood that this evolutionary process is not impossible. However, the de novo origin of new genes from non-coding DNA region in the genome is still considered to be a very rare event. Dr. Wu Dongdong et al. at Dr. Zhang Yaping¡¯s research group of the Kunming Institute of Zoology identified systematically 60 human specific de novo-originated protein coding genes in the human genome by comparative genomics, which is much better than previous estimation. These genes have high expression level in the cerebral cortex and testes, suggesting that they may have interactions with other genes, which may influence some adaptive traits in the human, such as rapid evolution of human brain, and acquisition of high cognitive ability. The research has been published online on PLoS Genetics (doi:10.1371/journal.pgen.1002379). The current issue of PLoS Genetics reported this result as a ¡°Perspective¡± paper, which highlighted the research as an important insight into the study on the de novo origination and genetic basis of the human evolution, and progress in this field may give a forward looking to the prospect and challenge of the research on de novo-originated genes. The journal, Scientific American, reports the research in a paper entitled ¡°Late Bloomers: New Genes May Have Played a Role in Human Brain Evolution¡±.
Crystal Structures of Hnt3 and DNA Complexes
Mistakes in the repair of damaged DNA can lead to conditions such as disorders of the nervous system, increased genetic instability and cancer. Aprataxin (APTX) is a neurodegenerative disease-related protein whose dysfunction causes ataxia with oculomotor apraxia 1 (AOA1). APTX is a DNA deadenylase which can direct catalyze wiping off the 5¡¯-adenylate groups£¬a pollute adduct at DNA nicks or breaks during the repair of abortive DNA ligation. The yeast Hnt3 is a human Aprataxin ortholog with similar biochemical and functional properties. The paper reported the crystal structures of apo-Hnt3, and Hnt3-DNA and Hnt3-DNA-AMP complexes, which revealed the structural mechanism of its functional performance. Some key amino acid residues involved in Hnt3 function has also identified through mutagenesis studies, which showed the structural basis for different Aprataxin mutations inducing AOA1. This report thus, in addition to providing important insights into the molecular basis of AOA1, provides a structural basis for consideration of the relative drug innovation. Nature Structural & Molecular Biology recently published the results on crystal structures of aprataxin protin Hmt3 and its complexes with DNA and DNA-AMP, which are cooperatively accomplished by Dr. Wang Dacheng¡¯s group and Jiang Tao¡¯s group from the Institute of Biophisics£¬CAS, and Dr. Zhu Deyu from the Shandong University (Crystal structures of aprataxin ortholog Hnt3 reveal the mechanism for reversal of 5¡ä-adenylated DNA, Nature Structural & Molecular Biology 18, 1297¨C1299, 2011).