Headline News
CAS and RIKEN Celebrate Their 30 Years Cooperation
A ceremony was held at Roppongi Academyhills in Tokyo to celebrate the 30 years friendship and cooperation between CAS and RIKEN. Bai Chunli, President of CAS and Ryoji Noyori, President of RIKEN, both headed a large delegation to attend the special event. On May 25, Bai and his delegation firstly paid a visit to RIKEN, holding talks with Ryoji Noyori and other council members of RIKEN, and then attended the ceremony jointly with their Japanese colleagues. Following remarks of greetings from the two presidents and lectures sponsored for young scientists from both institutions, a special ceremony to award seven individuals who had made special contributions to the partnership between CAS and RIKEN during the past three decades was held. The leaders of the two organizations also signed a joint communique summarizing the history of cooperation and pledging further development of the partnership for the future, with the ultimate goal of achieving progress in science and technology to contribute to the survival of humanity. More than 200 people attended relevant activities. During his stay in Japan, Bai also held talks with Hirofumi Hirano, Japanese House Representative and Minister of Education, Culture, Sports, Science and Technology (MEXT).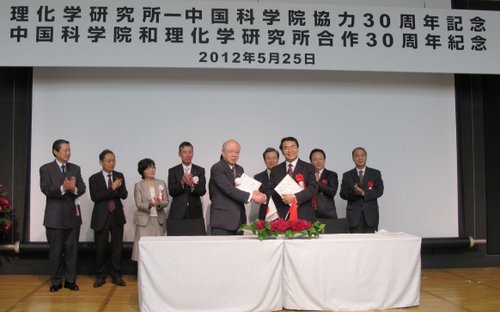 Bai Chunli Meets PAS President
On April 10, Bai Chunli, President of CAS met with Dr. Atta Ur Rahman, the visiting President of Pakistan Academy of Sciences (PAS). During the meeting, Bai expressed that in addition to the multi-forms of exchanges between CAS and PAS in terms of workshops, visiting scholars and students or joint projects, the two organizations should jointly play a more positive role in the international S&T organizations. In his speech, Dr. Rahman extended his congratulations to Bai Chunli for his election of the PAS foreign fellow, and proposed that the cooperation between the Pakistan Research Center and the CAS research institutes should be strengthened in the fields of bio-medicine, nano-science, energy resources, information technology, etc..
CAS Home-grown TCM Medicine Paves Way to EU
A Chinese herbal medicine used for treating a heart disease has been licensed for sale in the Netherlands, making it the first Chinese therapeutic drug to receive marketing authorization in a western market. The Dutch Medicines Evaluation Board (MEB) granted marketing authorization for Di'ao Xinxuekang capsules on March 22. The medicine, used for treating myocardial ischemia, was co-developed by the Chengdu Diao Pharmaceutical Group and the Chengdu Institute of Biology under the CAS.