International Cooperation
Jiang Mianheng Attends 38th COSPAR Assembly
The 38th COSPAR (Committee on Space Research) Assembly was held in Bremen, Germany from July 18 to 25, 2010. Jiang Mianheng, Vice President of CAS, led a delegation to attend the conference and the council meeting as representative of China. At the opening ceremony, Jiang, on behalf of CAS, bestowed Jeoujang Jaw Award to Prof. C.T. Swift, a renowned US scientist, which was co-signed by Lu Yongxiang, President of CAS, and Chairman of COSPAR. During his stay in Germany, Jiang and his entourage paid a visit to the GKSS Center, Forschungszentrum Juelich Research Center, and Forschungszentrum Dresden-Rossendorf Research Center. On July 27, Jiang and his entourage visited the Institute of Photonics, Czech Academy of Sciences.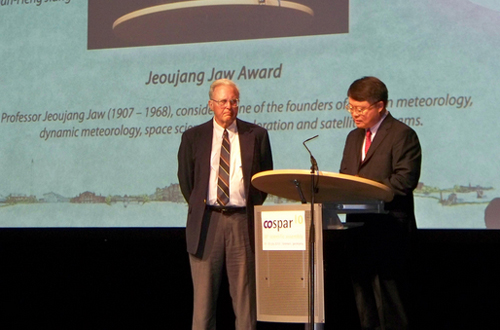 Fang Xin Elected President of OWSDW
Prof. Fang Xin, member of CAS Presidium, was elected President of the Organization for Women in Science for the Developing World (OWSDW) (formerly Third World Organization for Women in Science (TWOWS)) on June 28 at the Fourth General Assembly of TWOWS. Fang Xin delivered a speech at the conference, expressing her thanks to members of TWOWS and the election committee for their trust, and then highly commended the efforts and the outstanding contribution to the development of TWOWS made by K. Jamil, the just relieved President of TWOWS and Director of the Indian Cancer Research Centre. Fang promised that during her term of office, she would adhere to the goal of TWOWS, promote the sustainable development of women S&T undertaking and make new contributions to creating a more brilliant future with science in joint efforts with the newly elected vice presidents and members of the Executive Board of TWOWS.
Joint Team Achieves Success in Regulatory Mechanism of S1P
Recently, a research group consisting of Prof. Jiang Hualiang and Associate Prof. Luo Cheng from the Shanghai Institute of Materia Medica, CAS and Prof. Sarah Spiegel from the Department of Biochemistry and Molecular Biology, Virginia Commonwealth University achieved new results in their cooperative research. Following the study entitled ¡°Regulation of Histone Acetylation in the Nucleus by sphingosine-1-Phosphate (S1P)¡± published by Science in 2009, the research group made another breakthrough in this field. Their paper was published in the Jun. 24 issue of Nature (Nature, 2010, 465, 1084-8). Researchers demonstrated for the first time that S1P is a missing cofactor for the E3 ubiquitin ligase TRAF2 (tumor necrosis factor (TNF) receptor-associated factor 2). S1P is a sphingolipid metabolite present in the nucleus which is generated by sphingosine kinase 1 (SphK1), while it was originally identified in regulating cell growth. S1P regulates TNF-a and NF-§ÜB signaling pathway through TRAF2, and then participates in a series of inflammatory, anti-apoptosis and immune responses. Researchers also illustrated the mechanism that S1P regulates NF-§ÜB signaling pathway: S1P specifically binds to TRAF2 at the N-terminal RING domain and stimulates its E3 ubiquitin ligase activity, and then catalyzes the RIP1-lysine-63-linked to multiple ubiquitin modification. The ubiquitination of RIP1 may activate IKK complex by recruitment and phosphorylation. Ultimately, it may activate the NF-§ÜB signaling pathway. This study successfully explained the mechanism that Sphk1 and S1P participate in the regulation of inflammatory, anti-apoptosis and immune responses and protect cells, thus unraveling a mystery that has puzzling scientists for a long time.
Other Issues

Seventieth Issue (June 2010)

Sixty-nineth Issue (April 2010)

Sixty-eighth Issue (February 2010)

Sixty-seventh Issue (December 2010)

Sixty-sixth Issue (October 2009)

Sixty-fifth Issue (August 2009)

Sixty-fourth Issue (June 2009)

Sixty-third Issue (April 2009)

Sixty-second Issue (February 2009)

Sixty-first Issue (December 2008)

Sixtieth Issue (October 2008)

Fifty-nineth Issue (August 2008)

Fifty-eighth Issue (June 2008)

Fifty-seventh Issue (April 2008)

Fifty-sixth Issue (February 2008)

Fifty-fifth Issue (December 2007)

Fifty-fourth Issue (October 2007)

Fifty-third Issue (August 2007)

Fifty-second Issue (June 2007)

Fifty-first Issue (April 2007)

Fiftith Issue (Feb. 2007)

Fourty-nineth Issue (December, 2006)

Fourty-eighth Issue (Ocboter, 2006)

Fourty-seventh Issue (August, 2006)

Fourty-sixth Issue (June, 2006)

Fourty-fifth Issue (April, 2006)

Fourty-fourth Issue (February, 2006)

Fourty-third Issue (December, 2005)

Fourty-second Issue (October, 2005)

Fourty-first Issue (August, 2005)

Fourtith Issue (June, 2005)

Thirty-ninth Issue (April, 2005)

Thirty-eighth Issue (February, 2005)

Thirty-seventh Issue (December, 2004)

Thirty-sixth Issue (October, 2004)

Thirty-fifth Issue (August, 2004)

Thirty-fourth Issue (June, 2004)

Thirty-third Issue (April, 2004)

Thirty-second Issue (February, 2004)

Thirty-first Issue (December, 2003)

Thirtieth Issue (October, 2003)

Twenty-nineth Issue (August, 2003)

Twenty-eighth Issue (June, 2003)

Twenty-seventh Issue (Spring, 2003)