Bioscience
New Effect of HER2 Antibody Discovered
The Therapeutic Effect of Anti-HER2/neu Antibody Depends on Both Innate and adaptive Immunity, jointly written by Prof. Fu Yangxin from the University of Chicago and Prof. Wang Shengdian from the Institute of Biophysics, was published by the latest issue of the international journal Cancer Cell, which highlighted the discovery of the updated immunologic mechanism of the anti-tumor effect of HER2 antibody, and this provides a new theoretic basis for more reasonable and effective combination use of HER2 antibody and chemotherapy drugs in tumor treatment. Using TUBO breast cancer cells from HER2 transgenic mice as model, researchers truly imitated the therapeutic effect of HER2 antibody on tumor in clinical application by using HER2 antibody that can block HER2 signals on TUBO. Researchers also found that different sequence of treatment in the combination use of HER2 antibody and chemotherapy drugs may result in opposite adaptive anti-tumor responses, which provide an important theoretic basis for optimization of combination use of HER2 antibody in clinical application.
Molecular Marker of Pluripotent Stem Cells
The cover story of the Jun. 18 issue of the Journal of Biological Chemistry£¨JBC£©reported the research result achieved by a research group led by Prof. Zhou Qi from the Institute of Zoology and Prof. Wang Xiujie from the Institute of Genetics and Developmental Biology, CAS. Researchers discovered for the first time the key genetic determinant that can judge the pluripotency level of mouse stem cells. This discovery will significantly promote the study on the mechanism of determination of the pluripotency level of stem cells and clinical application of stem cells. By use of large quantity of multiple mice ES and iPS cell lines with different developmental potentials that have been accumulated over a long time, the research group led by Prof. Zhou Qi and Prof. Wang Xiujie systematically studied the encoding genes, small RNAs and protein expression profiles of these cells and identified a key genomic region which exhibits high expression in embryonic stem cells and fully pluripotent iPS cells, but has very limited or no expression in partially pluripotent iPS cells. Examination of multiple cell lines proved the expression of genes and microRNA cluster in this region is positively correlated with the pluripotent status and developmental potentials of cells, so it can be used as a molecular marker for judging the pluripotency level of stem cells and iPS cells. After being published by JBC online on April 9, this result has drawn wide attention by international peers. The American Society for Biochemistry and Molecular Biology published a special report on this result, which was reprinted by Science Daily and dozens of other media at home and abroad. As no other gene cluster of similar characteristics has been screened from mice genome and genes and microRNA cluster in this region are highly conserved in mammals, if this region has the same function in human stem cells, it can be used as the standard for judging the pluripotency level of human ES and iPS cell lines and will greatly promote the research of mechanism and clinical application of human stem cells.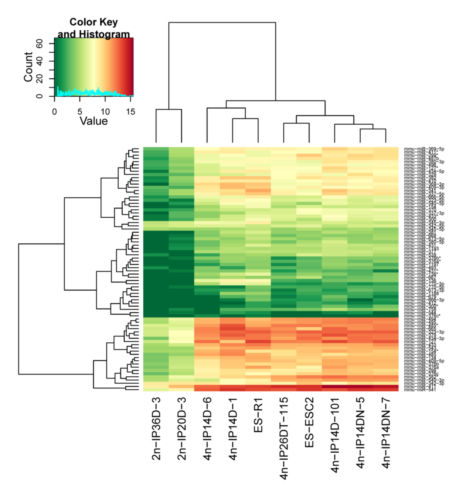 Pathogenesis of Parkinson¡¯s Disease
A research group led by Prof. Wang Zhizhen, CAS member from the Institute of Biophysics, CAS, collaborating with another research group led by Prof. Jiao Renjie, studied the PD model of drosophila and found that the histone deacetylase 6 (HDAC6) plays a key regulatory role in the development of PD. In the drosophila PD model, drosophilae that are deletion mutant of dHDAC6 gene show significantly more serious PD symptoms, including death of dopamine neurons, retinal degeneration and movement disorders. Meanwhile, the number of inclusive bodies significantly reduces while the number of soluble oligomers significantly increases due to deletion of HDAC6. Their research results showed that dHDAC6 has a significant inhibitory effect on the incidence of Parkinson¡¯s disease and revealed the protective role of the inclusive bodies towards PD and that the oligomers may be the true cause of the disease. These discoveries provide a new potential target in the prevention and treatment of human PD. These research results were published in the Jul. 1, 2010 issue of Molecular Biology of the Cell as the journal¡¯s the paper of the year. The US Cell Biology Association¡¯s website InCytes also specifically reported their findings.
Other Issues

Seventieth Issue (June 2010)

Sixty-nineth Issue (April 2010)

Sixty-eighth Issue (February 2010)

Sixty-seventh Issue (December 2010)

Sixty-sixth Issue (October 2009)

Sixty-fifth Issue (August 2009)

Sixty-fourth Issue (June 2009)

Sixty-third Issue (April 2009)

Sixty-second Issue (February 2009)

Sixty-first Issue (December 2008)

Sixtieth Issue (October 2008)

Fifty-nineth Issue (August 2008)

Fifty-eighth Issue (June 2008)

Fifty-seventh Issue (April 2008)

Fifty-sixth Issue (February 2008)

Fifty-fifth Issue (December 2007)

Fifty-fourth Issue (October 2007)

Fifty-third Issue (August 2007)

Fifty-second Issue (June 2007)

Fifty-first Issue (April 2007)

Fiftith Issue (Feb. 2007)

Fourty-nineth Issue (December, 2006)

Fourty-eighth Issue (Ocboter, 2006)

Fourty-seventh Issue (August, 2006)

Fourty-sixth Issue (June, 2006)

Fourty-fifth Issue (April, 2006)

Fourty-fourth Issue (February, 2006)

Fourty-third Issue (December, 2005)

Fourty-second Issue (October, 2005)

Fourty-first Issue (August, 2005)

Fourtith Issue (June, 2005)

Thirty-ninth Issue (April, 2005)

Thirty-eighth Issue (February, 2005)

Thirty-seventh Issue (December, 2004)

Thirty-sixth Issue (October, 2004)

Thirty-fifth Issue (August, 2004)

Thirty-fourth Issue (June, 2004)

Thirty-third Issue (April, 2004)

Thirty-second Issue (February, 2004)

Thirty-first Issue (December, 2003)

Thirtieth Issue (October, 2003)

Twenty-nineth Issue (August, 2003)

Twenty-eighth Issue (June, 2003)

Twenty-seventh Issue (Spring, 2003)