Brief News
Lu Yongxiang Visits U.S.
Lu Yongxiang, President of CAS, paid a one-week visit to the U.S. from May 15 to 22. On May 17, Lu Yongxiang met with Ralph Cicerone, President of the U.S. National Academy of Sciences and Charles Vest, President of U.S. National Academy of Engineering at the U.S. National Academy of Sciences. The two parties discussed the important role of science and technology in the sustainable development of humankind and fields in which the S&T circles of China and the U.S. shall strengthen cooperation to cope with the needs for future development. On the same day, Lu Yongxiang also met with Steven Koonin, Vice Minister in charge of basic sciences and basic applied sciences, William Brinkman, Director of Science Office and other relevant officials from DOE. The future cooperation was discussed after the two parties briefly reviewed the exchange and cooperation in basic sciences, energy technology, large-scale scientific facilities, etc. During his visit, Lu Yongxiang also met with Roger Beachy, Chief Scientist and other senior officials of the U.S. Department of Agriculture. Lu Yongxiang also witnessed the signing of a MOU between Zhang Zhibin, Director General of the Bureau of Life Sciences and Biotechnology, CAS and Bill Clay, Director General of Animal and Plant Health Inspection Service of the Department of Agriculture, and another MOU between Hou Jianguo, President of the University of Science and Technology of China and Phyllis Wise of the Washington University in Seattle.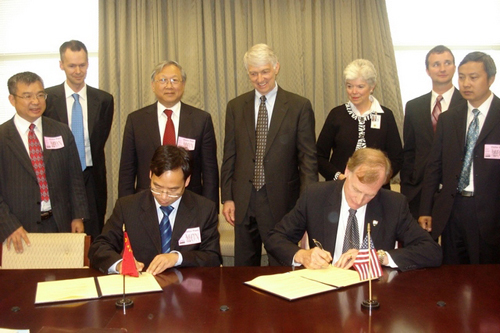 Lu Yongxiang Meets Jean-Jacques Dordain
On May 31, Lu Yongxiang, President of CAS, met with Dr. Jean-Jacques Dordain, the visiting Director General of the European Space Agency (ESA). Lu pointed out that ESA is an important partner of CAS in the field of space science and hoped to strengthen collaborative research between the two parties within the Intergovernmental Cooperation Framework in Space between China and Europe. Lu also discussed with Dr. Dordain about the information exchange, science popularization and relevant issues. Dr. Dordain expressed his thanks to CAS for its long-term support to the cooperation with ESA and briefly introduced the development strategy and focuses of ESA in scientific research.
Bai Chunli Meets Saudi Arabian Delegation
On May 7, Bai Chunli, Executive Vice President of CAS, met with Mohammed Al-Suwaiyel, the visiting Chairman of the King Abdulaziz City for Science and Technology (KACST), Choon Fong Shih, President of the King Abdullah University of Science and Technology (KAUST) and their entourage. During their visit, they also signed a cooperation agreement with the Graduate University, CAS and visited the Institute of Computing Technology, Beijing Institute of Genomics and National Center for Nanoscience and Technology.
Jiang Mianheng Lectured at Shanghai Expo
The Information and Communication Technology and Urban Development Forum, the first official thematic forum of the 2010 World Expo, was held in Ningbo from May 15 to 16. Jiang Mianheng, Vice President of CAS, delivered a lecture entitled "Urbanization and Popularization of Information Technology - Opportunity of the era for the Development of China" at the plenary session of the Forum. He stressed that "we are facing a historical opportunity of the era, that is, to solve the developmental issues of China through concerted development of urbanization, industrialization and popularization of information tehcnology, which are characteristics of China."
Shi Erwei Present at Sino-Japan Seminar
The 7th Sino-Japan S&T Strategy and Policy Seminar co-sponsored by CAS and the Ministry of Education, Culture, Sports, Science and Technology of Japan (MEXT) was held in Guilin from May 11 to 13. In this seminar, representatives from China and Japan discussed the effects of S&T programs implemented in the past 5 years, the new trend of S&T innovation policies, basic research in the post-crisis period, etc. Shi Erwei, Vice President of CAS, Arima Akito, former Minister of MEXT and President of Japan Science and Technology Foundation, Yasutaka Moriguchi, Councilor of MEXT, Yukihide Hayashi, former Vice President of Japan Aerospace Exploration Agency and more than 40 representatives from relevant CAS institutions,and MEXT, Japan Science and Technology Agency, Japan Science and Technology Foundation, Institute of Physical and Chemical Research of Japan, National Institute of Science and Technology Policy and Japanese Embassy to China? attended the Seminar.
Li Jiayang Meets Neelie Kroes
On May 14, Li Jiayang, Vice President of CAS, met with Mme. Neelie Kroes, the visiting Vice President of the European Commission and her entourage. Li Jiayang briefly reviewed the cooperation between China and EU and the participation of CAS in the EU Framework Program. Mme. Neelie Kroes expressed that she strongly supports the continuous cooperation between the two parties and wished both parties would actively promote China's participation in the projects under the EU Framework Program. She said the two sides may exploit potentialities of cooperation in popularization of information technology and other fields, and hoped to see the achievements in this regard.
Li Jinghai Presents Certificates to New CAS Members
On May 18, CAS and Beijing-Hong Kong Academic Exchange Center co-sponsored an awarding ceremony for new CAS members and CAS Members Forum in Hong Kong. Li Jinghai, Vice President of CAS, conferred certificates on newly elected CAS Members and CAS Foreign Members in Hong Kong and addressed the meeting. Prof. Lap-Chee Tsui, President of Hong Kong University and Prof. Philippe G. Ciarlet from the City University of Hong Kong were elected foreign members of CAS in 2009, and Prof. Tang Benzhong from the Hong Kong University of Science and Technology was elected CAS Member.
Yin Hejun Visits Japan and Korea
From April 21 to 25, Yin Hejun, Vice President of CAS led a delegation to visit Japan and attended the Third China-Japan Information and Communications Technology Forum jointly organized by the Center for Space Science and Applied Research, CAS (CSSAR) and the National Institute of Information and Communications Technology (NICT) of Japan. Nearly 100 participants from CSSAR, the Shanghai Institute of Microsystem and Information Technology and some other CAS institutes,and from NICT, Tokyo University and other research institutes or universities of Japan attended the forum. During the meeting, Yin Hejun held talks with Terasaki Akira, Councilor (Vice Minister level) of the Ministry of Internal Affairs and Communications of Japan. After the visit to Japan, Yin Hejun and the group visited Korea from April 25 to 27. During their stay in Korea, the group visited Korea Advanced Institute of Science and Technology (KAIST) and Samsung Institute of Technology (SAIT). Yin Hejun also held talks with Han Hong Taik, President of KIST. A MOU was then signed by Yin Hejun and Han Hong Taik on behalf of the respective parties.
Other Issues

Sixty-nineth Issue (April 2010)

Sixty-eighth Issue (February 2010)

Sixty-seventh Issue (December 2010)

Sixty-sixth Issue (October 2009)

Sixty-fifth Issue (August 2009)

Sixty-fourth Issue (June 2009)

Sixty-third Issue (April 2009)

Sixty-second Issue (February 2009)

Sixty-first Issue (December 2008)

Sixtieth Issue (October 2008)

Fifty-nineth Issue (August 2008)

Fifty-eighth Issue (June 2008)

Fifty-seventh Issue (April 2008)

Fifty-sixth Issue (February 2008)

Fifty-fifth Issue (December 2007)

Fifty-fourth Issue (October 2007)

Fifty-third Issue (August 2007)

Fifty-second Issue (June 2007)

Fifty-first Issue (April 2007)

Fiftith Issue (Feb. 2007)

Fourty-nineth Issue (December, 2006)

Fourty-eighth Issue (Ocboter, 2006)

Fourty-seventh Issue (August, 2006)

Fourty-sixth Issue (June, 2006)

Fourty-fifth Issue (April, 2006)

Fourty-fourth Issue (February, 2006)

Fourty-third Issue (December, 2005)

Fourty-second Issue (October, 2005)

Fourty-first Issue (August, 2005)

Fourtith Issue (June, 2005)

Thirty-ninth Issue (April, 2005)

Thirty-eighth Issue (February, 2005)

Thirty-seventh Issue (December, 2004)

Thirty-sixth Issue (October, 2004)

Thirty-fifth Issue (August, 2004)

Thirty-fourth Issue (June, 2004)

Thirty-third Issue (April, 2004)

Thirty-second Issue (February, 2004)

Thirty-first Issue (December, 2003)

Thirtieth Issue (October, 2003)

Twenty-nineth Issue (August, 2003)

Twenty-eighth Issue (June, 2003)

Twenty-seventh Issue (Spring, 2003)