Innovation and Development
Key Gene Cloned to Boost Rice Yields
Nature Genetics, a UK magazine, reported online on May 23, the research results achieved by the research group led by Li Jiayang of the Institute of Genetics and Developmental Biology, CAS and another research group led by Motoyuki Ashikari from the Nagoya University. The two groups, working independently, identified the same key gene OsSPL14 that regulates the strain types of rice. To regulate such gene can reduce the number of tillers and increase the number of grains, thus the rice yields can be increased significantly. ScienceNOW, a U.S. magazine, in its special column highly commented this achievement. This is an elegant research that will bring clarity to the genetic control of one yield component, said Hei Leung, a rice geneticist at the International Rice Research Institute. He suggested that this gene should be introduced into various cultivated rice varieties to develop its potential to boost rice yields in different environmental conditions.
After years of research, the research group led by Li Jiayang, member of CAS has successfully cloned a series of genes, including MOC1, LAZY1, SP, etc., which play an important role in the regulation of rice strain type. The cloning of OsSPL14 and description of its molecular mechanism is another major breakthrough in the research of rice strain types. Experimental data showed that mutation of OsSPL14 gene at the key regulation sites can reduce the number of tillers, but increase the number of grains and the thousand kernel weight, thicken the culms and enhance the lodging resistance of rice. Introduction of mutant OsSPL14 gene can increase the rice yields by more than 10%. OsSPL14 provides an important functional gene for the cultivation of high-yielding rice varieties, which has sound application prospects.
Supercomputing System Gears Up
On April 24, the launching ceremony for CAS High-Performance Distributed GPU Supercomputing System was held at the Institute of Process Engineering. Lu Yongxiang, president of CAS and Li Jinghai, vice president of CAS attended the launching ceremony. On the basis of long-term accumulation in multi-scale simulation method and professional computing technology, CAS successfully built the high-performance GPU supercomputing system with double-precision peak value of over 1 petaflops and single-precision peak value of over 3 petaflops. Working with Lenovo and Dawning, CAS has deployed 10 sets of 100gflops computing systems in its research institutes involved in different research fields, thus forming a distributed GPU supercomputing system with an aggregated computing capacity of nearly 6 petaflops.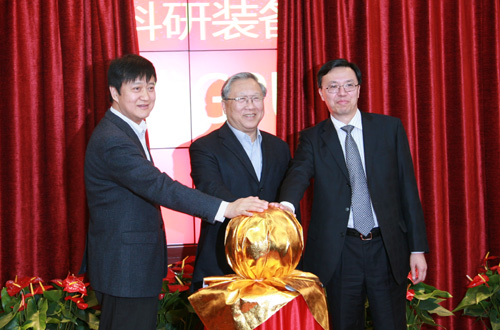 Other Issues

Sixty-nineth Issue (April 2010)

Sixty-eighth Issue (February 2010)

Sixty-seventh Issue (December 2010)

Sixty-sixth Issue (October 2009)

Sixty-fifth Issue (August 2009)

Sixty-fourth Issue (June 2009)

Sixty-third Issue (April 2009)

Sixty-second Issue (February 2009)

Sixty-first Issue (December 2008)

Sixtieth Issue (October 2008)

Fifty-nineth Issue (August 2008)

Fifty-eighth Issue (June 2008)

Fifty-seventh Issue (April 2008)

Fifty-sixth Issue (February 2008)

Fifty-fifth Issue (December 2007)

Fifty-fourth Issue (October 2007)

Fifty-third Issue (August 2007)

Fifty-second Issue (June 2007)

Fifty-first Issue (April 2007)

Fiftith Issue (Feb. 2007)

Fourty-nineth Issue (December, 2006)

Fourty-eighth Issue (Ocboter, 2006)

Fourty-seventh Issue (August, 2006)

Fourty-sixth Issue (June, 2006)

Fourty-fifth Issue (April, 2006)

Fourty-fourth Issue (February, 2006)

Fourty-third Issue (December, 2005)

Fourty-second Issue (October, 2005)

Fourty-first Issue (August, 2005)

Fourtith Issue (June, 2005)

Thirty-ninth Issue (April, 2005)

Thirty-eighth Issue (February, 2005)

Thirty-seventh Issue (December, 2004)

Thirty-sixth Issue (October, 2004)

Thirty-fifth Issue (August, 2004)

Thirty-fourth Issue (June, 2004)

Thirty-third Issue (April, 2004)

Thirty-second Issue (February, 2004)

Thirty-first Issue (December, 2003)

Thirtieth Issue (October, 2003)

Twenty-nineth Issue (August, 2003)

Twenty-eighth Issue (June, 2003)

Twenty-seventh Issue (Spring, 2003)