International Cooperation
Witness by Chinese and Danish PMs: Agreement on Joint Centre Signed
Wen Jiabao, Premier of China and Lars Rasmussen, Prime Minister of Denmark witnessed the signing of an agreement between the Chinese Academy of Sciences and the Danish Ministry of Science on April 12. Bai Chunli, Executive Vice-President of CAS and President of the Graduate University, CAS, Charlotte Sahl-Madsen, Danish Science Minister and Jens Oddershede, Chairman of the Danish University Alliance, signed a Partnership Agreement on Sino-Danish Centre for Research and Education, Graduate University, CAS and an Agreement on the Construction, Maintenance and Operation of Sino-Danish Centre for Research and Education at Yanqi Lake Garden, Graduate University, CAS. The two parties will carry out in-depth and all dimensional cooperation in graduate education, S&T innovation and transfer and commercialization of research results in the fields of nano-science and technology, renewable energy, water and environment, life science, biomedicine, innovation and welfare based on this centre.
Thai Princess Visits Lijiang Astronomical Observatory
Thai Princess Maha Chakri Sirindhorn, in company of senior officials of the Ministry of Foreign Affairs of China and Rathakit Manathat, Ambassador of Thailand to China, paid a visit to Lijiang Astronomical Observatory, CAS in Yunnan on April 6. Han Zhengwen, Director General of Yunnan Astronomical Observatory, and relevant scientists also accompanied Princess Maha Chakri Sirindhorn for her visit.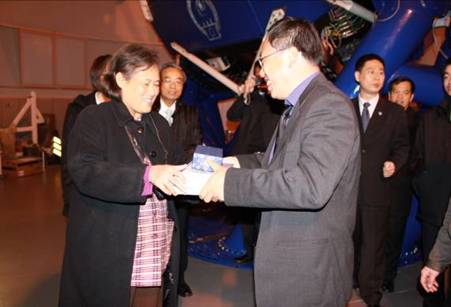 French Minister Visits Institut Pasteur of Shanghai
On May 11, Ms Roselyne Bachelot, Minister of Health and Sports of France paid a visit to the Institut Pasteur of Shanghai (IPS), accompanied by Mr. Hervé Ladsous, Ambassador of France to China and Mr. Thierry Mathou, General Consulate of France in Shanghai. In a brief introduction of IPS, Ralf Altmeyer, Director General of IPS presented IPS's mission to the Minister and her entourage. He specifically stressed that the IPS will contribute to the current major demands in medical science of China, so as to help strengthen the friendly relationship between France and China.
CAS Holdings & ORIX Corp: All Round Coop
On April 12, the Chinese Academy of Sciences Holdings Co., Ltd. (CAS Holdings) and ORIX Corp. of Japan signed a memorandum of all-round strategic cooperation. The two parties agreed to strengthen cooperation in many areas and promote the development and commercialization of relevant green technology and technology of energy saving and emission reduction in China. Shi Erwei, Vice President of CAS and Chairman of Board of the CAS Holdings, and Deng Maicun, Secretary-General of CAS, Wang Jin, General Manager of CAS Holdings, Qiu Huasheng, Deputy Director General of the Bureau of International Cooperation and other representatives of the Chinese party, and Yoshihiko Miyauchi, President of ORIX Corporation, Makoto Inoue, President of ORIX China Investment Co. Ltd. and other senior executives of the Japanese party attended the signing ceremony.