Innovation and Development
Angewandte Chemie: Cover Story on Photocatalysis
The IOC, CAS made new progress in photocatalysis mechanism research. In their research of production of corresponding aldehyde and ketone by photocatalytic oxidization of primary alcohol and secondary alcohol using TiO2 as the catalyst with isotope labeling and other experiments, the researchers from the Key Laboratory of Photochemistry found that during the course of photocatalytic oxidization, its results are totally different from the reaction mechanism of oxidization of alcohols catalyzed by precious metal. The researchers further put forward the mechanism of oxygen atom exchange in photocatalytic oxidization through paramagnetic resonance, oxygen isotope labeling Raman spectroscopy, kinetic isotope effect and other experiments. The research result was published in the recent issue of Angewandte Chemie (Angew. Chem. Int. Ed., 2009, 48, 6081-6084) and given special introduction as a cover paper.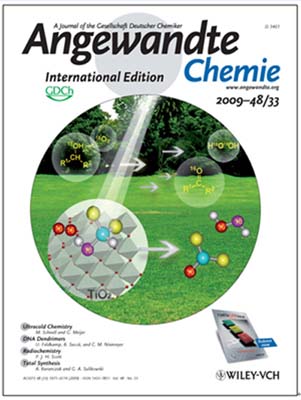 Lithium-Ion Battery Performance Highly Increased
The researchers from the Key Laboratory of Nano-Structure and Nano-Technology, IOC, CAS successfully developed a kind of cathode material for lithium-ion battery which has super-fast discharging and charging capacity. The research result was published in the recent issue of Adv. Mater. (2009, 21, 2710-2714) and reported by the Energy Research News Website. In the research, the researchers evenly embedded LiFePO4 nano particles in porous carbon and obtained a kind of composite cathode material with excellent rate performance. The results of battery test showed that this composite cathode material could not only accomplish super-fast charging within 16 seconds and super-fast discharging within 16 seconds, but still maintain over 97% capacity after 700 cycles of charging and discharging under a rate performance of 1.5C.
Other Issues

Sixty-fifth Issue (August 2009)

Sixty-fourth Issue (June 2009)

Sixty-third Issue (April 2009)

Sixty-second Issue (February 2009)

Sixty-first Issue (December 2008)

Sixtieth Issue (October 2008)

Fifty-nineth Issue (August 2008)

Fifty-eighth Issue (June 2008)

Fifty-seventh Issue (April 2008)

Fifty-sixth Issue (February 2008)

Fifty-fifth Issue (December 2007)

Fifty-fourth Issue (October 2007)

Fifty-third Issue (August 2007)

Fifty-second Issue (June 2007)

Fifty-first Issue (April 2007)

Fiftith Issue (Feb. 2007)

Fourty-nineth Issue (December, 2006)

Fourty-eighth Issue (Ocboter, 2006)

Fourty-seventh Issue (August, 2006)

Fourty-sixth Issue (June, 2006)

Fourty-fifth Issue (April, 2006)

Fourty-fourth Issue (February, 2006)

Fourty-third Issue (December, 2005)

Fourty-second Issue (October, 2005)

Fourty-first Issue (August, 2005)

Fourtith Issue (June, 2005)

Thirty-ninth Issue (April, 2005)

Thirty-eighth Issue (February, 2005)

Thirty-seventh Issue (December, 2004)

Thirty-sixth Issue (October, 2004)

Thirty-fifth Issue (August, 2004)

Thirty-fourth Issue (June, 2004)

Thirty-third Issue (April, 2004)

Thirty-second Issue (February, 2004)

Thirty-first Issue (December, 2003)

Thirtieth Issue (October, 2003)

Twenty-nineth Issue (August, 2003)

Twenty-eighth Issue (June, 2003)

Twenty-seventh Issue (Spring, 2003)