Geoscience
Joint Conference of Tibetan Plateau Held
From Aug. 11 to 14, the Joint Conference of the 5th Tibetan Plateau International Symposium and the 24th Himalaya- Karakorum-Tibet International Symposium (HKT) (hereinafter referred as the ¡°Joint Conference¡±) was held. Ding Zhongli, Sun Honglie and Li Tingdong, members of CAS, Zheng Mianping, member of Chinese Academy of Engineering and some well-known foreign scientists, including Prof. Volker Mosbrugger from the Senckenberg Natural Museum of Germany, Prof. Mike Searle from the University of Oxford, Prof. Toshio Koike from Tokyo University and Prof. Andreas Schild from the International Centre for Integrated Mountain Development, and Li Zhao, Vice Chairman of People¡¯s Government of Tibet Autonomous Region were present at the conference. Sun Honglie, Honorary President of the China Society on Tibetan Plateau and Member of CAS chaired the opening ceremony and some of plenary lectures. The participants carried out in-depth academic exchanges on the theme ¡°uplifting process, environmental evolution and regional development in Tibetan Plateau¡±. The main topics include: deep process of Tibetan Plateau and continent-continent collision, geologic evolution and formation of mineral resources, uplifting process of plateau and environmental evolution, course of change of climatic environment in plateau and its mechanism, effect of surface process on and its response to global change and resource environment and eco-social development in the plateau.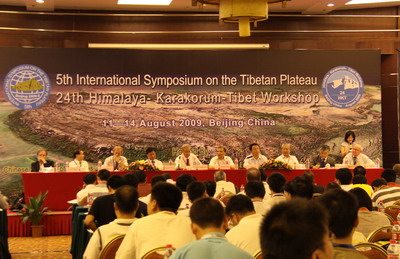 Rotorcraft Flying Over the Sea
On Aug. 26, the ¡°Nanhai¡± autonomous rotorcraft flying robot developed by the Shenyang Institute of Automation, CAS successfully underwent series of deck take-off, landing and oversea flight tests at the South China Sea. This was the first oversea test with ship and first application in oversea flight of this rotorcraft flying robot independently developed by this Institute. It was also the first time for China to carry out such test. At the operating sea area, the ¡°Nanhai¡± autonomous rotorcraft flying robot carried out on-the-spot flight test and demonstration application in 6 flights. It accomplished test items of ¡°autonomous take-off and landing at mobile deck¡±, ¡°autonomous flight under the interference of strong wind over the sea¡±, ¡°collection of multi-source information over the sea¡± and ¡°observation and tracking of mobile targets over the sea¡± and underwent verification test in repeated flights.
Other Issues

Sixty-fifth Issue (August 2009)

Sixty-fourth Issue (June 2009)

Sixty-third Issue (April 2009)

Sixty-second Issue (February 2009)

Sixty-first Issue (December 2008)

Sixtieth Issue (October 2008)

Fifty-nineth Issue (August 2008)

Fifty-eighth Issue (June 2008)

Fifty-seventh Issue (April 2008)

Fifty-sixth Issue (February 2008)

Fifty-fifth Issue (December 2007)

Fifty-fourth Issue (October 2007)

Fifty-third Issue (August 2007)

Fifty-second Issue (June 2007)

Fifty-first Issue (April 2007)

Fiftith Issue (Feb. 2007)

Fourty-nineth Issue (December, 2006)

Fourty-eighth Issue (Ocboter, 2006)

Fourty-seventh Issue (August, 2006)

Fourty-sixth Issue (June, 2006)

Fourty-fifth Issue (April, 2006)

Fourty-fourth Issue (February, 2006)

Fourty-third Issue (December, 2005)

Fourty-second Issue (October, 2005)

Fourty-first Issue (August, 2005)

Fourtith Issue (June, 2005)

Thirty-ninth Issue (April, 2005)

Thirty-eighth Issue (February, 2005)

Thirty-seventh Issue (December, 2004)

Thirty-sixth Issue (October, 2004)

Thirty-fifth Issue (August, 2004)

Thirty-fourth Issue (June, 2004)

Thirty-third Issue (April, 2004)

Thirty-second Issue (February, 2004)

Thirty-first Issue (December, 2003)

Thirtieth Issue (October, 2003)

Twenty-nineth Issue (August, 2003)

Twenty-eighth Issue (June, 2003)

Twenty-seventh Issue (Spring, 2003)