Brief News
Bai Chunli Meets German Dyakonov
CAS President Bai Chunli met with Prof. German Dyakonov, Rector of the Kazan National Technological University on Nov. 19, 2012. Both parties agreed to further develop cooperation in education of post-graduates, exchange of S&T personnel and transfer of technology. Bai and Dyakonov signed a Memorandum of Understanding on behalf of their respective institutions.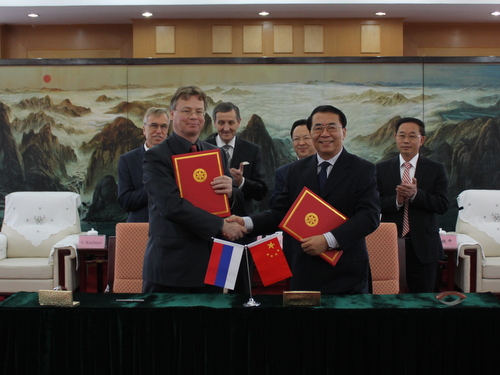 Li Jinghai Visits Australia
CAS Vice President Li Jinghai visited Australia from Nov. 22-23, 2012. He attended the 37th Annual Meeting of Australian Academy of Technological Sciences and Engineering (ATSE) in Melbourne. At the ATSE Energy Forum, he was granted the certificate of ATSE Foreign Fellow and delivered a speech on China¡¯s Approach to Sustainable Energy System. On this trip, Li signed a Memorandum of Understanding with Prof. Paul Wellings, Vice Chancellor of the University of Wollongong. Li also met with CSIRO Chief Executive Dr. Megan Clark in Melbourne and discussed issues on furthering collaborations between CAS and CSIRO in energy and materials.
Zhan Wenlong Visits Brazil and USA
CAS Vice President Zhan Wenlong visited Brazil and USA from Oct. 20-26, 2012. In Rio de Janeiro, Brazil, he attended the Council Meeting of the International Union of Pure and Applied Physics (IUPAP). In USA, he visited DOE¡¯s Argonne National Laboratory and Lawrence Berkley National Laboratory, the University of Missouri and the University of Minnesota, exploring new opportunities of cooperation in mega science facilities and nuclear energy science.
Zhang Yaping Meets Costa Rican Minister
CAS Vice President Zhang Yaping met with Mr. Alejandro Cruz, Minister of Science, Technology, Innovation and Telecommunication of Costa Rica on Nov. 20th. Both sides agreed to further and expand bilateral cooperation in the areas of life science, nano-science, agriculture and renewable energy.
Tan Tieniu Meets Dale Sanders
CAS Deputy Secretary-General Tan Tieniu met with Dale Sanders, Director of John Innes Centre on Nov. 20, 2012. Both sides highly valued the bilateral cooperation in botany and microbiology and discussed issues concerning the establishment of a CAS-JIC joint research centre in plant science.