International Cooperation
China-Australia Academy Leaders Meet at 6th S&T Symposium
The 6th China-Australia Symposium on Science & Technology was held at the Institute of Urban Environment, CAS from Oct. 14th to 15th. This symposium focused on "climate change and sustainability of costal zone and delta" with five subjects, including sustainable utilization of land, sustainable utilization of ocean, sustainable coastal wetland ecological system, environmental pollution and public health and costal zone observation and management. This symposium was aimed to promote in-depth exchange and substantial cooperation and to form a long-term partnership between Chinese and Australian scientists in the fields of climate change and sustainability of costal zone and delta. Over 70 scientists from relevant institutes of CAS, famous domestic universities, major Australian universities, Australia's Commonwealth Scientific and Industrial Research Organization and other scientific research institutes, and officials and representatives from Australian Embassy to China and Consulate General of Australia in Guangzhou attended the symposium. Lu Yongxiang, President of CAS, Kurt Lambeck, President of Australian Academy of Sciences, Peter Laver, Vice President of Australian Academy of Technological Sciences and Engineering, Liu Xigui, Mayor of Xiamen and Sean Kelly, Consul General of Australia in Guangzhou attended and addressed the symposium. During the symposium, Lu Yongxiang, Lambeck and Laver were present and witnessed the signing ceremony for Memorandum of Understanding on Cooperation between CAS and the University of New South Wales, which was jointly signed by Lu Yonglong, Director General of the Bureau of International Cooperation, CAS and Fred Hilmer, President of the University of New South Wales.
Science Education Highlighted by CAS and KAUST
On Nov. 12, Bai Chunli, Executive Vice President of CAS, met with Choon Fong Shih, the visiting President of King Abdullah University of Science and Technology (KAUST) and his entourage and signed a memorandum of cooperation with KAUST on behalf of CAS. Bai Chunli acclaimed the formal establishment of KAUST in September 2009 on behalf of CAS. He said that the S&T exchange and cooperation between CAS and Saudi Arabia have developed rapidly in the past few years. CAS has established partnership with the King Saud University, the King Abdulaziz City for Science and Technology and other famous universities and scientific research institutions of Saudi Arabia and already carried out effective cooperation with them in fields of nano-technology, information technology, life science, etc. President Choon Fong Shih acclaimed the 60th anniversary of the founding of CAS and its brilliant achievements in the past 60 years. He said that Saudi Arabia aims to build KAUST into a center fostering and pooling future-oriented global S & T elites and KAUST wishes to actively strengthen substantial cooperation with CAS in education and research with the signing of this agreement as a starting point.
Sino-U.S. JSTC 13th Meeting Held
The 13th Conference of Sino-U.S. Joint Science and Technology Committee was held at the U.S. National Academy of Sciences in Washington on Oct. 15, 2009. Li Jiayang, Vice President of CAS, attended the meeting and briefed about the general cooperation between CAS and American federal laboratories, universities, academic societies and non-profit research institutions and R&D departments of transnational corporations, especially the development of cooperation and exchange with the U.S in the past few years. He emphasized that the S&T exchange and cooperation between CAS and the U.S., that cover extensive areas and wide ranges and involve a large number of American institutions, is an important part of Sino-U.S. S&T exchange and cooperation. Many good cooperation programs, which have been encouraged by the two parties, have accomplished with the participation of CAS. Meanwhile, CAS has been launching more and more substantial cooperation with the U.S. He also proposed that China and U.S. should positively explore the possibility to establish appropriate mechanisms and financing channels to support the substantial cooperation between scientists from the two countries.
China & EU Stress Cooperation in LSSF
On Nov. 9, the "China-Europe Large-Scale Scientific Facility Workshop" co-sponsored by CAS and the Science, Research and Development Department, European Commission was held in Beijing. Over 30 experts, scholars and executives from different research institutions and universities of the two sides attended the workshop. Zhan Wenlong, Vice President of CAS and Jose Manuel Silva Rodriguez, Director General for Science, Research and Development, European Commission attended and addressed the workshop. Zhan Wenlong pointed out that the rapid development of scientific facilities provides indispensable basis and conditions for promoting the S&T development and scientific research facilities should not be only a resource of one country, instead, they belong to the whole world and all mankind. He called on China and Europe to strengthen cooperation and jointly promote the construction and application of scientific research facilities. Jose Manuel Silva Rodriguez expressed sincerely in his speech the wish to strengthen cooperation with CAS and hoped that the experts and scholars should exchange experiences and discuss the latest development, opportunities and challenges in the field of large-scale scientific facilities and information infrastructure in the workshop.
AMS02 to be Launched Next July
Recently, Prof. Samuel Chao Chung Ting declared at the European Organization for Nuclear Research (CERN) in Geneva that the Alpha Magnetic Spectrometer (AMS02) would be launched on Jul. 29 2010 at 7:30 am, by taking the Flight STS-134 of the Space Shuttle Endeavour at the Kennedy Space Center. AMS02 will be sent to the International Space Station and start a three-year discovery tour. The AMS02 weighs 6,700kg. Its scientific goals are designed to search in space for antimatters and dark matters and precisely measure the energy spectrum of cosmic ray. Several Chinese institutions participated in the development of AMS02, among which the Institute of High Energy Physics, CAS and the China Academy of Launch Vehicle Technology in cooperation with two French and Italian institutions in the development of electromagnetic calorimeter for AMS02, which can measure electrons and photons with energy above 1 TeV and is a key detector for searching dark matter. The Chinese entities participating in the international cooperation on the AMS02 project include the Institute of Electrical Engineering, CAS, Shanghai Jiao Tong University, Southeast University, Shandong University, Sun Yat-sen University from mainland China and the Institute of Physics, Academia Sinica, National Central University and Chung-Shan Institute of Science and Technology. Now, AMS02 has been assembled and will undergo beam test at the European Space Research and Technology Centre (ESTEC). Later, it will be transported to the Environmental Test Center of the ESA-ESTEC in Netherland to undergo thermal vacuum test.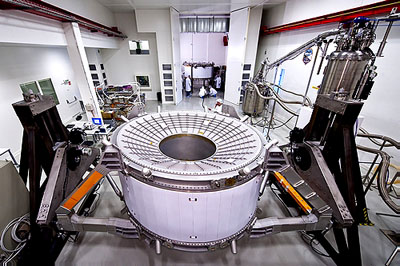 Sino-German Achievement in SQUID/Readout Circuit
Recently, leaders and researchers from the Shanghai Institute of Miscrosystem and Information Technology (SIMIT), CAS and scientists from the Research Center Juelich (FZI) of Germany achieved a positive result in their collaborative project "Superconducting Quantum Interference Device (SQUID) based Ultra-low Field Nuclear Magnetic Resonance". During the project operation, Research Fellow Xie Xiaoming from SIMIT and Prof. Zhang Yi from FZJ jointly put forward an innovative concept of "SQUID bootstrap circuit (SBC). Many researchers from China and Germany participated in the research and experimental demonstration of this innovative concept and finally attained success. This research result can simplify the SQUID readout circuit, which is of great value to the application of low-cost, high-integration level and multi-channel SQUID weak signal detection technology. After in-depth discussions, the researchers accomplished theoretical analysis and obtained convincing experimental results. The Chinese and German scientists have jointly applied an international patent (PCT/EP2009/061699)based on this research achievement and are now preparing several relevant theses. This research result was publicly reported for the first time at the East Asian Superconducting Electronics Conference held in Nanjing from Oct. 12th to 15th and has drawn wide attention. The second Chinese-German Cooperation Workshop will be held in Shanghai from May 17th to 21st, shortly after the grand opening of the Shanghai Expo 2010
Other Issues

Sixty-sixth Issue (October 2009)

Sixty-fifth Issue (August 2009)

Sixty-fourth Issue (June 2009)

Sixty-third Issue (April 2009)

Sixty-second Issue (February 2009)

Sixty-first Issue (December 2008)

Sixtieth Issue (October 2008)

Fifty-nineth Issue (August 2008)

Fifty-eighth Issue (June 2008)

Fifty-seventh Issue (April 2008)

Fifty-sixth Issue (February 2008)

Fifty-fifth Issue (December 2007)

Fifty-fourth Issue (October 2007)

Fifty-third Issue (August 2007)

Fifty-second Issue (June 2007)

Fifty-first Issue (April 2007)

Fiftith Issue (Feb. 2007)

Fourty-nineth Issue (December, 2006)

Fourty-eighth Issue (Ocboter, 2006)

Fourty-seventh Issue (August, 2006)

Fourty-sixth Issue (June, 2006)

Fourty-fifth Issue (April, 2006)

Fourty-fourth Issue (February, 2006)

Fourty-third Issue (December, 2005)

Fourty-second Issue (October, 2005)

Fourty-first Issue (August, 2005)

Fourtith Issue (June, 2005)

Thirty-ninth Issue (April, 2005)

Thirty-eighth Issue (February, 2005)

Thirty-seventh Issue (December, 2004)

Thirty-sixth Issue (October, 2004)

Thirty-fifth Issue (August, 2004)

Thirty-fourth Issue (June, 2004)

Thirty-third Issue (April, 2004)

Thirty-second Issue (February, 2004)

Thirty-first Issue (December, 2003)

Thirtieth Issue (October, 2003)

Twenty-nineth Issue (August, 2003)

Twenty-eighth Issue (June, 2003)

Twenty-seventh Issue (Spring, 2003)