Brief News
Lu Yongxiang Meets Fidel Castro Díaz Balart
On Oct. 12, Lu Yongxiang, President of CAS, met with Dr. Fidel Castro Díaz Balart, the visiting Scientific Advisor to the State Council of Cuba and his entourage. Lu expressed appreciation for the achievements of Cuba in biotechnology, public health, education and other fields. He expressed that the MOU on cooperation signed between CAS and Cuba in 2007 has been substantially implemented. He also suggested that the S&T cooperation between the two sides should be strengthened based on the achievements. He said that CAS will open its principal research fields and laboratories to Cuba. He said that the two parties should strengthen cooperation in biotechnology, nano-technology, remote sensing applications, population health and other fields and Cuban scholars may visit and conduct research in China under the CAS program for "Young Foreign Scientists Fellowship" and the program for "Visiting Professorship for Senior Foreign Scientists", so as to build long-term partnership between the two countries. Dr. Castrol acclaimed the founding of the 60th anniversary of New China and CAS and expressed his sincere appreciation for CAS arrangements in the S & T personnel exchange.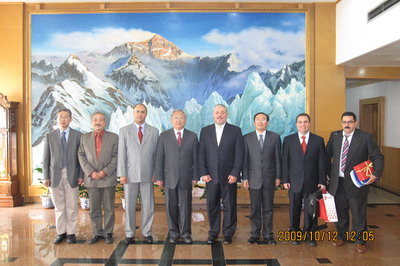 Lu Yongxiang Meets Heubisch
On Oct. 22, Lu Yongxiang, President of CAS, met with Dr. Heubisch, the visiting Minister of Science of Bavaria State, Germany and his entourage. Lu expressed to further strengthen scientific cooperation with German partners, with basic and strategic research in particular. Dr. Heubisch suggested that both parties may join hands for innovative management and sustainable development in the future.
Bai Chunli Allows Interview with New York Times
On Nov. 11, Bai Chunli, Executive Vice-President of CAS allowed interview with New York Times journalist and answered questions regarding the recruitment and fostering of talents and explained relevant CAS policies. Bai Chunli firstly briefed ?her about the "Hundred Talents Program" of CAS. He said that the Hundred Talents Program was firstly started in 1994 as the first program of CAS and China to recruit and foster research talents worldwide, and it is the CAS key program to attract and foster high-profile academic and technological leaders. In the past 15 years, the Program has attracted nearly 1,600 talents in total to work for CAS, including over 1,200 people from foreign countries, of whom some were elected members of CAS or members of the Chinese Academy of Engineering; some have become chief scientists of the national 973 Program or principal of the national 863 Program of China; many scientists have become director generals of the institutes of CAS or other departments of the government; many of them were granted National Funds for Excellent Young Scientists. The program has achieved remarkable success and provided practical experience for the formulation and implementation of the "Thousand Talents Program" of China. China still falls behind developed countries in overall scientific research capability and the contribution of S&T development to China's overall capabilities is insufficient, Bai Chunli said. Therefore, the endeavor to attract and foster high-profile S&T innovative talents and teams plays an important role in improving China's overall capabilities and international competitiveness, to achieve more home-grown innovation, promote the transfer of achievements in scientific research, and to realize the objective of building an innovation country and thus to provide firm support to China's scientific, sustainable and harmonious development.
Jiang Mianheng Meets BP Executive Director
On Nov. 17, Jiang Mianheng, Vice President of CAS, met with Iain Conn, Executive Director of BP and his entourage. The two parties exchanged views on present operation and future development of the Clean Energy Commercialization Center (CECC). Jiang emphasized that CECC should not only have a long-term development strategy, but should also establish a unique clean coal technology commercialization model through some specific projects. Mr. Iain Conn confirmed the progress of CECC made so far, but suggested that necessary measures should be adopted to speed up the process to turn it into a highly attractive technical transfer and commercialization center.
Fang Xin Present at Nobel Beijing 2009
On Nov.10, the Nobel Laureates Beijing Forum 2009 was inaugurated in the Great Hall of the People. Chen Zhili, Vice Chairman of the Standing Committee of the People's Congress attended the opening ceremony and delivered a keynote speech. Zhang Yutai, Director of the Development Research Center of the State Council chaired the opening ceremony. Guo Jinlong, Mayor of Beijing, delivered a welcoming speech. Fang Xin, member of the CAS Presidium, on behalf of CAS, which is a sponsoring institution for the Forum, attended the opening ceremony. Four Nobel laureates in economics, two principals of international financial organizations and two famous economic experts were invited to this two-day forum to discuss the international financial reconstruction and economic revitalization. Through keynote speeches and discussions, the participants would have a better understanding of the present international economic situation and the future development tendency of the world economy.
Li Zhensheng Granted 2009 TWAS Lecture Award
The 20th General Meeting and its' 11th Science Meeting was held from Oct. 19-23 in Durban, South Africa. Over 400 scientists attended the conference. Li Zhensheng, member of CAS and academician of TWAS was granted the 2009 Lecture Award for his excellent achievements in wheat breeding. So far, five scientists from China have been granted such honorary title.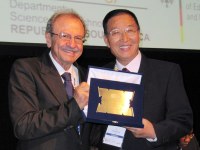 Shi Erwei Meets Japanese Astronautic R&D Delegation
On Oct. 21 morning, Shi Eewei, Vice President of CAS, met with Yukihide Hayashi, the visiting former Vice Minister of Education, Culture, Sports, Science and Technology (MEXT) of Japan and Vice President of the Japan Aerospace Exploration Agency and his entourage, who came to attend the 30th Asian Conference on Remote Sensing in China. Shi Erwei confirmed that since 2004, CAS and MEXT have successfully held 6 China-Japan Symposiums on Scientific & Technological Policy and Strategy in the two countries. Both parties carried out in-depth exchanges on S&T assessment, talent fostering, financial system, institution management policies and other issues and achieved good results in these symposiums. Yukihide Hayashi expressed that through joint efforts, the China-Japan Symposium on Scientific & Technological Policy and Strategy has become an important exchange platform between the S&T communities of the two countries for S&T policies and strategies and he is looking forward to the 7th symposium to be held in China the next year. Yukihide Hayashi wished to continue to strengthen the friendly S&T exchange and cooperation between the two countries.
Wang Enge Visits India
W ang Enge, Deputy Secretary-General of CAS, headed a d CAS delegation to visit India from Oct. 17 and 31. The delegation paid a visit to the Department of Science and Technology (DST) and the Council of Science and Industrial Research (CSIR).? Wang signed a memorandum of cooperation with CSIR and renewed relevant agreement with DST.
Other Issues

Sixty-sixth Issue (October 2009)

Sixty-fifth Issue (August 2009)

Sixty-fourth Issue (June 2009)

Sixty-third Issue (April 2009)

Sixty-second Issue (February 2009)

Sixty-first Issue (December 2008)

Sixtieth Issue (October 2008)

Fifty-nineth Issue (August 2008)

Fifty-eighth Issue (June 2008)

Fifty-seventh Issue (April 2008)

Fifty-sixth Issue (February 2008)

Fifty-fifth Issue (December 2007)

Fifty-fourth Issue (October 2007)

Fifty-third Issue (August 2007)

Fifty-second Issue (June 2007)

Fifty-first Issue (April 2007)

Fiftith Issue (Feb. 2007)

Fourty-nineth Issue (December, 2006)

Fourty-eighth Issue (Ocboter, 2006)

Fourty-seventh Issue (August, 2006)

Fourty-sixth Issue (June, 2006)

Fourty-fifth Issue (April, 2006)

Fourty-fourth Issue (February, 2006)

Fourty-third Issue (December, 2005)

Fourty-second Issue (October, 2005)

Fourty-first Issue (August, 2005)

Fourtith Issue (June, 2005)

Thirty-ninth Issue (April, 2005)

Thirty-eighth Issue (February, 2005)

Thirty-seventh Issue (December, 2004)

Thirty-sixth Issue (October, 2004)

Thirty-fifth Issue (August, 2004)

Thirty-fourth Issue (June, 2004)

Thirty-third Issue (April, 2004)

Thirty-second Issue (February, 2004)

Thirty-first Issue (December, 2003)

Thirtieth Issue (October, 2003)

Twenty-nineth Issue (August, 2003)

Twenty-eighth Issue (June, 2003)

Twenty-seventh Issue (Spring, 2003)