Brief News
Lu Yongxiang Meets Michael Ahern, Ireland Minister
On Nov. 1, Lu Yongxiang, President of CAS, met with Michael Ahern, the visiting Minister of Innovation Policy of Ireland, and his entourage. He expressed appreciation for Ireland government¡¯s great attention in innovation and hi-tech development, especially the development of software and bio-tech engineering technology and fast economic development in recent years. Michael Ahern favorably commented CAS for its significant role in China¡¯s S&T progress and expressed his wishes to keep close cooperation with CAS for mutual development of scientific research.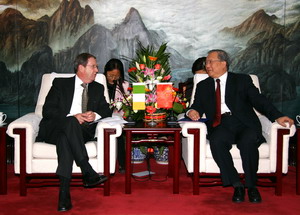 Lu Yongxiang Meets Peter Schuster, AAS President
On Nov. 1, Lu Yongxiang, President of CAS met with Peter Schuster, President of the Austrian Academy of Science. Lu congratulated Prof. Schuster for his being newly appointed as President of Austrian Academy of Science. Both parties expressed the intend to expand their cooperation in all relevant areas in the future.
Lu Yongxiang Meets Hans-Joerg Bullinger, Chairman of Fraunhofer Society
On Nov. 10, Lu Yongxiang, President of CAS met with Hans-Joerg Bullinger, Chairman of the Fraunhofer Society of Applied Technology, Germany and his entourage.? Lu Yongxiang and Hans Bullinger exchanged their views regarding R&D input of the industrial circles, development of medium and small enterprises and the forward-looking development of space research of the two countries. Later, Lu Yongxiang and Bullinger signed the ¡°Agreement of Programme for Joint Education of Doctorate Students¡±.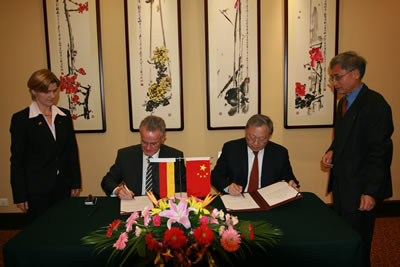 Jiang Mianheng Meets Castro, Cuban S & T Consultant
On Nov. 15, Jiang Mianheng, Vice President of CAS and President of the Shanghai Branch, CAS met with Dr. Fidel Castro Diaz Balart, the visiting Cuban State Council S & T consultant and his entourage of 6. During their stay in Shanghai, Dr. Castro paid a visit to Shanghai Institute of Applied Physics, Shanghai Institute of Ceramics, etc.
China to Establish Automatic Astro-observation Center in Antarctic
The Chinese Antarctic Scientific Survey Team set its 24th sail for Antarctic with the Xuelong Vessel at the end of October. It is expected that the team would arrive at A-Dome Argus for investigation once more at the end of December this year, preparing for the establishment of a station on Dome A next year.
Chinese Antarctic Astronomical Center will dispatch Zhu Zhenxi, Associate Research Fellow of the Purple Mountain Observatory, and Zhou Xu, Research Fellow of the National Astronomical Observatories, to establish an automatic astronomical observation center on Dome A. The first Antarctic telescope array CSTAR (Chinese Small Telescope Array) was successfully developed on Oct. 10. Featuring one small telescope array formed by four wide field telescopes with a caliber of 14.5 cm set on the frame, it is equipped with such four kinds of filters as white light, g, r, and i as well as 1kx1k CCD cameras. On the occasion, such CSTAR will monitor all the celestial bodies within more than 20 square degrees on the zenith of the Antarctic, conduct variable monitoring and statistical analysis, looking for the planets outside our solar system and super-planets, etc. CSTAR will become the first set of optical astronomical observation equipment in Antarctic. The manufacture of CSTAR will also accumulate rich experience and lay solid foundation to develop the Antarctic optical telescope of large caliber in future.
US Basic Science Delegation Visits CAS
On Oct. 23 morning, Tony Chan Assistant Director of US National Science Foundation (NSF) with his 15-member Basic Science Delegation paid a visit to CAS. Tan Tieniu, CAS Deputy Secretary General as well as leaders from relevant departments and research institutes met with them. Both parties made introductions on their respective research fields and held discussions on the details of cooperation. The US party expressed that NSF attached great importance to the cooperation with CAS and hoped that they could make substantial cooperation in wider areas, including the large-scale scientific facility program, etc.
10th Sino-American Frontier Science Workshop Held
The 10th Sino-American Frontier Science Workshop jointly organized by the National Academy of Sciences, US and CAS was held in Beijing from Oct. 27 to Oct. 29. Over 80 young scholars from both parties were present at the workshop. For 10 years, more than 700 Chinese and American scholars have attended the Sino-American Frontier Science Workshop. Moreover, 500 plus Chinese young scholars have benefited from the annual preparatory meeting for the workshop.
Energy Reports: by IAC and CAS Address Energy Challenges and Develop Sustainable Energy System
Recently, the InterAcademy Council (IAC)¡¯s report entitled Lighting the Way: Toward a Sustainable Energy Future and CAS¡¯s report entitled Addressing the Challenge: Developing a Sustainable Energy System were published simultaneously. On Oct. 22 afternoon, CAS held an IAC & CAS Sustainable Energy Forum ¨C IAC & CAS Energy Report Workshop. More than 50 personages inclusive of leaders from relevant ministries and committees of the state, domestic energy experts and famous energy enterprises at home and abroad were present at the workshop.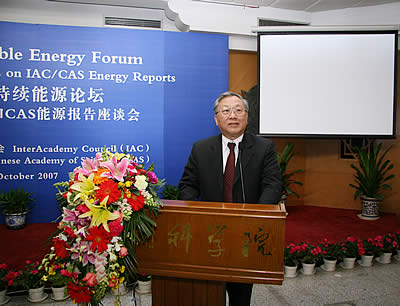 Other Issues

Sixtieth Issue (October 2008)

Fifty-nineth Issue (August 2008)

Fifty-eighth Issue (June 2008)

Fifty-seventh Issue (April 2008)

Fifty-sixth Issue (February 2008)

Fifty-fifth Issue (December 2007)

Fifty-fourth Issue (October 2007)

Fifty-third Issue (August 2007)

Fifty-second Issue (June 2007)

Fifty-first Issue (April 2007)

Fiftith Issue (Feb. 2007)

Fourty-nineth Issue (December, 2006)

Fourty-eighth Issue (Ocboter, 2006)

Fourty-seventh Issue (August, 2006)

Fourty-sixth Issue (June, 2006)

Fourty-fifth Issue (April, 2006)

Fourty-fourth Issue (February, 2006)

Fourty-third Issue (December, 2005)

Fourty-second Issue (October, 2005)

Fourty-first Issue (August, 2005)

Fourtith Issue (June, 2005)

Thirty-ninth Issue (April, 2005)

Thirty-eighth Issue (February, 2005)

Thirty-seventh Issue (December, 2004)

Thirty-sixth Issue (October, 2004)

Thirty-fifth Issue (August, 2004)

Thirty-fourth Issue (June, 2004)

Thirty-third Issue (April, 2004)

Thirty-second Issue (February, 2004)

Thirty-first Issue (December, 2003)

Thirtieth Issue (October, 2003)

Twenty-nineth Issue (August, 2003)

Twenty-eighth Issue (June, 2003)

Twenty-seventh Issue (Spring, 2003)