Brief News
Lu Yongxiang Meets Dr. Brechignac and Prof. Guinot
On May 22, Lu Yongxiang, President of CAS, met with Dr. Brechignac, President of French National Center for Scientific Research, and Prof. Guinot, former President of French Academy of Technology. Both parties discussed global energy and sustainable development in depth.
Lu Yongxiang Meets Alex Salmond
On Apr. 10, Lu Yongxiang, President of CAS, met with Alex Salmond, the visiting First Minister of Scotland, and his entourage. President Lu pinpointed that in light of common opportunities and challenges, China and Britain should strengthen cooperation in renewable source of energy, climate change and other fields and promote personnel exchange, joint student training, joint workshops and cooperation in other forms. Alex Salmond said that Scotland attached great importance to its cooperation with CAS in the field of renewable energy resources source.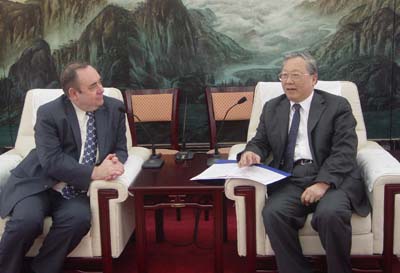 Lu Yongxiang: Congratulation on HJ-1 on-orbit Delivery
On Mar. 30, HJ£­1 Satellites A and B on-orbit delivery ceremony was held in Beijing. The home-grown satellites for Environment and Disaster Monitoring and Forecasting will be used by the National Disaster Reduction Center of the Ministry of Civil Affairs and the Environment Satellite Center of the Ministry of Environmental Protection. On Apr. 1, Lu Yongxiang, President of CAS, wrote letters to Xi¡¯an Institute of Optics and Precision Mechanics and Shanghai Institute of Technical Physics, expressing his warm congratulations and sincere solicitude for the two institutes and their researchers engaged in this project.
Lu Yongxiang Allows Interview with Hungarian Journalists
On May 7, Lu Yongxiang, President of CAS, allowed interview with Hungarian journalists. During the interview, President Lu answered questions raised by the journalists about how to cope with the economic crisis and promote international S&T cooperation and knowledge innovation, S&T ethics and mission of scientists. The interview will be recorded into the ¡°12 Scientists in the 21st Century¡± to be published by the Hungarian Academy of Sciences soon. The collection is arranged to celebrate the fourth World Science Forum to be held in Budapest in November 2009 and the 10th anniversary of the first World Science Forum.
Bai Chunli Visits Saudi Arabia
From Apr. 4 to 7, on the invitation of the King Saud University (KSU) and King Abdullah City of Science and Technology (KACST), Bai Chunli, Executive Vice President of CAS and his entourage paid a visit to Saudi Arabia and attended the International Symposium on Nano Industry. Bai Chunli delivered a lecture entitled ¡°Progress of China in Nanotechnology¡± for the symposium. Over 300 scholars from about 30 countries and regions attended this symposium. During his visit, Bai Chunli held talks with Dr. Al-Suwaiyel, the president and Dr. Al-Saud, vice president of KACST, and also paid visits to the KACST Research Center for Nanotechnology, Institute of Atomic Energy, Institute of Space Science, the KSU Institute of Nanotechnology, and the two sides jointly operated ¡°Date Palm Genome Research Program¡±.
Jiang Mianheng Visits USA
On the invitation of Harvard University and Department of Energy, Jiang Mianheng, Vice President of CAS, paid a visit to USA from Apr. 13 to 18, 2009. At the Sino-US Seminar on IGCC/Joint Production/CCS held at the Harvard University on Apr. 16, Jiang Mianheng delivered a keynote speech on energy and carbon deoxide emission in China. He appealed to USA and other developed countries to enter into substantial international cooperation with China in clean coal technology and other issues in the field of energy, in order to jointly build a stable clean and efficient economy and safe energy system and thus to make common contributions to global CO2 emission reduction. During the visit, Jiang Mianheng together with Cao Jianlin, Vice Minister of the Ministry of Science and Technology also made an official call on Dr. John Holdren, the newly appointed member of the Council of Advisors on Science and Technology and Director of the Office of Science and Technology Policy to the President.
Shi Erwei Present at Sino-Japan Seminar
On Apr. 14, 2009, the sixth ¡°Sino-Japan Seminar on Scientific and Technological Strategy and Policy¡± jointly held by CAS and the Ministry of Education, Culture, Sports, Science and Technology of Japan was inaugurated in Okinawa, Japan. Shi Erwei, Vice President of CAS headed a group of scientists attended the seminar. The contents of the Seminar were concentrated on four topics: ¡°scientific and technological policy and subjects of global interest¡±, ¡° global flow of researchers¡±, ¡°large scientific facilities¡± and ¡±career design of researchers¡±. There were bout 40 representatives from different institutions of the two countries attended the seminar.
Li Jiayang Visits France
L i Jiayang, Vice President of CAS and his entourage paid a visit to France in early May to promote cooperation between CAS and the Pasteur Institute and other research institutions in emerging infectious diseases. During his visit, Li Jiayang also paid a visit to the French National Arbovirus Reference Center Laboratory, Zoology Center and Biosafety Laboratory, Merieux Group, Lyon Center for Strengthening Competitiveness in Biotechnology and the Headquarters of National Institute for Agricultural Research (INRA). Li also chaired the eighth council meeting of the Council of Institut Pasteur of Shanghai as President of the Council.
Ding Zhongli Present at Ceremony for Yangtze Report 2009
Aceremony for Yangtze River Protection and Development Report 2009 was held on Apr. 18. The report made an inventory and analysis on the new issues and new progress in the protection and development of the Yangtze River arising after the first report issued in 2007. Ding Zhongli, Vice President of CAS, and Dr. Li Lifeng, WWF Director of Global Freshwater Project were present at the ceremony.
Renowned Scientists Sit on Int¡¯l Organizations
The executive board meeting of the International Council of Scientific Unions (ICSU) was held in Paris on Apr. 26. At the meeting, Prof. Lu Yonglong, Director General of the Bureau of International Cooperation of CAS and Secretary-General of the China Committee of the Scientific Committee on Problems of the Environment (SCOPE CHINA), was elected as member of ICSU Committee on Scientific Planning and Review (CSPR); Dr. Zhang Jiansheng, Director General of the Department of International Affairs of China Association for Science and Technology, was elected as member of ICSU Committee on Freedom and Responsibility of Sciences (CFRS); Prof. Tan Tieniu, Associate Secretary-General of CAS, was elected as member of ICSU Strategic Coordination Committee on Information and Data (SCCID); and Prof. Yan Baoping, Chief Engineer of the Computer Network Information Center, was elected as member of ICSU World Data System & Science Committee (WDS-SC).
Milestone for China Rail Transit
On May 20, the Research Center for Advanced Rail Transit Mechanics, CAS, was established in Beijing. Operated by CAS and the Ministry of Railways, but located in the Institute of Mechanics, CAS, the center serves as an unincorporated institute integrating production, education and research, which is supported by the Institute of Mechanics, the Equipment Department of the Ministry of Railways and relevant institutes and universities. Bai Chunli, Executive Vice President of CAS, Zhan Wenlong, Vice President of CAS, Cao Jianlin, Vice Minster of the Ministry of Science and Technology, Zhang Shuguang, Associate Chief Engineer of the Ministry of Railways, et al attended the inaugural ceremony.