Rare Earth-magnesium Alloy Passes Mid-term Evaluation
Recently, one key orientation project under the CAS Innovation Program ¨C Rare Earth-magnesium Alloy Development and Application Project passed CAS mid-term examination and evaluation. The project group has achieved the Rare Earth-magnesium Alloy fabrication by using the home-grown electrolysis technique, in which the cathode is submerged in the catholyte. Experts comment the new technique is the key to overcome the difficulties in adding the rare earth into the magnesium alloy as well as to address that the corresponding component segregation issue. During the 18-month work, researchers solved the molten salt technology problem, conducted studies on the electrochemical properties of molten salt systems, and created the state-of-the-art and reliable fabrication technology. They have also established a R&D base for the rare earth-magnesium alloy family as planned. The base possesses the production capacity of 100 tons per annum and has provided 1,360 kg Rare Earth-magnesium Alloy for trial uses by many overseas and domestic organizations and companies. Up to now, 12 patents have been applied and 3 kinds of advanced rare earth-magnesium alloy have been developed for successful pilot use in the engine bonnet of Red Flag sedans and the space vehicles.
International Invention Patents Granted
for Gas Dual-dynamic Solid State Fermentation Technique and Apparatus
On Feb. 27th, 2007, the United States Patent and Trademark Office provided patent protection to the ˇ°Gas Dual-dynamic Solid State Fermentation Technique and Apparatusˇ± invented by Chen Hongzhang and Li Zuohu, Research Fellows from the State Key Laboratory of Biochemical Engineering, Institute of Chemical Metallurgy (ICM), CAS. It is also the first international invention patent obtained by ICM.
Thanks to over ten years of continuous research, improvements and perfections, researchers have independently framed the technology system for the patent inventions. In parallel with the conventional technique, the invention solves the problems of easy pollution with miscellaneous microorganisms and difficulties in mass and heat transfer and scaling up in the existing solid state fermentation techniques. The innovative technique and apparatus allow industrialized microbial pure cultivation and energy and water saving. Easy for scaling up and high in fermentation virulence titre, they are useful for fermentation production of biological pesticides, enzyme preparations, agricultural antibiotics and unicell albumen.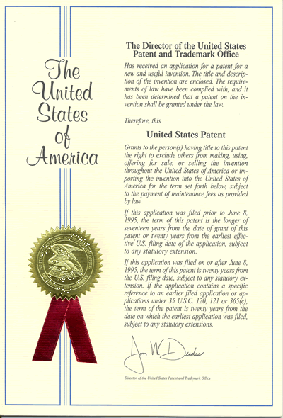 Other Issues

Sixtieth Issue (October 2008)

Fifty-nineth Issue (August 2008)

Fifty-eighth Issue (June 2008)

Fifty-seventh Issue (April 2008)

Fifty-sixth Issue (February 2008)

Fifty-fifth Issue (December 2007)

Fifty-fourth Issue (October 2007)

Fifty-third Issue (August 2007)

Fifty-second Issue (June 2007)

Fifty-first Issue (April 2007)

Fiftith Issue (Feb. 2007)

Fourty-nineth Issue (December, 2006)

Fourty-eighth Issue (Ocboter, 2006)

Fourty-seventh Issue (August, 2006)

Fourty-sixth Issue (June, 2006)

Fourty-fifth Issue (April, 2006)

Fourty-fourth Issue (February, 2006)

Fourty-third Issue (December, 2005)

Fourty-second Issue (October, 2005)

Fourty-first Issue (August, 2005)

Fourtith Issue (June, 2005)

Thirty-ninth Issue (April, 2005)

Thirty-eighth Issue (February, 2005)

Thirty-seventh Issue (December, 2004)

Thirty-sixth Issue (October, 2004)

Thirty-fifth Issue (August, 2004)

Thirty-fourth Issue (June, 2004)

Thirty-third Issue (April, 2004)

Thirty-second Issue (February, 2004)

Thirty-first Issue (December, 2003)

Thirtieth Issue (October, 2003)

Twenty-nineth Issue (August, 2003)

Twenty-eighth Issue (June, 2003)

Twenty-seventh Issue (Spring, 2003)