EAST Fusion Reactor Passed National Acceptance Check
On the morning of March 1st, 2007, the world's first full superconducting non-circular cross-section nuclear fusion experiment facility ¨C the Experimental Advanced Superconducting Tokamak (EAST) fusion device passed the national acceptance check.
The EAST device (formally named HT-7U) boasts one of the state key scientific research projects, approved in July 1998 and with construction launched in Oct. 2000. With a national investment of 165 million RMB yuan, it aims to explore the steady-state operation of plasma when it is placed near the reactor core, the EAST can serve the future safety and advanced reactor establishment in terms of key engineering technology and physics. During the period of project construction, 65 key or new technologies have been developed independently by CAS scientists, which have contributed to a range of growth points for technology development as well as many China¡¯s and world¡¯s firsts.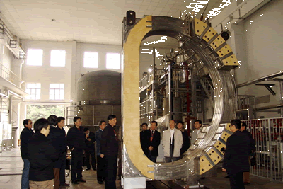 Demo Device for New MRAM Developed
A research team under the leadership of Prof. Han Xiufeng from the Institute of Physics, CAS, has recently developed a demo device for a new type of the magnetic random access memory (MRAM). Instead of using the traditional way of fabrication, the researchers adopted a principle that takes nano-ring-type magnetic tunnel junctions (NR-MTJs) with the outer- and inner-diameter of around 100 and 50 nm as memory cells and employs positive and negative pulse current to directly drive the rotation of magnetic moment on a bit plane. The new device consists of arrays of magnetic memory cells in which the information is stored as the magnetization direction of tiny ferromagnetic elements. In a conventional design scheme, writing these elements uses two crossed pulse currents to produce a synthesized magnetic field to reverse selected magnetic elements, and the read process relies on tunneling magneto-resistance (TMR) ratio. Scientists say that their invention could overcome the difficulties of high energy consumption and low storage density, two bottleneck problems of MRAM development. Only 500 ~ 650 ¦ÌA (microampere) or less such a current is needed for a device cell to perform the writing operation, and 10 ~ 20 ¦ÌA (microampere) current can be used to perform the reading operation. After further improvement, it is expected to further decrease the writing current to 100 ~ 200 ¦ÌA (microampere).
With its advantages such as data safety, anti-radiation, high speed, low density, energy-efficiency and long work life, the new MRAM is considered as a key device for the future computer, information and telecom technologies.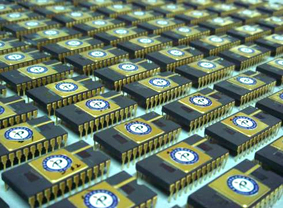 Major Progress Made in Lunar Roving Vehicles
Recently, researchers from the Shenyang Institute of Automation (SIA), CAS, have scored significant progress in their work on moon roving vehicles. Their research entitled "Pre-research on Key Technology of Lunar Rovers", one orientation project under the CAS Innovation Program, passed the acceptance check recently in Shenyang, capital of northeast China's Liaoning Province. Started in Marh 2005, the project is an interdisciplinary research headed by Prof. Wang Yuechao, Director of SIA. Experts commented that the lunar rover developed by the team shows unique traits in terms of the overall system design and plan, the key technology research, the system integration, etc.
World¡¯s First Single-Crystalline Antimony Telluride Nanobelts Synthesized
Researchers from the Key Laboratory of Rare Earth Chemistry and Physics, Changchun Institute of Applied Chemistry, CAS, have made breakthrough in their work on the hydrothermal synthesis of single-crystalline antimony telluride nanobelts. The team led by Zhang Hongjie, Research Fellow of CAS, made a series of improvements and successfully synthesized the world¡¯s first single-crystalline antimony telluride nanobelts ¨C single-crystalline Sb2Te3 nanobelts by a novel and convenient surfactant-assisted hydrothermal approach.
Their work paves way for the synthesis of other low-dimensional semi-conducting telluride nanostructures that will highly probably possess better thermoelectric properties. The feat was reported in the recent issue of the Journal of the American Chemical Society.
Other Issues

Sixtieth Issue (October 2008)

Fifty-nineth Issue (August 2008)

Fifty-eighth Issue (June 2008)

Fifty-seventh Issue (April 2008)

Fifty-sixth Issue (February 2008)

Fifty-fifth Issue (December 2007)

Fifty-fourth Issue (October 2007)

Fifty-third Issue (August 2007)

Fifty-second Issue (June 2007)

Fifty-first Issue (April 2007)

Fiftith Issue (Feb. 2007)

Fourty-nineth Issue (December, 2006)

Fourty-eighth Issue (Ocboter, 2006)

Fourty-seventh Issue (August, 2006)

Fourty-sixth Issue (June, 2006)

Fourty-fifth Issue (April, 2006)

Fourty-fourth Issue (February, 2006)

Fourty-third Issue (December, 2005)

Fourty-second Issue (October, 2005)

Fourty-first Issue (August, 2005)

Fourtith Issue (June, 2005)

Thirty-ninth Issue (April, 2005)

Thirty-eighth Issue (February, 2005)

Thirty-seventh Issue (December, 2004)

Thirty-sixth Issue (October, 2004)

Thirty-fifth Issue (August, 2004)

Thirty-fourth Issue (June, 2004)

Thirty-third Issue (April, 2004)

Thirty-second Issue (February, 2004)

Thirty-first Issue (December, 2003)

Thirtieth Issue (October, 2003)

Twenty-nineth Issue (August, 2003)

Twenty-eighth Issue (June, 2003)

Twenty-seventh Issue (Spring, 2003)