?10000t/a Biodiesel Production Facilities Constructed in Joint Hands

Recently, the Institute of Coal Chemistry (ICC), CAS, successfully completed the industrial pilot test on the continuousness of the technology for biodiesel synthesis in subcritical methanol that was applied to a facility with an 800t/a capacity in Shanxi Yongji Hongyuan Chemical Industry Co., Ltd. The test produced satisfactory resultsí¬the conversion rates of esterification and interesterification are higher than 95%, which meets the requirements to the reaction in supercritical methanol. Meanwhile, the production cost has been also remarkably reduced by technology. As a follow-up, the two partners are currently preparing to construct biodiesel production facilities with a capacity of 10000t/a.

Spallation Neutron Source Facility Co-establish

CAS is to join hands with South China's Guangdong Province in making a proposal to co-construct Chinese Spallation Neutron Source (CSNS) and the State CSNS Laboratory in Dongguan, a booming city in the province. On Feb. 13th, 2007, Lu Yongxiang, President of CAS and Guangdong Governor Huang Huahua signed a Memorandum of Cooperation on behalf of the two sides. The CSNS accelerator is the first large-scale, high-power accelerator project with world-class state-of-the-art technology to be constructed in China.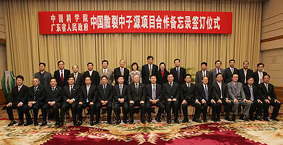 Other Issues

Sixtieth Issue (October 2008)

Fifty-nineth Issue (August 2008)

Fifty-eighth Issue (June 2008)

Fifty-seventh Issue (April 2008)

Fifty-sixth Issue (February 2008)

Fifty-fifth Issue (December 2007)

Fifty-fourth Issue (October 2007)

Fifty-third Issue (August 2007)

Fifty-second Issue (June 2007)

Fifty-first Issue (April 2007)

Fiftith Issue (Feb. 2007)

Fourty-nineth Issue (December, 2006)

Fourty-eighth Issue (Ocboter, 2006)

Fourty-seventh Issue (August, 2006)

Fourty-sixth Issue (June, 2006)

Fourty-fifth Issue (April, 2006)

Fourty-fourth Issue (February, 2006)

Fourty-third Issue (December, 2005)

Fourty-second Issue (October, 2005)

Fourty-first Issue (August, 2005)

Fourtith Issue (June, 2005)

Thirty-ninth Issue (April, 2005)

Thirty-eighth Issue (February, 2005)

Thirty-seventh Issue (December, 2004)

Thirty-sixth Issue (October, 2004)

Thirty-fifth Issue (August, 2004)

Thirty-fourth Issue (June, 2004)

Thirty-third Issue (April, 2004)

Thirty-second Issue (February, 2004)

Thirty-first Issue (December, 2003)

Thirtieth Issue (October, 2003)

Twenty-nineth Issue (August, 2003)

Twenty-eighth Issue (June, 2003)

Twenty-seventh Issue (Spring, 2003)