60th Anniversary of Establishment of CAS
Solemn Celebrations by CAS
Hu Jintao: Congratulations on the 60th Anniversary of CAS
At the 60th anniversary of CAS, President Hu Jintao wrote a letter of congratulations to CAS expressing his warm congratulations and earnest greetings to all the Members of CAS and its S&T workers, who have made outstanding contributions to the S&T development in China. In his letter of congratulations, Hu Jintao points out that the founding of CAS, an important strategic decision made by CPC and the central government for the overall construction of new China and its future development, marked the establishment of a national strategic team of S&T workers in China and unveiled the glorious history of developing S&T with its own efforts. He hopes that CAS will further implement the scientific outlook on development, adhere to indigenous innovation with Chinese characteristics and spare no efforts in implementing the strategy of rejuvenating the nation by giving prominence to science, education and top-notch talents. He also hopes that CAS should aim to serve the course of socialist modernization, focus on improving its capability of indigenous innovation and sustainable development, give priority to major scientific and technological issues of fundamental, strategic and forward-looking nature that are crucial to the overall and long-term development of the nation. Thereby, CAS should undertake a whole set of strategic goals for science and technology innovation, construct world-class innovation bases and foster top-notch talents capable of achieving scientific and technological innovation, who are characterized by enterprising spirits. By striving to bring about more and better technological achievements, CAS should further serve as a powerhouse in building China into an innovation-oriented country and make still greater new contributions to the promotion of scientific and technological development in China and strive for new victories over the construction of a well-off society in an all-round way.
Wen Jiabao:Visit to the 60th Anniversary Exhibition of CAS
On the afternoon of Nov. 2, 2009, Premier Wen Jiabao paid a visit to the 60th anniversary exhibition of CAS. Wen Jiabao carefully watched the exhibition, listened to the introductions and highly valued the achievements of CAS. Premier Wen said, as a strategic S&T force of China and a palace of academy representing the highest level of scientific research in natural sciences in China, CAS should continue to implement the Knowledge Innovation Program and make efforts to overcome cutting-edge scientific issues that will promote technological innovation and industrial reform, to breakthrough major scientific issues of public interests that will improve the health level and livelihood of the people and to attach importance to the study of strategic hi-tech issues that will reinforce international competitiveness and safeguard national security of China. He pointed out that CAS should continue to serve as the brain trust and think tank in leading the eco-social development of China with S&T.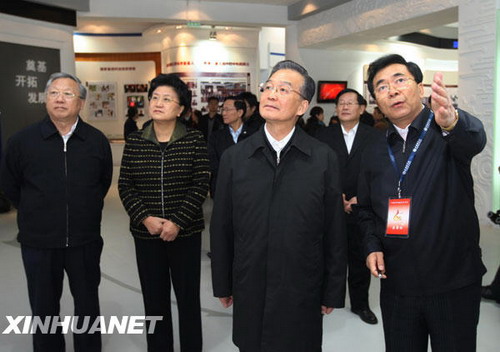 The 60th CAS Anniversary Conference Held
The 60th anniversary conference of CAS was held on Oct. 30, 2009. Liu Yandong, State Councilor, read the letter of congratulations from President Hu Jintao first and then made a key-note speech. She warmly congratulated the 60th anniversary of CAS on behalf of the State Council and reviewed the development history of CAS. Lu Yongxiang, President of CAS made a speech on behalf of CAS. He reviewed the firm support of the central government for the development of CAS, honored the scientists of the older generation who founded CAS and the senior leaders who led CAS to blaze new trails with pioneering spirit and recalled the glorious development of CAS over the past 60 years. Lu urged the S&T workers of CAS to further improve their indigenous innovation capability and continue to make basic, strategic and forward-looking contributions. Relevant state leaders and ministers of some departments attended the conference. Bai Chunli, Executive Vice-President of CAS, chaired the conference.
Lu Yongxiang: Speech at CAS 60th Anniversary Conference
On Oct. 30th, Lu Yongxiang, President of CAS made a speech at the 60th anniversary conference of CAS. He reviewed supports to CAS devoted by the Chinese government and the CAS's history of development over the past 60 years and described the future development strategy of CAS.
Lu said: "over the past 60 years, CAS has undergone a hardworking stage in the early years of PRC to the period of rapid S&T development. From the period of "spring of science" after bringing order out of chaos and the reform and opening-up to the outside world to the implementation of the Knowledge Innovation Program, CAS has become the highest academic institution for natural sciences, the highest consulting institution for S&T and an integrated R&D center of natural sciences and hi-tech in China." He specifically mentioned the important speech made by Hu Jintao, President of PRC in 2004 when he inspected the progress made by CAS in the Knowledge Innovation Program, who requested that CAS should not only achieve first-level achievements, bring about first-level benefits and implement first-level management, but should also foster first-level talents.
Lu Yongxiang also pinpointed that "since the founding of CAS, more than 900 scientists throughout the nation have been elected members of CAS, who are outstanding representatives of the S&T workers in new China. CAS has attracted and fostered a large number of scientists who have made significant contributions to the S&T undertakings of new China." "What is even more gratifying is that since the implementation of the Knowledge Innovation Program, CAS has fostered nearly 1,000 new-generation S&T leaders and top rank talents and formed a high-profile scientific innovation team, among whom there are 600 chief scientists or principal leaders for major national scientific tasks, nearly 700 winners of National Science Fund for Distinguished Young Scholars, 53 innovation groups evaluated by and financially supported by the National Natural Science Foundation of China, and 900 scientists who have assumed key posts in major international science organizations." "Over the past 60 years, CAS has been playing a leading role in pioneering the exploration and reform of S&T system." "A scientific research system has been formed progressively with CAS as the academic leader, which is composed of CAS, research institutes under different ministries and departments, higher education institutions and local research institutions."
"In the early years of CAS, the scientific cooperation was mainly focused on the work with USSR and the Eastern European countries. The cooperation with the Max Planck Society (MPS) of Germany in 1974 opened the door of scientific cooperation between China and western countries. In 1979, during the visit of Deng Xiaoping to the United States, CAS signed a cooperation agreement on high-energy physics and other agreements with relevant American institutions, which opened the window of cooperation between China and the United States. Since the implementation of the Knowledge Innovation Program, international collaborators of CAS have become more and more diversified, extending from significant scientific research institutions to major international science organizations, research-oriented universities and transnational corporations; the cooperation model has also been varied, ranging from general exchanges and visits to co-establishment of research institutions, joint organizations of major international S&T cooperation projects and establishment of strategic partnership, thus creating an all-round, multi-layer, high-level, wide-range and result-focused new pattern of international S&T cooperation. CAS has become an active and influential scientific research group in the international S&T community."
"Over the past 60 years, CAS has made major innovative contributions that are shining in history, achieved tremendous accomplishments in basic research, strategic hi-tech research and research on sustainable development, solved lots of key and core scientific issues confronted in major national tasks and harvested plenty of significant indigenous innovation achievements that are substantial to the national competitiveness. Over the past 60 years, CAS has won 1,080 national S&T prizes, including 19 first prizes of the State Natural Science Award, accounting for 59% of the total, 4 top prizes and 30 first prizes of the National Prize of Progress in Science and Technology and 4 first prizes of the National Technology & Invention Award."
Lu Yongxiang finally pointed out: "S&T is thriving with groups of unprecedented breakthroughs in the present world on the eve of a revolutionary reform. In the next 10 to 20 years, a new S&T revolution and industrial reform characterized by green, intellectual and sustainable development is very likely to take place. Scientific innovations and breakthroughs will create new demands and markets which will change the global industrial structure and the course of human civilization. In the new period of history, as a strategic S&T force of China, CAS shall be committed to solving the basic, strategic and forward-looking major scientific issues that affect the overall situation and long-term development of China, improving the international competitiveness of China in S&T, guiding the indigenous innovation and progress in S&T of China and supporting the scientific and harmonious development of China." "By 2020, CAS will realize innovative leapfrog development in essential strategic fields related to the overall eco-social development of China, hatch and form a group of growing points for cutting edge new cross-disciplines which will have significant influence on the future development and take leading position in some cutting edge new cross-directions and fields." CAS "should become a first-class national research institution highly influential in the world."
CAS Innovation: Highlighting Celebration of 60th Anniversary of Founding of PRC
On the morning of Oct. 1 among the marching groups at the celebration of the 60th anniversary of the founding of PRC, an innovation achievement made by CAS appeared on a huge screen of a spectacular float. It is a national major scientific project named "Large Sky Area Multi-object Fiber Spectroscopic Telescope" (LAMOST) mainly developed by the Nanjing Institute of Astronomical Optics & Technology. LAMOST, with its indigenous innovative design concept and production, world leading position and great scientific potentials, represents one of the achievements that showcase the continuous improvement of national scientific innovation capability, the remarkable upgrading of S&T supporting capability and the smooth progress in constructing the national innovation system of China since PRC was founded 60 years ago.
Bronze Statue of Guo Moruo: First President of CAS be Ever Commemorated
On Oct. 29 when CAS was embracing its 60th anniversary, a bronze statue of Mr. Guo Moruo, the first President of CAS, was inaugurated at the Headquarters of CAS. Lu Yongxiang, President of CAS, Ms Guo Shuying and Ms Guo Pingying, daughters of Guo, jointly unveiled the bronze statue. Guo Moruo was the first president of CAS and also an outstanding contemporary writer, historian, archaeologist and famous social activist in China. During his 29-year tenure, he made significant contributions to the founding and development of CAS and left a rich legacy and generated far-reaching influence in the academic fields.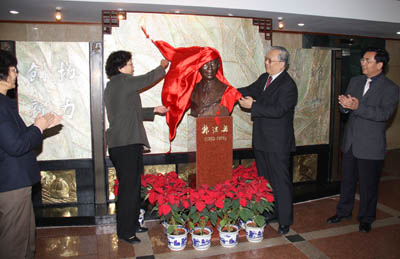 Other Issues

Sixty-seventh Issue (December 2009)

Sixty-sixth Issue (October 2009)

Sixty-fifth Issue (August 2009)

Sixty-fourth Issue (June 2009)

Sixty-third Issue (April 2009)

Sixty-second Issue (February 2009)

Sixty-first Issue (December 2008)

Sixtieth Issue (October 2008)

Fifty-nineth Issue (August 2008)

Fifty-eighth Issue (June 2008)

Fifty-seventh Issue (April 2008)

Fifty-sixth Issue (February 2008)

Fifty-fifth Issue (December 2007)

Fifty-fourth Issue (October 2007)

Fifty-third Issue (August 2007)

Fifty-second Issue (June 2007)

Fifty-first Issue (April 2007)

Fiftith Issue (Feb. 2007)

Fourty-nineth Issue (December, 2006)

Fourty-eighth Issue (Ocboter, 2006)

Fourty-seventh Issue (August, 2006)

Fourty-sixth Issue (June, 2006)

Fourty-fifth Issue (April, 2006)

Fourty-fourth Issue (February, 2006)

Fourty-third Issue (December, 2005)

Fourty-second Issue (October, 2005)

Fourty-first Issue (August, 2005)

Fourtith Issue (June, 2005)

Thirty-ninth Issue (April, 2005)

Thirty-eighth Issue (February, 2005)

Thirty-seventh Issue (December, 2004)

Thirty-sixth Issue (October, 2004)

Thirty-fifth Issue (August, 2004)

Thirty-fourth Issue (June, 2004)

Thirty-third Issue (April, 2004)

Thirty-second Issue (February, 2004)

Thirty-first Issue (December, 2003)

Thirtieth Issue (October, 2003)

Twenty-nineth Issue (August, 2003)

Twenty-eighth Issue (June, 2003)

Twenty-seventh Issue (Spring, 2003)