Lu Yongxiang Meets Romanian Delegation
On April 23, Lu Yongxiang, President of CAS, met with Dr. Lonel Haiduc, President of Romanian Academy of Sciences, Dr. Marius Sala and Dr. Florin Filip, the Vice Presidents, and their entourage in Beijing. CAS and RAS renewed their cooperation agreement on science and technology in July 1994, and this is the first visit by president of RAS to CAS ever since.
Li Jiayang Meets Vice President of Mongolian Academy of Sciences
On the afternoon of April 12, Li Jiayang, Vice President of CAS, met with Dr. Norovyn Altansukh, Vice President of the Mongolian Academy of Sciences. During the discussion, the two sides exchanged views on the progress of the China-supported Mongolia Grassland Ecosystem Station Project.
Kissinger: Rise of China is a Must
On April 3, Dr. Kissinger, former US State Secretary, recalled his mysterious ice-breaking trip to China 36 years ago at the ˇ°China Sciences and Humanities Forumˇ± sponsored by the Graduate School of CAS. He expressed to the Chinese students his expectation of ˇ°building a new international system through cooperation between China and USˇ±, and said that ˇ±we are now facing with some great challenges, and the rise of China is a must.ˇ± At the end of his speech, he answered questions regarding Sino-US relations and the current international situation.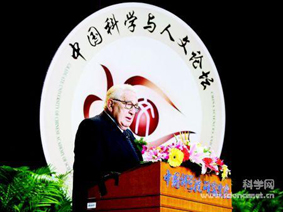 Li Jinghai Meets Vice President of Czech Academy of Sciences
On May 10, Li Jinghai, Vice President of CAS, met with Prof. Jiri Drahos, visiting Vice President of the Academy of Sciences of the Czech Republic at the CAS Headquarters. The two sides held discussions on research and potential cooperation in terms of chemical industry and cleaner fuel.
Fang Xin Allows Interview with French Capital
On the morning of April 12, Fang Xin, Deputy Secretary of the Communist Party Committee of CAS, allowed interview with Capital reporter, Ms. Anne Rosencher. The Capital belongs to Prisma Presse, the second largest media group in France. As a business best-seller magazine, Capital mainly focuses on news of economy, science and technology. Fang Xin also answered questions regarding R&D and investment of enterprises.
Guo Lei Elected Fellow of International Federation of Automatic Control
ecently, Guo Lei, member of CAS, was elected as Fellow of the International Federation of Automatic Control for his fundamental contributions to the theory of adaptive control and estimation of stochastic systems, and to the understanding of the maximum capability of feedback.