Lu Yongxiang Pays Visit to Spain
Lu Yongxiang, President of CAS, paid a visit to Spain from April 14 to 16 with his CAS delegation. Martinez, Chairman of Spain's Higher Council of Scientific Research (CSIC), proposed that Spain, Germany (Max-Planck institute), USA and China could form a cooperation network, and China, especially CAS, is a key partner of the strategic cooperation for CSIC. On April 16, Lu Yongxiang attended a Policy Presentation Conference held at CSIC Hall by the European Research Council (ERC). Lu held friendly talks with Miquel Angel Quintanilla, Spanish State Secretary of Education and Scientific Research, Fotis Kafatos, President of ERC, and Ernst-Ludwig Winnacker, Secretary-General of ERC.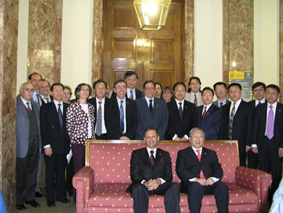 Bai Chunli Unveils Kavli Institute
on the morning of May 26, the International Conference on Science Frontiers & Unveiling Ceremony of the Kavli Institute for Theoretical Physics (KITP), CAS, was held in Beijing. Bai Chunli, Executive Vice-President of CAS, and Fred Kavli, President of Kavli Foundation jointly unveiled KITP, CAS.? The present KITP president is Prof. Wu Yueliang, Research Fellow and Director General of the Institute of Theoretical Physics, CAS.
Jiang Mianheng Attends COSPAR Executive Committee Meeting
On March 22, Jiang Mianheng, Vice President of CAS, attended the Executive Committee Meeting of COSPAR Scientific Assembly in Paris. On the previous day, Jiang attended the 50th Anniversary Cocktail Reception of Space Activities held in the headquarters of UNESCO on arrival in Paris. He also held discussions with many principals and experts from different countries.
Chen Zhu Visits Europe for Industrial Biotechnology Cooperation
To provide better information for CAS in establishing a research base of industrial biotechnology, Chen Zhu, Vice President of CAS, headed a delegation to investigate relevant European institutions and enterprises from March 26 to April 4 in England. Chen and his entourage paid a visit to the Imperial College of Science and Technology and the Rothamsted Experimental Station. In Denmark, they paid a visit to the bio-pharmacal companies, Novo Nordisk and Novozymes. In Netherlands, both Plasterk, the newly-appointed Minister of Education, Culture and Science, and Buijink, Director-General of the Ministry of Commerce, met with Chen and his entourage. During the discussion, the Dutch authority expressed their willingness to cooperate with China on various areas. Chen, on behalf of CAS, signed a Memorandum of Cooperation on establishing Sino-Dutch Systematic Diagnosis and Systematic Medical Center between CAS and the Netherlands Organization for Scientific Research. After the signing ceremony, Chen held a working discussion on the co-ordination of research between Europe and China with his Dutch counterparts. Besides, Chen and his entourage also visited Delft University of Technology in Netherlands to investigate its research in industrial biotechnology and Basf Group in Germany.
Sharing of Scientific Data Highly Commented by World Data Centers
The General Assembly of all ICSU-WDC was held from May 6 to 9 in Bremen, Germany. It is the second time that the WDC Discipline Centers of China display their work since the initiation of the Scientific Data Sharing Project of China and the evaluation by the ICSU/WDC expert group. The Assembly confirmed the progress of WDC Discipline Centers of China made in recent years. Christopher Fox, Director and David M. Clark, Deputy Director of NOAA/NGDC (USA), expressed their hope to promote data exchange and sharing with WDC Discipline Centers of China through the Geoscience Data Sharing Network.
Shi Erwei Present at China-Japan Senior Level Workshop
From May 27-31, Prof. Shi Erwei and his entourage attended the ˇ°Forth China-Japan Senior-level Workshop on S&T Strategy and Policyˇ±, which was jointly sponsored by the Chinese Academy of Sciences and the Japanese Ministry of Culture and Science.
CAS Deepens Cooperation with BHP Billiton
On April 12, CAS and BHP-Billiton (Australia) held a special seminar in Beijing to discuss further cooperation. Li Jinghai, Vice President of CAS, and other relevant experts showed themselves in the seminar to give speeches. Megan Clark, Technical Vice President of BHP-Billiton, and managers of each research department attended the seminar. After the one-day discussion and exchange, both sides agreed to expand cooperation in the following three fields: clean coal technology, process simulation and automation, new technologies of metallurgy and biotechnology, with the specific work to be carried out through further communication between the partners. And the two sides also agreed to establish long-term comprehensive relationship based on the current cooperation project.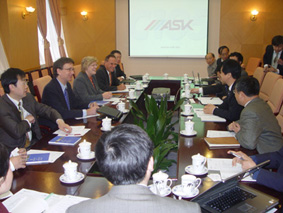 Swiss Science and Education Delegation Pays Visit to CAS
On April 23, Li Jinghai, Vice President of CAS, met with Dr. Keiler, the visiting State Secretary for Science and Education of Swiss and his entourage on behalf of Lu Yongxiang, President of CAS. Keiler said that China is one of the five major countries with whom Switzerland wished to enhance cooperation in terms of science and technology. The visiting delegation comprised of the major forces of science and education of Switzerland, including chairman of the Swiss National Science Foundation, presidents of many universities such as ETH Zurich, and other government officials, which shows Switzerland attached great importance to the cooperation with China. The Swiss part expressed their wish to further enhance specific scientific cooperation between CAS and ETH in the framework of Bilateral Cooperation Agreement between China and Swiss government. On April 25, a ceremony was held at the Shanghai Institute of Plant Physiology and Ecology (SIPPE) to unveil and sign agreement for the Shanghai Center for Cassava Biotechnology jointly established by the Shanghai Institutes for Biological Sciences (SIBS), CAS and ETH Zurich.
International Conference on Scientific Computing First Held in China
The 7th International Conference on Scientific Computing (ICSC) was held in Beijing from May 28 to 30. Over 700 experts, scholars, and entrepreneurs from 43 countries in the computing science field attended the conference. It is the first time that ICSC has ever held its conference in China. The conference, sponsored by CAS, received more than 2,400 papers, of which 704 were included in the Conference Proceedings.
3rd Global Botanic Gardens Congress Held
On April 16, the 3rd Global Botanic Gardens Congress was held in Wuhan. Some 1,000 representatives from botanical gardens, research institutes, universities, government agencies, and NGOs from 89 countries attended the congress. The theme of this congress is ˇ°Building a Sustainable Future: Role of Botanic Gardensˇ±. Experts held discussions and exchanged their views on various topics, including global strategy for plant conservation, biodiversity and environmental education for sustainable development.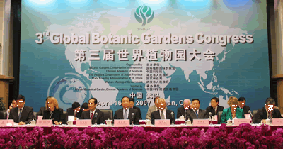 Other Issues

Sixtieth Issue (October 2008)

Fifty-nineth Issue (August 2008)

Fifty-eighth Issue (June 2008)

Fifty-seventh Issue (April 2008)

Fifty-sixth Issue (February 2008)

Fifty-fifth Issue (December 2007)

Fifty-fourth Issue (October 2007)

Fifty-third Issue (August 2007)

Fifty-second Issue (June 2007)

Fifty-first Issue (April 2007)

Fiftith Issue (Feb. 2007)

Fourty-nineth Issue (December, 2006)

Fourty-eighth Issue (Ocboter, 2006)

Fourty-seventh Issue (August, 2006)

Fourty-sixth Issue (June, 2006)

Fourty-fifth Issue (April, 2006)

Fourty-fourth Issue (February, 2006)

Fourty-third Issue (December, 2005)

Fourty-second Issue (October, 2005)

Fourty-first Issue (August, 2005)

Fourtith Issue (June, 2005)

Thirty-ninth Issue (April, 2005)

Thirty-eighth Issue (February, 2005)

Thirty-seventh Issue (December, 2004)

Thirty-sixth Issue (October, 2004)

Thirty-fifth Issue (August, 2004)

Thirty-fourth Issue (June, 2004)

Thirty-third Issue (April, 2004)

Thirty-second Issue (February, 2004)

Thirty-first Issue (December, 2003)

Thirtieth Issue (October, 2003)

Twenty-nineth Issue (August, 2003)

Twenty-eighth Issue (June, 2003)

Twenty-seventh Issue (Spring, 2003)