A Near-earth Minor Planet 2007GX01 Discovered
By taking advantage of newly-established astronomical equipment, researchers of the CAS Purple Mountain Observatory discovered a near-earth objective (NEO) on April 10 at the Xuyi station. The feat was made possible by a 1/1.2m aperture telescope equipped with 4K¡Á4K Charge Coupled Device (CCD) detection system. The minor planet was located in the constellation of Virgo when it was spotted by CAS astronomers. In the initial measurement, it was found in a rapid movement with an angular velocity about 0.54 degrees per day, doubling the speed of a common asteroid. It has temporarily designated as 2007GX01 by the International Minor Planet Center (MPC). Currently, the Purple Mountain Observatory is carrying out follow-up tracking measurement.
Largest Optical Telescope in China Put into Operation
The largest optical telescope in China and East Asia was put into operation on May 12 at the CAS Yunnan Lijiang Observatory. Experts pointed out, the telescope with a diameter of 2.4 meters would make Lijang observatory a most important one in southern China. Each year, it can support dozens of high-level research programs on astrophysics. In addition to the 2.4m aperture telescope, the station will establish telescopes with different apertures to serve different scientific purposes.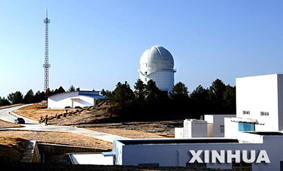 Other Issues

Sixtieth Issue (October 2008)

Fifty-nineth Issue (August 2008)

Fifty-eighth Issue (June 2008)

Fifty-seventh Issue (April 2008)

Fifty-sixth Issue (February 2008)

Fifty-fifth Issue (December 2007)

Fifty-fourth Issue (October 2007)

Fifty-third Issue (August 2007)

Fifty-second Issue (June 2007)

Fifty-first Issue (April 2007)

Fiftith Issue (Feb. 2007)

Fourty-nineth Issue (December, 2006)

Fourty-eighth Issue (Ocboter, 2006)

Fourty-seventh Issue (August, 2006)

Fourty-sixth Issue (June, 2006)

Fourty-fifth Issue (April, 2006)

Fourty-fourth Issue (February, 2006)

Fourty-third Issue (December, 2005)

Fourty-second Issue (October, 2005)

Fourty-first Issue (August, 2005)

Fourtith Issue (June, 2005)

Thirty-ninth Issue (April, 2005)

Thirty-eighth Issue (February, 2005)

Thirty-seventh Issue (December, 2004)

Thirty-sixth Issue (October, 2004)

Thirty-fifth Issue (August, 2004)

Thirty-fourth Issue (June, 2004)

Thirty-third Issue (April, 2004)

Thirty-second Issue (February, 2004)

Thirty-first Issue (December, 2003)

Thirtieth Issue (October, 2003)

Twenty-nineth Issue (August, 2003)

Twenty-eighth Issue (June, 2003)

Twenty-seventh Issue (Spring, 2003)