Research Result on Neural Disease Published in Cell
As reported online in Cell, on April 19, Guan Chenbing, a PhD candidate under guidance of Mu-ming Poo and Yuan Xiaobing from the Institute of Neuroscience, CAS, has found after five-years study that migratory neurons, which are highly polarized, need a long-distance signal transmission within the cell to coordinate the translocation of different parts of the entire cell body. It has been shown that many of the neuronal disorders are due to abnormal neuronal migration and may include, but are not limited to, mental retardation and epilepsy. Therefore, research on the basic mechanism of neuronal migration will help cure and prevent such neuronal disorders.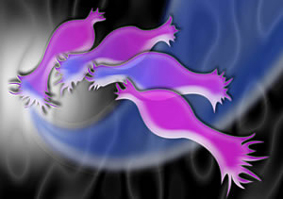 Latest Achievement on Plant Virus Published in PNAS
According to the latest Proceedings of the National Academy of Sciences (PNAS), a joint-research carried out by the State Key Laboratory of Phytochemistry and Plant Resources in West China, Kunming Institute of Botany, CAS, the State Key Laboratory of Plant Genomics, Institute of Microbiology, CAS, the Institute for Viral Disease Control and Prevention of the Chinese Center for Disease Control and Prevention and the Bio-technology Institute of the Yunnan Provincial Academy of Agriculture has found that seco-pregnane steroid glaucogenin C and its glycosides compounds are effective and selective inhibitors to alphavirus-like positive-strand RNA viruses, but not to other RNA or DNA viruses, yet they were not toxic to host cells.
Other Issues

Sixtieth Issue (October 2008)

Fifty-nineth Issue (August 2008)

Fifty-eighth Issue (June 2008)

Fifty-seventh Issue (April 2008)

Fifty-sixth Issue (February 2008)

Fifty-fifth Issue (December 2007)

Fifty-fourth Issue (October 2007)

Fifty-third Issue (August 2007)

Fifty-second Issue (June 2007)

Fifty-first Issue (April 2007)

Fiftith Issue (Feb. 2007)

Fourty-nineth Issue (December, 2006)

Fourty-eighth Issue (Ocboter, 2006)

Fourty-seventh Issue (August, 2006)

Fourty-sixth Issue (June, 2006)

Fourty-fifth Issue (April, 2006)

Fourty-fourth Issue (February, 2006)

Fourty-third Issue (December, 2005)

Fourty-second Issue (October, 2005)

Fourty-first Issue (August, 2005)

Fourtith Issue (June, 2005)

Thirty-ninth Issue (April, 2005)

Thirty-eighth Issue (February, 2005)

Thirty-seventh Issue (December, 2004)

Thirty-sixth Issue (October, 2004)

Thirty-fifth Issue (August, 2004)

Thirty-fourth Issue (June, 2004)

Thirty-third Issue (April, 2004)

Thirty-second Issue (February, 2004)

Thirty-first Issue (December, 2003)

Thirtieth Issue (October, 2003)

Twenty-nineth Issue (August, 2003)

Twenty-eighth Issue (June, 2003)

Twenty-seventh Issue (Spring, 2003)