Geoscience
Data from Unknown Deep Sea
The ¡°Science No.1¡± research vessel of CAS returned to Qingdao pier upon completion of its summer survey in the western Pacific on Aug. 4th. The survey team members successfully retrieved two sets of deep sea subsurface buoys deployed at depth of 6,100 meters and 3,200 meters respectively in key areas of western boundary currents in the northern Pacific during the spring of 2010. In the meantime, they deployed another three sets of subsurface buoys. It is the first time that China has successfully deployed and retrieved deep sea subsurface buoys at 6,000 meters; and obtained direct measured data from the western boundary currents area between 8¡ăN and 18¡ăN, which provides basic data for the international project of NPOCE. Prof. Yuan Dongliang from the Institute of Oceanology, CAS was the chief scientist in this voyage.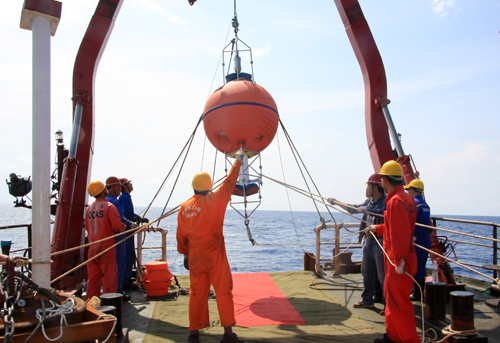 GeoBeans£ºMore Powerful Services
A project on technology of multi-mode network-based geographic information platform completed by the Digital Earth and Navigation Positioning Laboratory of the Institute of Remote Sensing Applications, CAS after 14 years¡¯ efforts, and the project was passed the acceptance check on July 21st. The platform technology has provided solutions in terms of both theoretical and methodological aspects, such as the centralized and distributive composite structure software technology under network environment, the virtual quad-tree data model of space information, rapid analysis of three-dimensional space information and visualization technology, on-line space information updating technology, calculation and service technology for distributed space information, space information invisible search and service technology, etc. Meanwhile, the network-based geographic information platform software named ¡°earth network GeoBeans¡±, which has home-grown proprietary intellectual property rights was developed according to the above technology and methodology. At present, the platform technology and software have been successfully applied in the fields of environment protection, statistics, transportation, tourism, urban construction, hygiene, fianc¨¦, aviation, etc. The spotlight of the innovation is that the invisible retrieval service system of space information in image-text form is realized; intelligent matching arithmetic for abnormal Chinese address based on the knowledge-reasoning was proposed and realized; the distributive storage model of multilevel great capacity of image data based on the virtual quad-tree was proposed and realized.