Brief News
Bai Chunli Granted RAS Foreign Academician
Bai Chunli, President of CAS and his entourage paid a visit to the Presidium of Russian Academy of Sciences (RAS) and its relevant research institutes from June 19 to 23. During his visit, he and the group attended the Second Symposium on New Materials and Technology: Renewable Energy Materials cosponsored by CAS and RAS, and they also visited the Rusnano Corporation and Magister Press. During the visit, the RAS Presidium held a grand ceremony to grant certificate of foreign academician to Bai. There were over 40 distinguished guests including RAS Presidium members and its former leaders attending the ceremony.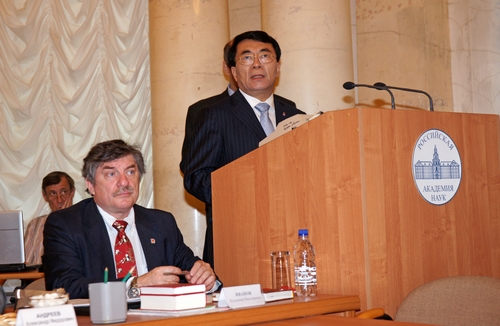 Bai Chunli Meets Omi Koji
On July 20, Bai Chunli, President of CAS met with Omi Koji, President of Science and Technology in Society Forum (hereinafter referred to as STS Forum), Japan¡¯s former Minister for Science and Technology Policy and former Minister of Finance, and his entourage. The Eighth STS Forum will be held in October 2011 in Tokyo, Japan.
Jiang Mianheng Meets Peter Lyons
Jiang Mianheng, Vice President of CAS met with visiting Dr. Peter Lyons, US Department of Energy's assistant secretary for nuclear energy, and his entourage on June 9. They exchanged views on issues about how to strengthen practical cooperation between the two institutions in scientific research on advanced nuclear energy.
Shi Erwei Present at Unveiling of Sino-Japan Joint Laboratory
Shi Erwei, Vice President of CAS, was present at the unveiling ceremony of the Joint Laboratory for Development of Lithium Cells that was held in Shanghai on July 14. This new lab is established by the Shanghai Institute of Ceramics (SIC), CAS in joint efforts with the Sony Corporation. In his speech, Shi stressed that the relevant projects should be oriented at the market needs and to contribute to the energy issues that all people are facing. The Lab is focused on development of the next generation of lithium cell technology, which is a new move to further deepen the existing cooperation between the two sides.
Li Jiayang Meets David Willetts
Li Jiayang, Vice President of CAS met with visiting David Willetts, Minister of State for Universities and Science on June 7. Li held that China and UK enjoyed great potential for scientific and technological cooperation in areas such as energy, space, oceanology, medicine, environment, materials and large scientific facilities through various activities, e.g. workshops, joint research projects, etc. David Willetts hopes that both sides would strengthen cooperation to achieve even greater results in fields of agriculture, nano research and food security, etc. After the talks, two memoranda between relevant institutions of the two sides were signed respectively.-10
Li Jinghai and Zhang Jie Elected RAE Foreign Fellows
Li Jinghai and Zhang Jie, both members of the Chinese Academy of Sciences (CAS) were elected as the International Fellow of the Royal Academy of Engineering (RAE) at its annual general meeting in London on July 12, 2011. Li Jinghai formulated the variational criterion for the heterogeneous flow structure of particle-fluid systems that led to the establishment of the Energy-Minimization Multi-Scale (EMMS) model. Zhang Jie is best known for his research achievements in such areas as x-ray lasers, high field physics, and laser-plasma physics.
Fang Xin Meets Maki Kawai and Kenji Oeda
Fang Xin, member of the Presidium of CAS, met with Maki Kawai and Kenji Oeda, Executive Directors of the Institute of Physical and Chemical Research (RIKEN), Japan on June 25. Both sides exchanged opinions on the status quo of Chinese and Japanese female scientists engaged in scientific research, the present major issues they are facing and the relevant policies to encourage women participating in research activities.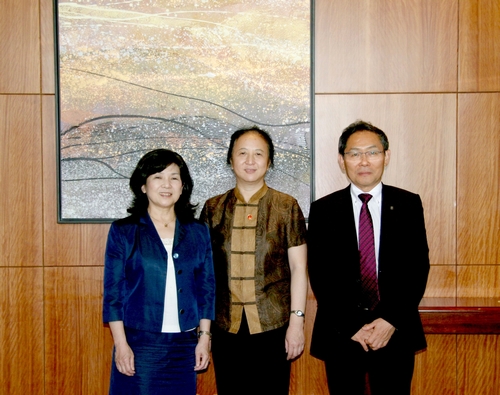 Zhan Wenlong Visits US
Zhan Wenlong, Vice President of CAS, led a CAS delegation to visit US from July 17 to 24. The institutions they visited include the National High Magnetic Field Laboratory, Lawrence Livermore National Laboratory of DOE, Princeton Plasma Physics Laboratory and the research institutes related to advanced nuclear energy including General Atomics, MIT Plasma Science and Fusion Center and National High Magnetic Field Laboratory. A MOU was singed between the Institute of Physics, CAS and Lawrence Livermore National Laboratory.
Ding Zhongli Visits Iceland
Ding Zhongli, Vice President of CAS headed a delegation to visit the Republic of Iceland from July 13 to 17. Their visit is focused on in-situ survey on the geological, geothermal and glacier resources. On July 16, Olafur Ragnar Grimsson, President of the Republic of Iceland, met with Ding and his entourage at the Residence of the President.
More Efforts on Space Science
The National Space Science Center, CAS has held its inauguration ceremony on July 7. The Center is an unincorporated unit established by CAS under the Center for Space Science and Applied Research in response to the overall plan of ¡°Innovation 2020¡± strategy. It also boasts the first of the A Class center that CAS established to support the strategic science and technology-oriented projects. As a general research institute for the national space science and satellite engineering projects, the Center shall also be responsible for the organization and implementation of CAS strategic science and technology-oriented projects aimed at space science. In line with its position, the Center will give full play to its advantage of complete disciplines through institutional innovation, unite with relevant institutions within and outside CAS and establish a space science innovation platform catering to the whole country so as to become a space science center with significant influence in the international arena.