Bioscience
Latest Research Results on Panda
A research team under the leadership of Prof. Wei Fuwen of the Institute of Zoology, CAS recently discovered that Panda still possesses high genetic diversity and evolution potentials. The research result was reported in the volume 24:1801-1810 of Molecular Biology and Evolution.
In cooperation with experts from Sichuan Forest Administration, Cardiff University, UK and China West Normal University, the research team examined panda¡¯s genetic variation of mitochondrial DNA control region and nuclear DNA microsatellite, population structure, gene flow and population demography and found that the panda is not a species at an evolutionary 'dead-end', but in common with other large carnivores, has suffered demographically from human encroachment. So human beings have to be responsible for its endangered situation.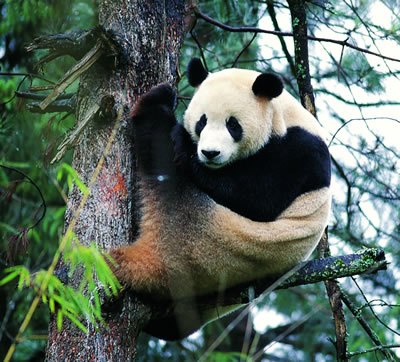 Major Progress in 1T-TiSe2 Charge Density Wave Transition Mechanism
The research team under the leadership of Prof. Wang Nanlin of the Key Laboratory of Extreme Conditions Physics, the Institute of Physics, CAS has recently made a major progress on the transition mechanism of charge density wave material (CDW1T-TiSe2) study. They successfully proved that the phase transition of CDW is from semimetal to semimetal. At the same time, they discovered the origin of electronic and P-type energy band at different wave vectors of the new semimetal state after transition. The results were published by American Physical Review Letters (Phys. Rev. Lett. 99, 027404 (2007)).
Latest Research on Rice Yield Enhancement
A recent study by researchers of the Institute of Botany, CAS could add new dimensions to the understanding of Brassinosteroid (BR) signal transduction mechanism in rice. Their work was published by the Proceedings of the National Academy of Science of the United State of America (PNAS).
This research discovered the novel factor 14-3-3 proteins which regulate the BR signal transduction pathway in rice and a new mechanism regulating OsBZR1 proteins activity, offering a new approach for the application of Brassinosteroids in rice, the rice¡¯s yield enhancement and its adversity resistance. Prof. Bai Mingyi and his colleagues found a new mechanism regulating the activity of OsBZR1 based on the study of OsBZR1 and 14-3-3 proteins, which will help people to precisely regulate the response of Brassinosteroids in rice through gene approaches and provide the theoretical basis for improving rice yield and breeding as well as a new operation method.