Applied Technology
Low-power WSN Chips to be Industrialized
Recently, a joint research group led by the Department of Electronics System Technology of the Institute of Microelectronics (IME), CAS made significant breakthroughs in key technology of low-power WSN (Wireless Sensor Network) chips. WSNs, made of both low-power & high performance chips in SiP (System in Package) form, developed by a joint group passed a relevant standard test in early November, 2011. Each chip consists of a communication chip and a MCU SoC (System on Chip). The communication chip integrated 780MHz Radio Frequency (RF) circuit, baseband circuit, analog-to-digital converter (ADC), digital-to-analog converter (DAC) and the MCU integrated a 32-bit RISC CPU, static random access memory (SRAM), flash memory, low-power high-precision sensor interface, etc. These chips performed similarly to those advanced WSN products under the same power consumption. This package has provided substantial support to the low power sensor equipment and the relevant industrialization for Internet of Things (IoT).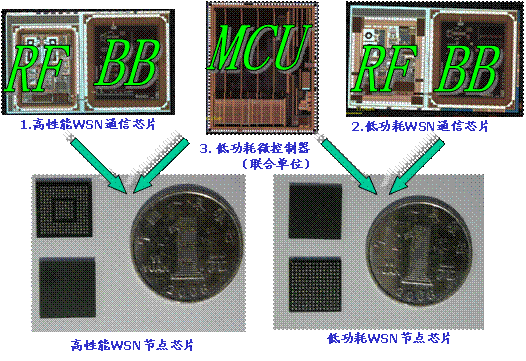 Nanorobots Applied to Cancer Targeted Therapy
Malignant lymphoma is a common cancer in the world. There are about 84,000 new cases that are added to the number of the lymphoma patients in China and more than 47,000 patients die of this disease on yearly basis. Anti-CD20 monoclonal antibody is a powerful targeted drug for treating B-cell lymphoma. However, many patients are still unresponsive or develop resistance to the targeted drug. Besides, the targeted drug is very expensive. In order to unravel the underlying mechanisms leading to the anti-CD20 drug¡¯s resistance, the micro/nano research group of State Key Lab of Robotics, Shenyang institute of Automation works together with an affiliated hospital to investigate the lymphoma cells in situ by applying nano robotics. Since the inception in 2009, the team has performed lots of innovative research for the target and achieved some important original results in the interdisciplinary field of nanorobots and life medicine, developing many techniques, including characterizing the behavior of single cells, suppressing noise for probing in liquids, specifically recognizing antigen molecules, and modifying cell surfaces. The breakthrough of these techniques indicates that Shenyang Institute of Automation has achieved substantial progress in the convergence research of nanorobots and life sciences, opening a way for the application of nanorobots in cell molecule biology. The related research achievements have been included in Biochemical and biophysical research communications (2011, 404: 689-694), SCIENCE CHINA Life Sciences (2010, 53:1189-1195), Chinese Science Bulletin (2011, 56: 3829-3835) and some IEEE international conferences and several patents have been applied for.
A New Communication Device Patented in USA
Based on the atomic filtering theory and its applied research, researchers Sun Xianping, Luo Jun, Zhan Mingshen, etc. adopted the atomic filtering method in the free-space quantum communication systems using the atomic and molecular physics as their research platform. Through years of hard work, their experiments demonstrated that the characteristics of assembling atomic filters in the quantum key distribution system to suppress strong background light. The atomic filter acts as an induced ¡°loss medium¡± and an ultranarrow ¡°spectral filtering¡± device£¨Applied Physics Letter, 89 19 (2006), 191121.£©. An ultranarrow-bandwidth atomic filter with Raman light amplification was also demonstrated experimentally £¨Optics Letters, 33 16 (2008), 1842.£©, which could be more efficient to reduce the quantum bit error rates generated by the background light noise and thus to obtain secure quantum keys. The new atomic filtering method can be very useful in improving the detection of weak signals in the quantum internet, free-space quantum key distribution systems and high-precision optical Doppler velocimetry and optical remote sensing, to ensure that these systems work in all-weather conditions, at night and in the day. An ultranarrow-bandwidth atomic filter with Raman light amplification was also demonstrated experimentally £¨Optics Letters, 33 16 (2008), 1842.£©, which could be more efficient to reduce the quantum bit error rates generated by the background light noise and thus to obtain secure quantum keys. Recently, a US patent (patent No. US 8031873) were granted their invention entitled ¡°Free-space quantum communication device using atomic filters¡± after six years¡¯ examination.
Carbon Fiber Recycled for Use
A research group led by Prof. Xue Lixin and Asso. Prof. Li Juan of the Polymer and Composite Division, Ningbo Institute of Material Technology and Engineering, CAS, has developed a method to recycle high quality carbon fiber from epoxy-based composites in high yield under mild conditions. The two-step method involved treating of the composite materials with a low toxicity and low corrosive treating solution in a closed container under lower temperature and pressure after a pretreatment step. Using the developed method,epoxy¨Cbased carbon fiber composite can be decomposed in 0.5-2 hour under a temperature of 80-150 OC and a pressure of 0.3-0.6 MPa. More than 90% of the carbon fiber can be recovered retaining >90% of the original mechanical property.
Conversion Coatings for Ethylene Glycol Cooling System
Researchers at the State Key Laboratory of Solid Lubrication of the Lanzhou Institute of Chemical Physics, CAS have developed a preparation method of magnesium alloy rare-earth conversion coatings for ethylene glycol coating system. The method includes a process of pretreatment and activating and chemical conversion coating. The prepared rare-earth conversion coating has even denser layer, better surface consistence and adhesion between the substrate and coating, excellent corrosion-resistant performance in ethylene glycol-water cooling liquid and the coating can also solve the issue of the severe corrosion of magnesium alloy in cooling liquid used in engine cooling system. Their result on the preparation of the coating has been patented in China as ZL 200810183390.5.