Innovation and Development
Fiber Nanogenerators Successfully Developed
Following the piezoelectric nanogenerators based on zinc oxide nanowire arrays and the direct-current nanogenerator driven by ultrasonic waves separately developed in the year before last and last year, the Nano Research Group headed by Prof. Wang Zhonglin made another gigantic step forward in the nanogenerator research filed: they have successfully converted low-frequency vibrations of a Kevlar fiber into electrical energy by taking advantage of the ZnO nanowires grown radially on the fiber surface, the Feb. 14 issue of the journal Nature reported.
Compared with the previous nanogenerators, the newly developed one features several breakthroughs: the realization of ZnO nanowires grown radially on the fiber surface, which lends fundament to the production of flexible, foldable and wearable power systems (such as ˇ°power shirtˇ±); the ability of fiber-based nanogenerator to produce charge by utilizing low-frequency vibrations, which makes it possible to harvest power energy from mechanical motions such as body motion, wind or even a heartbeat; and the simple fabrication requiring mild conditions, which dramatically widens the application of this ZnO nanowires-based nanogenerators. On the basis of the current experimental data, Wang estimates that a square meter of fabric made from the special fibers could theoretically generate electricity approximately 20 to 80 milliwatts.
This significant achievement has been reported by several international media, e.g. BBC, NBC, PBS, and National Geographic, etc.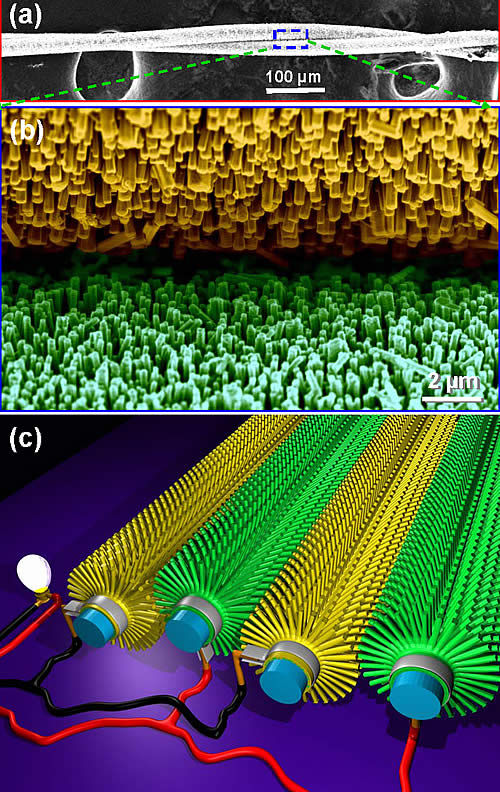 Other Issues

Sixtieth Issue (October 2008)

Fifty-nineth Issue (August 2008)

Fifty-eighth Issue (June 2008)

Fifty-seventh Issue (April 2008)

Fifty-sixth Issue (February 2008)

Fifty-fifth Issue (December 2007)

Fifty-fourth Issue (October 2007)

Fifty-third Issue (August 2007)

Fifty-second Issue (June 2007)

Fifty-first Issue (April 2007)

Fiftith Issue (Feb. 2007)

Fourty-nineth Issue (December, 2006)

Fourty-eighth Issue (Ocboter, 2006)

Fourty-seventh Issue (August, 2006)

Fourty-sixth Issue (June, 2006)

Fourty-fifth Issue (April, 2006)

Fourty-fourth Issue (February, 2006)

Fourty-third Issue (December, 2005)

Fourty-second Issue (October, 2005)

Fourty-first Issue (August, 2005)

Fourtith Issue (June, 2005)

Thirty-ninth Issue (April, 2005)

Thirty-eighth Issue (February, 2005)

Thirty-seventh Issue (December, 2004)

Thirty-sixth Issue (October, 2004)

Thirty-fifth Issue (August, 2004)

Thirty-fourth Issue (June, 2004)

Thirty-third Issue (April, 2004)

Thirty-second Issue (February, 2004)

Thirty-first Issue (December, 2003)

Thirtieth Issue (October, 2003)

Twenty-nineth Issue (August, 2003)

Twenty-eighth Issue (June, 2003)

Twenty-seventh Issue (Spring, 2003)