Applied Technology
Remarkable Progress in Organic Macromolecular Luminescent Materials
Researchers from the Changchun Institute of Applied Chemistry, CAS for the first time proposed the theory that the partial energy transfer and electric load restriction help singular macromolecules emit white light, a sound development in the study over the organic macromolecular luminescent materials and their applications in displays. The work, shedding light on the development of macromolecules emitting white light, leads in the world with the follows: the design of molecules integrating transfer and luminescent units and a new method to fabricate luminescent macromolecules in the category of all-trans and macromolecular-weight p-phenylene-vinylene derivatives, on the basis of the assembly of monolayer macromolecular luminescent devices; and the realization of the high-efficient phosphorescence emission of the copper compounds that are low in cost and rich in resource, paving a new way to develop high-efficient phosphorescence luminescent materials that are free from impurities, easy to process and low-cost when in solution state.
3D Micro-Fabrication of Polymer Nanocomposites Seeks Progress
A group of researchers headed by Prof. Duan Xuanming from the Technical Institute of Physics and Chemistry, CAS has achieved new achievement in in-situ synthesis and fabrication of the 3D-microstrucutres in multi-colored polymer nanocomposites, the Feb. 21 issue of the journal Nature (Vol. 451, p868, Feb. 21, 2008) reported in its Research Highlights column under a title ˇ°Lithography: Luminous Lizardsˇ±. The corresponding paper has also been published on Jan. 30 in the online version of the journal Advanced Materials (Adv. Mater. doi:10.1002/adma.200702035).
In collaboration with co-workers at home and abroad, this Organic NanoPhotonics Research Team realized the fabrication of nanometer scale resolution (Appl.Phys. Lett.,2007, 90, 071106, 131106; 91, 124103) by taking advantage of femtosecond laser direct writing technology. At the same time, they observed the lasing phenomenon in a 3D nanowire structure of materials with fluorescence dyes (Appl. Phys. A, 2007, 89, 145).
Furthermore, the research team realized the size control of the CdS nanoparticles in the in-situ synthesis by regulating the crosslinking molecule's networking density in the light-etching glue and the nanocomposite's fluorescent wavelength might be tunable in the scope between 450nm and 530nm. By making use of the above-listed expertise, the team prepared a lot of 3D microstructures from multicolor nanocomposites in the shape of mini-cattle and discovered that, the lighting intensity becomes stronger in sections with smaller dimensions. The journal Nature makes the following comment in its Research Highlight: Their animal creations are offered as proof of principle for a means of making miniature light-emitting electronics.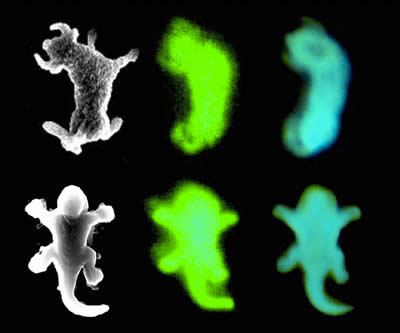 Other Issues

Sixtieth Issue (October 2008)

Fifty-nineth Issue (August 2008)

Fifty-eighth Issue (June 2008)

Fifty-seventh Issue (April 2008)

Fifty-sixth Issue (February 2008)

Fifty-fifth Issue (December 2007)

Fifty-fourth Issue (October 2007)

Fifty-third Issue (August 2007)

Fifty-second Issue (June 2007)

Fifty-first Issue (April 2007)

Fiftith Issue (Feb. 2007)

Fourty-nineth Issue (December, 2006)

Fourty-eighth Issue (Ocboter, 2006)

Fourty-seventh Issue (August, 2006)

Fourty-sixth Issue (June, 2006)

Fourty-fifth Issue (April, 2006)

Fourty-fourth Issue (February, 2006)

Fourty-third Issue (December, 2005)

Fourty-second Issue (October, 2005)

Fourty-first Issue (August, 2005)

Fourtith Issue (June, 2005)

Thirty-ninth Issue (April, 2005)

Thirty-eighth Issue (February, 2005)

Thirty-seventh Issue (December, 2004)

Thirty-sixth Issue (October, 2004)

Thirty-fifth Issue (August, 2004)

Thirty-fourth Issue (June, 2004)

Thirty-third Issue (April, 2004)

Thirty-second Issue (February, 2004)

Thirty-first Issue (December, 2003)

Thirtieth Issue (October, 2003)

Twenty-nineth Issue (August, 2003)

Twenty-eighth Issue (June, 2003)

Twenty-seventh Issue (Spring, 2003)