Tianjin R&D Center for Industrial Bio-technology Established
On June 25, the signing ceremony for the Tianjin Research & Development Center of Industrial Bio-technology (Tianjin R&D Center), CAS, which is co-established by CAS and the Tianjin Municipal Government in the Binhai New Area, Tianjin, was held at the Beijing Diaoyutai State Guesthouse. Lu Yongxiang, President of CAS, Chen Zhu and Li Jinghai, Vice Presidents of CAS and Dai Xianglong, Tianjin CPC Deputy Party Secretary and Governor, and Yang Dongliang, Vice Governor and other leaders attended the ceremony. Mr. Chen Zhu and Yang Dongliang signed the agreement on behalf of their respective sides.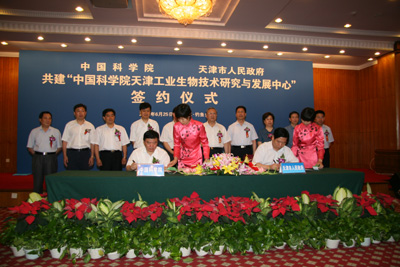 Karst Region: Agreement on Environment Restoration
In order to implement CAS action plan for the development of western China and promote the environment restoration in the southwest Karst region, under the guidance of the scientific development philosophy and the national policy for development of western China, CAS and the government of Guangxi Autonomous Region recently signed a cooperation agreement on the environment restoration in the Karst region.
Agreement Signed: CAS Institute and Pharmaceutical Corporation
On Jun. 16, the Microbiology Institute, CAS and North China Pharmaceutical Corporation signed a strategic cooperation framework agreement in Shijiazhuang at the time when First China Bio-industry Conference was opened. According to the framework agreement, the two parties would cooperate strategically in fields, such as bio-energy and biology-based chemicals, with a view to establishing steady cooperative relationships between production and research.