Isoprene Rubber Synthesizes with Homogeneous Rare Earth Catalysts Developed
Researchers from the Changchun Institute of Applied Chemistry, CAS have successfully developed the isoprene Rubber synthesized with homogeneous rare earth catalysts after one year hard work in partnership with engineers from Sina-Petro¡¯s Jilin Petro-Chemical Company. An expert panel organized by the Sina-Petro gave an okay to their work in the acceptance check. Experts in the panel said that the invention, the first of its kind in China, labeled China as a country possessing the world leading catalyst technology. At present, China tops the world with its high rubber consumption up to over 3 million tons.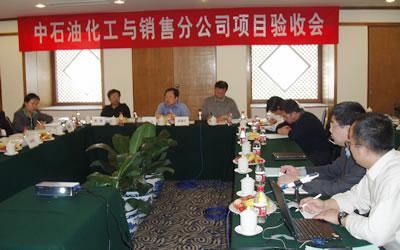 High-grade Fuel for Internal-combustion Engine from Biomass
With the technology and equipment they have developed, researchers from the Technical Institute of Physics and Chemistry, CAS have succeeded in their pilot study of a manufacturing facility that could annually synthesize 50 tons of high-quality fuel for internal-combustion engine from biomass. Experiments show that many parameters of the synthesized fuel excel those from small-scale lab tests. The biomass conversion rate is up to 80% of the theoretical value while the productivity reaches 12-16%. Its chemical composition is similar to that of the standard mineral diesel and its calorific value is on a par with that of standard diesel products (about 45 billion joules per liter). Its contents of oxygen and sulfur are less than 0.5% and 0.001% respectively. Their work indicates that China has made a new major breakthrough in the technology for high-grade fuel for internal-combustion engine from biomass.
Other Issues

Sixtieth Issue (October 2008)

Fifty-nineth Issue (August 2008)

Fifty-eighth Issue (June 2008)

Fifty-seventh Issue (April 2008)

Fifty-sixth Issue (February 2008)

Fifty-fifth Issue (December 2007)

Fifty-fourth Issue (October 2007)

Fifty-third Issue (August 2007)

Fifty-second Issue (June 2007)

Fifty-first Issue (April 2007)

Fiftith Issue (Feb. 2007)

Fourty-nineth Issue (December, 2006)

Fourty-eighth Issue (Ocboter, 2006)

Fourty-seventh Issue (August, 2006)

Fourty-sixth Issue (June, 2006)

Fourty-fifth Issue (April, 2006)

Fourty-fourth Issue (February, 2006)

Fourty-third Issue (December, 2005)

Fourty-second Issue (October, 2005)

Fourty-first Issue (August, 2005)

Fourtith Issue (June, 2005)

Thirty-ninth Issue (April, 2005)

Thirty-eighth Issue (February, 2005)

Thirty-seventh Issue (December, 2004)

Thirty-sixth Issue (October, 2004)

Thirty-fifth Issue (August, 2004)

Thirty-fourth Issue (June, 2004)

Thirty-third Issue (April, 2004)

Thirty-second Issue (February, 2004)

Thirty-first Issue (December, 2003)

Thirtieth Issue (October, 2003)

Twenty-nineth Issue (August, 2003)

Twenty-eighth Issue (June, 2003)

Twenty-seventh Issue (Spring, 2003)