Breakthrough Made in Nanocarrier of Chemotherapy Drug
CAS researchers have developed a new drug delivery method using nano-sized molecules to carry the chemotherapy drug doxorubicin to tumors, improving the effectiveness of the drug in mice and increasing their survival time. Doxorubicin delivered by nanocarriers was more effective in preventing tumor growth than free doxorubicin, and the mice receiving this treatment method lived longer and had fewer toxic side effects. Encapsulation of doxorubicin increased its accumulation and penetration in tumors in terms of both the percentage of cells that were reached by the drug and the intracellular levels that were attained. Their report entitled ¡°Improving Penetration in Tumors With Nanoassemblies of Phospholipids and Doxorubicin¡± was published on July 4th in the American Journal of the National Cancer Institute. PhD student Tang Ning and Dr. Du Gangjun from the Institute of Biophysics, CAS are the firs author. The research team they worked for was led by Liang Wei and Hang Haiying.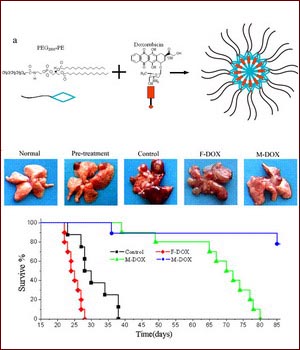 Important Protein Regulating CD4+ T Cell Survival and Autoimmunity Found
After many years of cooperation, two research teams headed respectively by Pei Gang and Zhang Jingwu, separately from the Institute of Biochemistry and Cell Biology, CAS, and the Institute of Health Sciences, Shanghai Jiao Tong University School of Medicine, have made encouraging progress in their studies regarding the regulation of CD4+ T cell survival and autoimmunity.
CD4+ T cells are important in adaptive immunity, but their dysregulation can cause autoimmunity. Researchers found that in healthy individuals, the apoptosis (programmed cell death) of helper T cells is controlled by a family of proteins, Bcl-2, which maintain a balance between cell production and elimination. Mice deficient in beta-arrestin 1 (Arrb1) ¡ª the multifunctional signalling molecules that promote Bcl-2 expression ¡ª were less likely to develop the autoimmune disease, encephalomyelitis, whereas over-expression of Arrb1 raised susceptibility to the disease. The researchers also found that helper T cells of patients with the autoimmune disease, multiple sclerosis, had an over-expression of Arrb1 compared with T cells from healthy individuals. Knockdown of Arrb1 (where the expression of Arrb1 is reduced) by RNA-interference in T cells would increase apoptosis. The multifunctional adaptor protein -arrestin 1 positively regulated naive and activated CD4+ T cell survival.
The feat that has been reported online on Jun. 9 in the Nature Immunity unveils the new mechanism of CD4+ T cell survival and autoimmunity and indicates that b-arrestin 1 may be used as treatment of multiple sclerosis and other human autoimmune diseases through the use of Arrb1-targeting antibodies. Researchers have applied for patent protection of their findings.
Other Issues

Sixtieth Issue (October 2008)

Fifty-nineth Issue (August 2008)

Fifty-eighth Issue (June 2008)

Fifty-seventh Issue (April 2008)

Fifty-sixth Issue (February 2008)

Fifty-fifth Issue (December 2007)

Fifty-fourth Issue (October 2007)

Fifty-third Issue (August 2007)

Fifty-second Issue (June 2007)

Fifty-first Issue (April 2007)

Fiftith Issue (Feb. 2007)

Fourty-nineth Issue (December, 2006)

Fourty-eighth Issue (Ocboter, 2006)

Fourty-seventh Issue (August, 2006)

Fourty-sixth Issue (June, 2006)

Fourty-fifth Issue (April, 2006)

Fourty-fourth Issue (February, 2006)

Fourty-third Issue (December, 2005)

Fourty-second Issue (October, 2005)

Fourty-first Issue (August, 2005)

Fourtith Issue (June, 2005)

Thirty-ninth Issue (April, 2005)

Thirty-eighth Issue (February, 2005)

Thirty-seventh Issue (December, 2004)

Thirty-sixth Issue (October, 2004)

Thirty-fifth Issue (August, 2004)

Thirty-fourth Issue (June, 2004)

Thirty-third Issue (April, 2004)

Thirty-second Issue (February, 2004)

Thirty-first Issue (December, 2003)

Thirtieth Issue (October, 2003)

Twenty-nineth Issue (August, 2003)

Twenty-eighth Issue (June, 2003)

Twenty-seventh Issue (Spring, 2003)