Lu Yongxiang Meets Novo Nordisk (Denmark) President
On Jun. 17, Lu Yongxiang, President of CAS met with Lars Rebien S?rensen, President and CEO of Novo Nordisk (Denmark) and his entourage in Beijing. Lu expressed warmly welcome to Mr. S?rensen and the board directors of Novo Nordisk. He congratulated on Novo NordiskĄ¯s accomplishment in diabetes research and treatment and praised its cooperation in scientific research with CAS in recent years.
Bai Chunli and Kim Woo Shik Unveiled Sino-ROK Research Center
On July 2, the unveiling ceremony for the Sino-ROK Research Center for Nanometer Technology was held in Beijing. Bai Chunli, Executive Vice President of CAS and Director of the National Center for Nano S&T and Kim Woo Shik, ROK Vice Premier and Minister of S&T attended the ceremony and unveiled the research center.
Bai said that China is one of the countries that made the earliest effort on nanometer S&T research, and there are over 30 institutes of CAS, 50 universities, 600 enterprises and 3000 researchers engaged in this field. Sino-ROK Research Center for Nanometer Technology is one of the results of the two countriesĄ¯ cooperation in this field. China and ROK, with advantages in basic nanometer research and industrial application of nanometer technology, respectively, can further intensify exchange and cooperation in the future.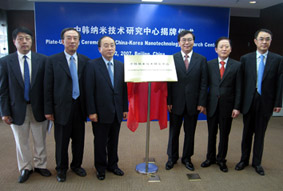 Li Jinghai Signes Letter of Intent with Australian University
On Jun. 7, Li Jinghai, Vice President of CAS and Andris Stelbovics, Vice President of Australia Curtin University of Technology signed a letter of intent on cooperation in clean coal technological research.