Innovation and Development
Simulation Supercomputing System Passed Acceptance Test
On Nov. 8, the high-performance low-cost multi-scale discrete simulation supercomputing system developed by the Institute of Process Engineering (IPE), CAS successfully passed the acceptance test, which marked another major progress made by China in the field of high-performance computing system. Bai Chunli, Executive Vice President of CAS and Zhang Shaochun, Vice Minister of Finance, present at the acceptance meeting. Ge Wei, research fellow of IPE and leader of the ˇ°high-performance low-cost multi-scale discrete simulation supercomputing systemˇ± project, briefed that IPE built the first single-precision petaflop high-performance supercomputing system in China in early 2009. This year, they upgraded the computing capacity of the supercomputing system to 1 double precision petaflop and built a distributed GPU supercomputing system with an aggregated computing capacity of nearly 5 single-precision petaflops in 11 research institutes of CAS, which reduced the costs of supercomputing significantly. Cooperating with the Institute of Computing Technology, the Institute of Software and other 8 institutes of CAS, IPE has provided services to 8 large-scale domestic and international enterprises, including Sinopec, GE and Alstom, through this project and has obtained contracts and orders, which totaled over 10 million Yuan.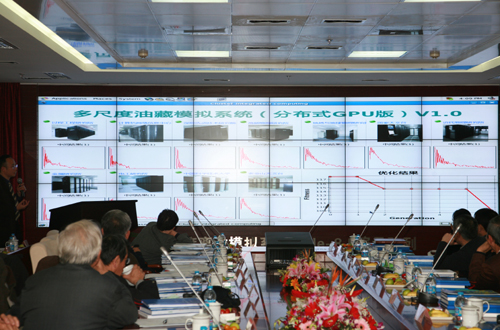 Key Technology for Future Low-carbon Power Supply
Researchers of the Middle- and High-temperature Solid Oxide Fuel Cell Research Group (Group 302) of the Dalian Institute of Chemical Physics, CAS successfully developed 3 kilowatt tubular solid oxide fuel cell stack recently on the basis of successful operation of the 1 kilowatt tubular solid oxide fuel cell stack for more than 1,000 hours. The highest output power of this solid oxide fuel cell stack reaches 2,900 watt and its stable output power is over 2,200 watt, the highest in domestic solid oxide fuel cell stacks. Solid oxide fuel cells use natural gas, town gas or gas from biomass gasification as the fuel and can efficiently transform chemical energy of the fuel into electrical energy and improve the quality of waste heat. Their overall energy utilization ratio is over 80%, which make them an significant energy technology for the development of low carbon economy. Due to the characteristics of rich sources of fuel, cleanness, high efficiency and combined heat and power generation, solid oxide fuel cells are considered as a revolutionary technology for future power supply and are expected to be widely used in large-scale power plants, distributed power plants, family power suppliers, etc.
Other Issues

Seventy-second Issue (October 2010)

Seventy-first Issue (August 2010)

Seventieth Issue (June 2010)

Sixty-nineth Issue (April 2010)

Sixty-eighth Issue (February 2010)

Sixty-seventh Issue (December 2010)

Sixty-sixth Issue (October 2009)

Sixty-fifth Issue (August 2009)

Sixty-fourth Issue (June 2009)

Sixty-third Issue (April 2009)

Sixty-second Issue (February 2009)

Sixty-first Issue (December 2008)

Sixtieth Issue (October 2008)

Fifty-nineth Issue (August 2008)

Fifty-eighth Issue (June 2008)

Fifty-seventh Issue (April 2008)

Fifty-sixth Issue (February 2008)

Fifty-fifth Issue (December 2007)

Fifty-fourth Issue (October 2007)

Fifty-third Issue (August 2007)

Fifty-second Issue (June 2007)

Fifty-first Issue (April 2007)

Fiftith Issue (Feb. 2007)

Fourty-nineth Issue (December, 2006)

Fourty-eighth Issue (Ocboter, 2006)

Fourty-seventh Issue (August, 2006)

Fourty-sixth Issue (June, 2006)

Fourty-fifth Issue (April, 2006)

Fourty-fourth Issue (February, 2006)